Adele Unveils New Video At Billboard Awards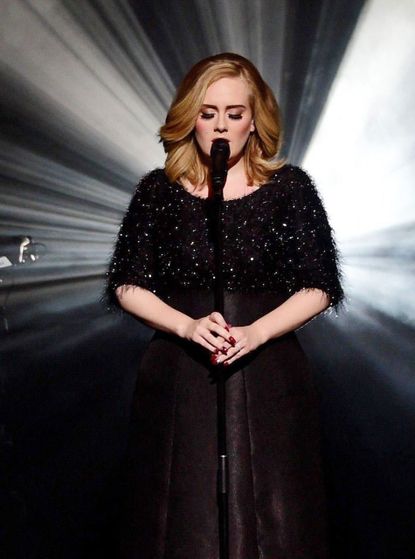 (Image credit: Rex Features (Shutterstock))
Adele premiered the music video for her next single, 'Send My Love (To Your New Lover)' after winning five gongs at the Billboard Music Awards.
The 28-year-old didn't attend the glitzy bash in LA as she is still on her world tour. She picked up Top Artist, Top Billboard 200 Artist, Top Female Artist, Top Billboard 200 Album and Top Selling Song for Hello.
She pre-recorded a video acceptance speech, saying: "It's lovely to be in everyone's company. I'm about to go on stage."
As the message finished, her video for her third single from her album, '25' began playing.
The video, which is utterly mesmerising, was shot in London and directed by Patrick Daughters, who previously worked with Kings of Leon, Snow Patrol and Beck.
Dressed in a Dolce & Gabbana floral maxi, the mother of one dances to the track as multiple Adeles appear to the beat of the song creating a kaleidoscope effect.
Adele, who is in a long-term relationship with Simon Konecki, has described the track as a "f**k you song" to her ex, who inspired her biggest hits.
She explained: "This is my f**k you song, it sounds obvious but I think you only learn to love again when you fall in love again. I'm in a place, my love is deep and true with my man and that puts me in a position where I can finally reach out a hand to my ex and let him know I'm over it."
Watch the hypnotic video below:
http://www.youtube.com/watch?v=fk4BbF7B29w
Adele, who is set to headline Glastonbury next month, has also released 'When We Were Young' and 'Hello' from the album.
'25' was released six months ago but is still breaking records having just sold 18 million copies worldwide.
It's no surprise her record label have offered her an impressive £90m record deal by Sony Music, the largest ever given to a British musican.
Prior to this, the highest was EMI's £70m deal with Robbie Williams in 2002 and Whitney Houston's £70m contract with Arista in 2001.
When she signs the deal, it will double Adele's fortunes to £175m overnight.
The star's comeback comes three years after the Oscar-winning theme for Skyfall in 2012. Her previous record, 21, was released a year earlier and went on to become this century's biggest selling album.
Isa Jaward is a journalist from London who has written for the likes of Time Out, The Guardian and Music Week.