Piers Morgan mocked for his make-up 'fail' on GMB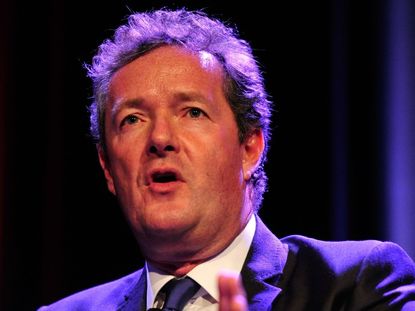 Piers Morgan is having to do his own make-up on Good Morning Britain, as the programme tries to reduce the amount of staff they have in the studios.
But unlike his co-host, Susanna Reid, Piers clearly isn't used to applying his own make-up.
During today's show, viewers were quick to notice that Piers had 'blending issues' with his foundation.
One commented, 'Trying to take Piers Morgan seriously while he's more orange than Donald trump... he needs the makeup team back.'
Another added, 'You look like you have been tangoed with your orange face and white neck!'
A third said, 'Sorry piers but you're looking a bit like an ooompah looompah this morning!'
Responding to the comments, Piers said on air, 'Apparently I have blending issues with my make-up.
'I don't even know what that means and I don't care.
'In the general scheme of things, I come in, I'm slapping the stuff on, I have no idea what I'm putting on or how to apply it.
'And in the general scheme of the problems in the world right now, my blending issues and my make-up are not that important people.
'If I have over tangerine'd the tangerine dream I can only apologise to anyone who is offended by my orange head.'
While Susanna added, 'We don't have our usual army of professional hair and make-up in.
'You're turning into your friend president Trump.'
Their ITV co-host, Lorraine Kelly, joined in on the jokes, tweeting, 'It's like a satsuma had a fling with a tangerine and then they both went to a tanning booth.'
Piers also shared a picture of himself alongside notoriously tangoed Donald Trump on Twitter and wrote, 'I fear I may have over-applied the Tangerine Dream make-up today.'
Better luck next time, Piers!
Robyn is a celebrity and entertainment journalist and editor with over eight years experience in the industry. As well as contributing regular to woman&home, she also often writes for Woman, Woman's Own, Woman's Weekly and The Sun.