Kate Garraway admits her heart is 'sinking' as she shares update on husband's coronavirus battle
Our thoughts are with Kate, Derek and their children.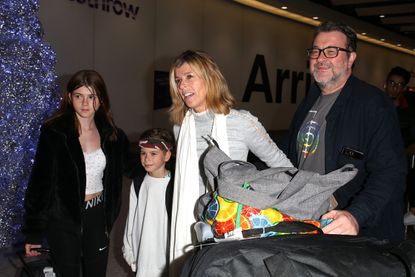 (Image credit: Getty)
Kate Garraway has shared a heart breaking update on her husband Derek Draper's coronavirus battle.
The Good Morning Britain's husband has been in an intensive care unit in hospital, in a comatose state for several weeks now.
The 52-year-old political advisor, who shares son Billy and daughter Darcey with Kate, was admitted to hospital back in March when he was diagnosed with Covid-19.
Telly star Kate has been making sure to keep her fans updated on Derek's situation and revealed she feels little hope that her family's tough time is nearing an end.
Sharing a video on Instagram of the family joining in with the Thursday night clap for carers, Kate explained she is struggling to see light at the end of the tunnel.
'The journey for me and my family seems to be far from over as everyday my heart sinks as I learn new & devastating ways this virus has more battles for Derek to fight. But he is still HERE & so there is still hope,' she penned.
Going on to praise her brood for dealing with the awful ordeal, she added, 'I couldn't be prouder of how she & Billy have coped with these past 2 horrific months for our family - always finding ways of lifting our spirits & staying strong even when they can see me wobbling.'
Commending others around the world who have suffered the impact of the global health crisis, Kate went on, 'My heartfelt thoughts and prayers go out to anyone who will be affected by this, not just for the next few weeks but for the foreseeable future.
'That will be the case for many who have suffered from the disease, but also the front line workers who have been helping to treat the worst affected.
'The physical and mental scars will run deep and so we need to stick together far beyond the end of lockdown.'