Some seriously exciting news for Gavin and Stacey fans has been confirmed
"Oh my Christ!"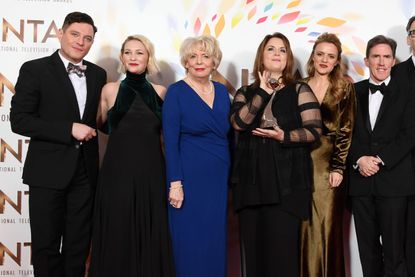 (Image credit: Getty)
Ever since the 2019 Christmas special of Gavin and Stacey left us on the edge of our seats with THAT cliff hanger, fans of the iconic sitcom have been dying for another fix.
The long awaited Christmas day screening of a brand new look into the lives of Essex boy Gavin, Welsh girl Stacey and their hilariously dysfunctional families came nine years after the last episode of the third and final series.
Naturally is was the highlight of the year for many of the cult comedy's die hard fans and it seems we're going to see some of the most famous stars of the show together again sooner than expected.
Two members of the Shipman household will be joining the lockdown virtual quiz bandwagon and hosting a huge Gavin and Stacey themed quiz night all in the name of charity.
READ MORE:Larry Lamb reveals what goes on in the Gavin and Stacey Whatsapp group (opens in new tab)
Pam and Gavin Shipman stars Alison Steadman and Matt Horne will be joining each other for the online get together to raise money for Marie Curie UK, an organisation that provides support for patients with terminal illnesses.
To get involved, all you need to do is scrub up on your Shipman and West trivia and visit the Marie Curie website (opens in new tab), tomorrow evening (Thursday 21st May) at 8.15pm.
As Uncle Bryn would say, "Well, I for one can't wait".
This comes after Mick Shipman actor Larry Lamb insisted that more updates on our favourite families from Barry Island and Billericay are coming, admitting that ending the Christmas episode moments after Nessa's shock proposal was "cruel".
Agreed!
"I think it would be pretty cruel to leave us on that cliffhanger," he told OK! magazine.
"After the response it got at Christmas, you can more or less be certain that, sooner or later, there will be more."
"I'm sure the BBC can persuade Ruth [Jones] and James [Corden] to write more, so it's a question of when, not if."