5 reasons you need to watch David Attenborough's incredible new series Dynasties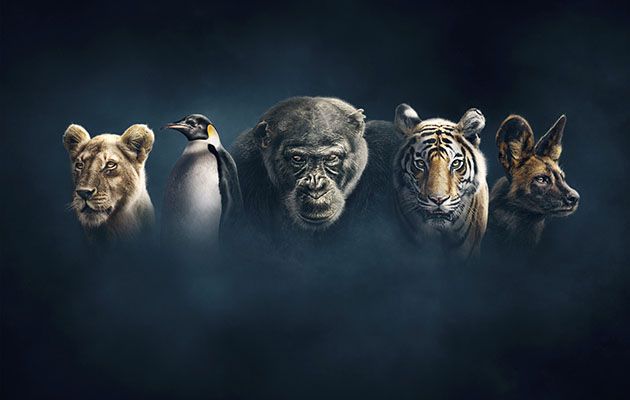 (Image credit: BBC NHU)
When you hear about a new series with Sir David Attenborough, you can usually guarantee it'll be a smash-hit.
And we predict that his next show alongside the BBC, Dynasties will be no exception.
Dynasties is the latest wildlife show to hit our screens, and will take somewhat of a different format to its similar predecessors. Rather than giving us an overall view of many species over a certain area of the world, the six-part series will follow five different animal families, all fighting to protect their dynasty.
Viewers will witness the very personal family tales of a chimpanzee family, emperor penguins, lions, tigers, and painted wolves.
The show will air its first episode this Sunday. So why do you need to tune in?
The incredible - and rarely seen - stories
BBC's Dynasties will shine a light on the inner workings of a specific animal family, rather than a species as a whole. And it's a rare insight into how really, they can often be just like us - with fights, romances, politics and betrayal.
Executive producer Michael Gunton explained how this series differs from other ones we've seen on TV. "With previous series like Planet Earth or The Blue Planet we normally use a God's eye view of the world. And they're incredibly popular, but I felt we'd done a lot of them," he explained. "I wondered if there was another way of telling the stories of the natural world. We never really spent time with the animals or understood the real depth of their stories."
The teams working on the show spent years, day in, day out, with a specific tribe, colony or pack, during filming - tracking their daily movements during almost every waking hour.
And the team acknowledged that it was a risky concept - given that they were never guaranteed to witness the whole story, or the chance to capture on film the moment that may define the family's story. And in fact, even Sir David Attenborough thought the series was a little out there!
Michael Gunton said, "If you decide you're going to spend all your efforts on just one particular chimpanzee troop, and specifically one individual, and the animal dies or nothing happens or filming permissions change, you're completely stuck.
"It's quite risky, and Sir David Attenborough said he thought we were mad. But while the risks were high, the potential benefits were also very high because if it works, the drama – the potential for true drama – is unprecedented."
In episode one, viewers will gain a remarkable look inside a chimpanzee family - as the troop's alpha, David (not named after the man himself), struggles to stay on top. We'll see the terrifying moment David's leadership is put at risk, and how the family is affected by the outcome.
The amazing close-up shots of the animals
Of course, with the crew filming so close to a specific family, it allows for some incredible camera work that isn't always possible on larger, less intimate productions.
And it certainly makes for some incredible, microscopic views of the animals. In particular, in episode one, when we see a pensive chimpanzee trying to work out his next move, viewers will be able to witness him moving his feet in indecision at a fascinatingly close level.
And there are shots so close-up of the chimpanzee's faces you'll feel as though you can read their minds...!
But of course, it wasn't easy getting those impressive shots.
Rosie Thomas, producer and director of the chimpanzee episode admitted that being so close to the creatures could often be nerve-wracking. She confessed, "The times we were most at risk was when fights were kicking off. The chimpanzees would often chase each other around and hurl rocks that are so heavy I can't even lift them. Chimpanzees are incredibly strong – far stronger than humans – and we were very close! That was quite nerve- wracking because you really didn't want to get hit by one!
"But they never threatened us. I think they saw us as something that wasn't connected to their society or their personal battles, so they were very accepting of us following them around."
The important issue the series tackles
While Blue Planet successfully tackled the issue of plastic pollution, the message behind Dynasties is a little more subtle. But series executive producer Michael Gunton revealed that there is an underlying issue presented in the episodes. And it's something that affects animals on a worldwide scale.
He admitted, "This series is about the problem, for a lot of these creatures, that there just isn't enough space for them to survive,"
Referring to the recent interest in plastic, he said, "Space is not as sexy as plastic, it's a harder thing to get your head around, it's a much bigger issue. So [with] the individual struggles in these creatures lives, that's a very good way of bringing it to attention."
At a recent press screening, Sir David also agreed that it's a problem that is only continuing as humans continue to spread themselves out. He admitted, "And it's not a static situation. The popular growth in West Africa is very very high."
And the series producer, Rupert Barrington, couldn't agree more.
"They [the animals] need large areas in which to live out their natural lives, and that space is being chipped away by our growing human population, which leads to conflict. The animals' natural stories are being changed and kicked off in new directions by interactions with humanity. This is something we see several times in this series. The end result is that the lives of these animals are becoming even more difficult than they already were."
The fact that the series as as true to life as you can get
When asked if he ever disagrees with his script, and whether or not it ever presumes something that isn't true about the animals, Sir David Attenborough categorically disagreed.
"The authority is the scientist we have. It's very rare that we don't have a scientist almost at our elbow who is helping us interpret all these things. And I can't think of a single instance where I have been concerned about the script has been written.
When asked about whether they ever give the animals human characteristics, he agreed, but said that that isn't wrong - as they often do present very human emotions.
Sir David continued, "Animals do have a lot of human characteristics, particular primates, particularly chimps. It's anthropomorphic to say that an animal is angry, to a degree, but that's what we know and that's what we call it. But it's unjustified anthropomorphism that's the danger, so you have to be very careful when you're writing it. Every time you say he was jealous for example, you had to be absolutely sure, have absolute evidence that what you're saying is correct."
Michael Gunton agreed, saying, "What was interesting is, for the crew, you get so involved with this creatures, that you do actually start to read them though."
The emotional family moments
But at the heart of the show, are the very real, powerful moments between family members that we'd probably all recognise within our own - the trauma of loss, the excitement of new life, and the fear of conflict, change, or upheaval.
In episode one, we'll see the moment two friends work together to help beat the odds. In the lion episode, fans will witness two mothers fiercely trying to protect the future of their entire family. And at one moment in the series, viewers will be on tenterhooks as they see one animal fighting for their survival, after a brutal fight.
So will you be tuning in?
Dynasties begins Sunday 11th November, 8.30pm on BBC One.
Amy Hunt is an experienced digital journalist, currently working as Life Channel Editor at womanandhome.com. She began as the magazine's features assistant before moving over to digital as a News and Features Writer, before becoming Senior Writer, and now a Channel Editor. She has worked on other women's lifestyle websites previously too—including Woman's Weekly, Goodto.com, Woman, and Woman's Own. In 2019, Amy won the Digital Journalist of the Year award at the AOP Awards, for her work on womanandhome.com.
She is obsessive about everything homes and interiors—whether she's sniffing out the very best deal on a KitchenAid stand mixer or keeping up the latest Dyson release. And when she isn't editing or writing articles on interior trends or the latest home gadgets, she's passionate about books—you'll usually find her with her nose in a gripping thriller at the end of the working day.