Prue Leith opens up about her brother's agonising death from bone cancer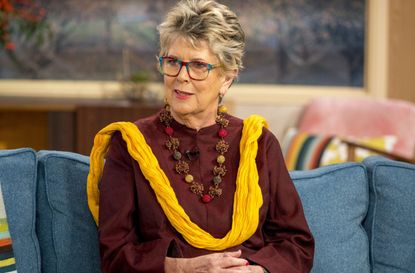 Prue Leith has spoken openly about the tragic loss of her brother, revealing he died in agony because doctors were afraid of hastening his death.
The Great British Bake Off judge said her brother David "suffered months of agony and a horrific death from bone cancer" because doctors wouldn't give him more morphine.
"David's doctors would not give him enough morphine 'for fear he'd become addicted', she said in support of retired university lecturer Noel Conway, 68, who suffers from motor neurone disease is currently appealing the ban on assisted dying in the UK at the Court of Appeals.
"The real reason, of course, was the fear of being prosecuted for unlawful killing if the extra morphine should hasten his death. We should not put patients or doctors in this untenable position."
MOREPrue Leith's health warning to Bake Off co-star Paul Hollywood
David, who worked in the Royal Air Force and his sister's company Good Food before basing himself in South Africa, died in 2012 aged 74.
He became ill during a visit to England to see his son and daughter but claimed he had just hurt his back by moving a fridge.
After some persuasion he visited a doctor and was diagnosed with bone cancer.
He became too ill to travel home and eventually, in desperation he refused antibiotics so the pneumonia brought on by his condition would kill him.
Prue, 78, decided to share Paul's story in support of Dignity in Dying, the campaign group that is backing Noel's case.
Sir Patrick Stewart also voiced his support for Noel, citing the experiences of a "dear friend" who took her own life after a battle with cancer.
"She attempted to end her own life with an overdose of medication before finally resorting to suffocating herself with a plastic bag. How can we continue to support the status quo when it forces dying people to resort to such drastic measures?" he said.
Jenni McKnight is a beauty, lifestyle and entertainment journalist and a regular contributor to woman&home, having previously worked as Acting Senior Content Editor of our former sister site, CelebsNow. She has also written for HELLO! Magazine, GoodToKnow, the Daily Mirror and Yahoo!