Why did David Leon leave Vera and is he returning to the hit Ann Cleeves drama in season 13?
If you're wondering why did David Leon leave Vera then you're probably not alone - especially as DS Joe Ashworth didn't have an exit storyline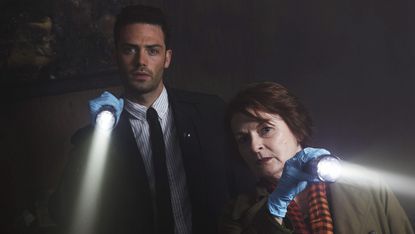 (Image credit: Collection Christophel © ITV Studios via Alamy)
"Why did David Leon leave Vera?" might be the question that's been on many fans' minds since the actor left the hit ITV drama as DS Joe Ashworth almost a decade ago.
If there's anyone who can crack a case with a fiercely no-nonsense approach to investigations and a whole lot of empathy it's everyone's favorite waterproof-wearing DCI Vera Stanhope. Played in ITV's Ann Cleeves adaptation by Brenda Blethyn since 2011, the titular character has had two Detective Sergeants assisting her over the course of the show. The original was DS Joe Ashworth played by David Leon, who left at the end of season 4. His exit was never written into his final episode, leaving many of us a little confused about why both the actor and character left.
Here we reveal all we know about why David Leon left Vera, whether he's returning to the recently-confirmed season 13 and if DS Joe Ashworth is in Ann Cleeves' original book series…
*Warning: Spoilers ahead*
Why did David Leon leave Vera as DS Joe Ashworth?
Just as it was devastating for long-time fans to watch Lucille leave Call the Midwife or to see Addison Montgomery leave Grey's Anatomy, David Leon leaving Vera as DS Joe Ashworth was an emotional moment in the ITV drama's history. For those who don't remember Joe, he was DCI Vera Stanhope's original Detective Sergeant before DS Aiden Healy (Kenny Doughty) and he left at the end of season 4. Joe was a good copper and a devoted husband to his wife Celine and their children, Michael, Jessie and baby Francesca who was born during the character's time on the show.
Though he was worked hard by Vera and often didn't get to spend as much time with them as he'd have liked. David Leon's performance drew us all in and it wasn't stated exactly why he left but it's widely believed to be to focus on other work commitments.
He hasn't explicitly stated his reason for going, though this has often circulated as the reason as he is not only an actor but a director. Vera actor Brenda Blethyn has previously described the departure of David as a "low point" for her, whilst fellow co-star Riley Jones who plays DC Mark Edwards stated that he didn't know the reason but explained how logistically difficult it can sometimes be as an actor to balance schedules and filming.
He previously told Express.co.uk, "These things happen. When you're kind of going from series to series and there are a couple of months in between. It's just the logistics of contracts and people get offered other jobs and all that type of stuff. So, I couldn't comment about what happened, but these things do happen."
Whatever the reason, fans never actually *saw* David Leon leave Vera as DS Joe Ashworth as his final episode didn't contain any kind of exit storyline. Instead, Vera season 5 opened with him already having left Northumberland and City police and with DS Aiden Healy starting as his replacement.
There is noticeable friction between him and Vera early on in the episode as Joe was her blue eyed boy and Aiden wasn't accustomed to her way of working. As the episode's conclusion approached, though, Vera's frostiness began to thaw after she accidentally called Aidan "Joe". Asking who Joe was, Vera describes her former DS fondly to Aidan as "the old you".
The ITV drama explained that Joe had moved on to pastures new after securing a promotion and that he and his childhood sweetheart Celine were expecting their fourth baby. Asked by Aiden where Joe was now, Vera replied, "Oh, big promotion. Nice house next to an 'outstanding' [the highest OFSTED rating for a UK school]. Another girl on the way."
So whilst we ultimately don't know for sure why David Leon left Vera, at least fans were given more of an idea what Joe Ashworth's life was like after leaving his former job and boss.
Is David Leon returning to Vera in season 13?
We might still be patiently waiting for the upcoming special episode of Vera after Vera: The Darkest Evening brought season 12 to a close for now, but there's great news as David Leon is returning to Vera season 13. The ITV hit has officially been renewed for another installment and original cast member David - who played a big part in the Silent Witness ending last year - will be back as Joe Ashworth.
Now, more than a decade since he last appeared in Vera, David Leon will make a triumphant return and co-star Brenda Blethyn is thrilled. Opening up to ITV, Brenda said that she "can't wait to get started" and is "over the moon" to welcome him back to the Vera cast.
It's not known what Joe's title will be in Vera season 13 as the exact nature of his "big promotion" wasn't made clear when David Leon left the show. Filming on Vera season 13 is set to start in the summer of 2023, meaning there's still some time yet before we see Joe Ashworth back in action alongside the no-nonsense Vera Stanhope. But knowing that he'll soon be back accompanying her in her trusty land rover is a comforting thought.
Especially since it's sadly been confirmed that long-time Vera cast member Ibinabo Jack who played DC Jacqueline 'Jack' Williams is unable to return due to "theater commitments".
Why is Kenny Doughty leaving after Vera season 12?
David Leon's return as Joe Ashworth comes as Kenny Doughty has confirmed he's leaving as DS Aiden Healy after Vera season 12. This could mean that the replacement is being replaced by the original Detective Sergeant in a twist we didn't see coming. Either way, it's both brilliant to know David will be back and sad to bid Aiden farewell. Kenny took to social media to announce his departure and it seems he just felt that the time was right to leave the character and show after 8 years.
Sharing a series of pictures of him and Brenda throughout their time working on Vera together he expressed his gratitude to everyone involved in the show and to the fans at home.
"After 8 years & 35 Vera films I've made the difficult decision of handing over DS Healy's badge. I can confirm I am leaving Vera," he wrote. "I want to thank everyone who's made this amazing time so joyous, ITV, Silverprint, all the brilliant cast and crew BUT of course my buddy & inspiration Brenda Blethyn. The perfect leading star who I owe so much to."
Kenny continued, "I feel lucky to have you as a friend, you make me howl with laughter & have been a rock for me over the years. I can't thank you enough. Precious times. And finally the Vera fans: without you and your support I would never have made so many films. You really are the best fans in the world. Thank you so much for your loyalty & love for the show. X."
His final appearance is yet to air as alongside the other episodes in Vera season 12 they also filmed The Rising Tide as a special that directly adapts Ann Cleeves' book of the same name. It's not known whether they have given Aiden an exit storyline but either way this is set to be an emotional episode, just as the season 4 finale was when we saw David Leon leave Vera, although we didn't know it to be his final episode at the time.
Is DS Joe Ashworth in the Vera books?
As fans of Ann Cleeves' Vera books will already know there is no such person as DS Aiden Healy in the original series, only ever DS Joe Ashworth. He is a key character in the books right up to the most recently published novel, The Rising Tide. Because David Leon left the Vera TV show, the series couldn't keep DS Joe Ashworth without re-casting him four seasons in, so instead they introduced DS Aiden Healy.
Joe isn't the only one to still be in the books and not the show, though, as DC Holly Lawson (Wunmi Mosaku) put in for a transfer and left early on in the show. In the books she has continued to be a part of Vera's team alongside Joe.
Vera seasons 1-12 are available to stream now via ITVX.
Emma is a Senior Lifestyle Writer with six years of experience working in digital publishing. Her specialist areas including literature, the British Royal Family and knowing all there is to know about the latest TV shows on the BBC, ITV, Channel 4 and every streaming service out there. When she's not writing about the next unmissable show to add to your to-watch list or delving into royal protocol, you can find Emma cooking and watching yet more crime dramas.