Who killed Paul and Maggie Murdaugh?
Viewers of Netflix's Murdaugh Murders: A Southern Scandal want to know who the murderer is behind the killings of Paul and Maggie Murdaugh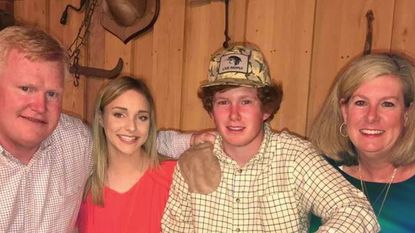 (Image credit: Netflix)
Since it's release on Netflix on February 22, viewers of Murdaugh Murders: A Southern Scandal, have been completely hooked by this real-life murder mystery, but who killed Paul and Maggie Murdaugh?
In the second episode of Murdaugh Murders: A Southern Scandal, viewers were shocked to learn that Paul and Maggie Murdaugh were killed at their home. The mother and son were discovered by Alex Murdaugh - Maggie's husband and Paul's father - who immediately called 911 and reported that he had found the pair not breathing and that they had been 'shot badly'.
The murders took place near the kennels on their vast property and barking dogs could be heard on the phone line on the call between Alex and the emergency services. On the call, he was frantic and crying as he claimed to have found his wife and son in this state after returning from visiting his parents whose health was declining at the time.
Paul had been shot in the chest and then in the back and side of his neck and head by a shotgun. His body was described as 'barely recognizable' after such a brutal attack. His mother, Maggie Murdaugh, was shot 'multiple times in the chest and back with a rifle and positioned almost as if she is running away from something or someone'.
Shortly after Paul and Maggie were found dead, Alex and his son Buster Murdaugh announced a $100,000 reward for information that could help them to find the person responsible for the murders. But the mystery still remained, who killed Paul and Maggie Murdaugh?
Who did the police suspect of killing Paul and Maggie Murdaugh?
The second episode suggests that soon after Paul and Maggie's murders, it was suggested that their deaths could be linked to the death of Mallory Beach. It was suggested that fingers pointed to the people who were on the boat the night that Mallory died, and those who were most affected by Mallory's death.
Mallory's boyfriend Anthony was the first suspect in the case and he revealed in the documentary, "They had law enforcement coming out there to my job, they looked me in my eyes and said, 'Hey you're kinda our lead suspect, and I need you to give me your alibi.' I all but lost my cool. You're talking about one of my good friends here." Connor, who was initially blamed as the driver of the boat by the Murdaughs, was also called into question.
Mallory's father Phillip Beach was also called into question. "A law enforcement officer contacted me one evening on my way home from work, and I think my response to him was that I was surprised you hadn't called sooner," said Phillip in the second episode.
Morgan Doughty, who previously dated Paul, was also investigated and was a suspect in the case.
Who is Paul Murdaugh's ex girlfriend Morgan Doughty?
Morgan Doughty was Mallory Beach's best friend and the ex-girlfriend of Paul Murdaugh. Morgan and Paul dated for 4 years and she was very involved in his family life and was taken on holidays and trips with them when she dated their son.
Morgan revealed that her relationship with Paul had become abusive and he would spit at her and verbally put her down towards the end of their relationship. Morgan claimed in the docu-series that Mallory saved her life on the day of the boat crash as that was the final straw with her relationship with Paul and the couple finally broke up. Morgan claims that Paul had a drinking problem and that the Murdaugh family was complicit in both of their sons' poor behavior.
Morgan was investigated for the murder of her ex-boyfriend and his mother. In the documentary, she said, "This SLED agent showed up to my work, and she wanted to get DNA samples of my hair, my fingerprint, and my spit. Me being involved with the family I can understand. But I looked her in the eyes and I said 'do not overlook Alex Murdaugh'."
Who killed Paul and Maggie Murdaugh?
Alex Murdaugh is currently on trial for the double homicide of Maggie and Paul Murdaugh. It was revealed in the documentary that the guns in possession of the Murdaugh family were not handed into the authorities to be compared with the guns that killed Paul and Maggie.
In episode 3, No Secrets are Safe, it was revealed that there were unexplained deaths (such as a housekeeper, Gloria Satterfield, and an alleged lover, Stephen Smith) that were related to the Murdaugh family. It was rumored that the Murdaughs were behind their deaths and killed Gloria in order to cover Alex Murdaughs drug problem, and Stephen Smith to hide Buster's gay affair with him.
In September 2021, just months after his son and wife's murders, Alex Murdaugh called 911 claiming that a stranger shot him in the head after stopping to help him with his tire. This took place just after he stepped down from the family business because of numerous embezzlement accusations.
Later, Alex confessed that he hired a hitman for himself to shoot and kill him so that his only son, Buster, could get a life insurance payout of $10 million. Alex was then also arrested for conspiracy to commit insurance fraud. The murder weapons used in the killing of Paul and Maggie are still missing and drone footage showed some members of the family removing guns from the store and taking them off the property.
Alex Murdaugh is the main suspect in the murder of Paul and Maggie Murdaugh, and while the docuseries showed that there is evidence to support this, he has continued to deny any wrongdoing. Alex was charged with killing his wife and son in July 2022 but has pled not guilty. On February 23, Alex is set to take the stand in the murder trial, as people wait with bated breath to hear his side of this gruesome story.
Until the trial is over, or someone has been found guilty, it has yet to be discovered who killed Paul and Maggie Murdaugh.
Laura is a news writer for woman&home who primarily covers entertainment and celebrity news. Laura dabbles in lifestyle, royal, beauty, and fashion news, and loves to cover anything and everything to do with television and film. She is also passionate about feminism and equality and loves writing about gender issues and feminist literature.
Laura loves drinking and eating and can often be found trying to get reservations at London's trendiest restaurants. When she's not wining and dining, Laura can also be found travelling, baking, and hiking with her dog.