What It's Like To Be The Ex-Wife Of A Famous Rock Star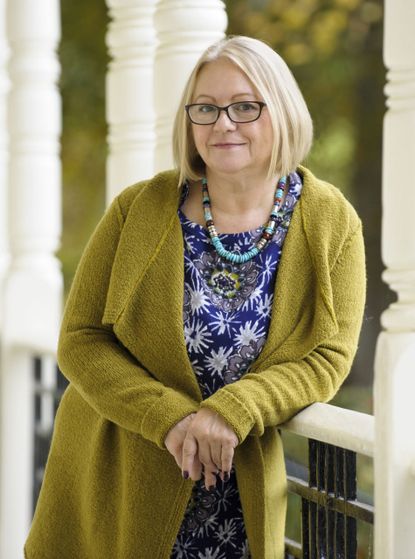 Andrea Collins split from first husband Phil Collins four decades ago but, as she tells Polly Dunbar, reclaiming your own identity seems impossible when your past is always under the spotlight.
Walking my dogs through the idyllic Somerset countryside where I live, I often bump into my neighbours. Although I haven't lived in the area long, they've been nothing but welcoming, stopping to exchange a friendly hello when they see me. Yet as I return their smiles, part of me is always wondering what they've seen or heard about me.
I'm not famous. In almost every way, I'm a totally ordinary 65-year-old woman, a mother of two and grandmother who enjoys growing herbs in my garden and making jam. But I'm always painfully aware that some of the people I meet on a daily basis will have read newspaper stories which mention me and feature my photograph - all because of a man I was married to more than three decades ago. That man is Phil Collins, one of the world's most successful musicians, and although we divorced in 1980, even now I live in the shadow of that relationship. I never wanted it to define me and did everything I could to move on, even living on a remote island off the west coast of British Columbia, Canada, for almost 30 years. But no matter how hard I've tried, it's a chapter of my life I've never been able to escape.
Phil and I first met when we were 11 and students at a stage school in London. We both appeared in musicals in the West End; Phil in Oliver! and me in Maggie May. We started dating at 14 and had an on-off relationship. My father died when I was 17 and about a year later, my mother was invited to stay with old friends in Vancouver, Canada. She met a man there whom she later married, so we both moved over there, ending my relationship with Phil.
Phil joined Genesis as the band's drummer in 1970, and when the group visited Vancouver to play a concert, I invited him to stay with my mum and me for a couple of days. I'd kept in touch with him and it was lovely to reconnect. I was happy to see the success he was starting to have, as I'd always known he was talented.
Life changes:
I already had a daughter from a previous relationship, Joely, then a toddler, and when Phil and I got back together we both returned to Britain with him. Phil and I were both 24 when we married in 1975 and, at first, we were very happy. The same year though, life changed for Phil when he took over as the frontman of Genesis. Naturally the unrelenting spotlight had an effect on him - he was more ambitious and focused on the band's success. I found out I was pregnant and shortly afterwards, he broke the news that he would be leaving after the birth for a world tour. I was anxious at the prospect of coping on my own for all that time with two small children, but within a day or two of our son Simon being born, he'd gone.
Everything changed when we moved from London to Shalford in Surrey. My family were in Vancouver and my friends were back in London, so it was a lonely time and despite my lovely children, I began to become depressed. Phil visited during breaks in the tour schedule, but he had a temper and would often snap at me over small things. I felt very alone.
We were having our house renovated and over time I got chatting to one of the guys helping to do the work. He seemed to offer the empathy and support I was lacking. We had a brief affair, mostly emotional rather than physical, which I confessed to Phil. I felt terribly guilty at the time, but I now see that it was a symptom of a marriage which wasn't working.
Phil and I stayed together after I ended the affair, but he was still touring and short-tempered with me when we saw one another. I decided to take a break to see my mum in Vancouver to get some space and while I was there, I realised I couldn't stay with him. When I returned home, I asked for a divorce. Phil refused to leave, so I had to leave the marital home and take the children to a rented house. Phil began a relationship with Jill Tavelman, whom he later married.
In 1981, Phil released his first major solo hit, In The Air Tonight - written, according to him, after I ran off with a decorator; a betrayal he highlighted during an infamous appearance of Top of the Pops, in which he performed with a pot of paint on his piano. I was watching that night and felt sick. I knew instantly it was a message to me, but I was horrified that it was so public.
After he confirmed in interviews that I was the subject of his first solo album, there were a flurry of stories about me in the newspapers. I was trying to build a new life for me and my two small children, but I felt vulnerable and overwhelmed.
As anyone who has gone through a divorce will know, it is a heart-rending business. Our marriage broke down for many different reasons. It never really came out that he'd cheated on me, too, and our divorce was granted on the grounds of his adultery, rather than mine. I asked him to stop talking about me and writing songs about our relationship, he told me he had the artistic licence to write about whatever he wanted.
A couple of years later, Joely, Simon and I moved to Canada. I wanted to go somewhere I could just be me and not Phil Collins' ex. There, I worked hard to move on. I went back to art college and later opened a gallery, where I sold my paintings and other artists' work, which I loved. I also remarried and enjoyed a happy second marriage for many years, though I'm single now and a couple of years ago I made the decision to come back to the UK, together with Simon.
My life now:
I'm immensely proud of both my children. Simon has a band called Sound of Contact and has released solo albums in the US, while Joely is an award-winning film and TV producer in Canada with a beautiful six-year-old daughter.
Until this year, however, I thought everything was in the past and I was finally able to be my own person until Phil returned to performing and released his autobiography, which raked it all up again. When I see stories about me written in the papers, with Phil blaming me for our marriage break-up, I'm no longer a person who's lived a varied, fulfilling life; I feel I'm a character in a play about a famous person.
Over time, even the most basic facts have become distorted. For instance, Phil and I married in a Catholic church in Epsom, Surrey, yet in his book it says the location was a register office in Acton. This is one of many examples. It's a strange, sad feeling to have lost control of the truth about important events in my life. Sometimes I feel like telling people, "If you've read about me, that's not who I really am."
I combat it by spending time with old friends and my children - the people who know the real me. I love my tranquil life in the countryside, walking my dogs and pottering around in the garden. I take pleasure in painting, which has always been one of my passions. I'll be spending Christmas with my son, daughter and granddaughter, who brings a lot of joy to my life. But of course, there will always be times when I turn on the radio and those famous opening drum beats of In The Air Tonight catch me unawares. It's fairto say I'm not a big fan of that song. Luckily, I can always turn it off.
Polly Dunbar is a London-based freelance journalist who has written for publications including the Mail on Sunday, the Telegraph, Stylist and Marie Claire. As well as freelancing as a writer Polly is also a contributing editor for Grazia.