We Meet The Writer Behind The Archers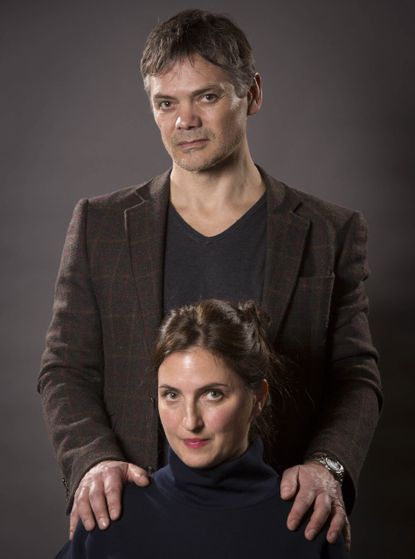 (Image credit: BBC/Pete Dadds)
Over the past 65 years, listeners have been transported to the fictional village of Ambridge - home to BBC Radio 4's The Archers - more than 18,000 times. The saga of Rob and Helen Titchener, which recently culminated in Helen's acquittal for attempted murder and wounding with attempt, following the stabbing of her abusive husband earlier this year, has had its 6 million strong following gripped for more than two years. A testament to the enduring power of radio in the digital age, the storyline has raised more than £160,000 for Refuge ("because for every fictional Helen, there are real ones," says the JustGiving campaign's founder, listener Paul Trueman). Meanwhile, the National Domestic Abuse Helpline has experienced a 20% increase in call volume, "which we think is in part down to the 'Archers effect'," Polly Neate, chief executive of Women's Aid, confirms.
In the wake of the trial that got the whole country talking, we talk to lead writer Tim Stimpson to find out what goes on behind the scenes, discover how he delves into the mind of an abuser and discuss his thoughts on those allegations of sensationalism...
You're the youngest ever Archers scriptwriter - was it daunting to join such an institution?
I think if I was joining now I'd be a lot more daunted. I was only 23 at the time and straight out of university. The naivety of youth can easily be mistaken for confidence but I was so excited about working for the BBC I don't think I really the considered the responsibility I was taking upon my shoulders.
How long have you been working on the series for now?
I've been working on the series for 14 years now, but although I'm not the newest scriptwriter anymore I can still claim to be the youngest. It's going to be hard to take when I finally lose that title!
Do you think you could ever be tempted to leave Birmingham and The Archers?
The Archers is a very hard show to leave. Some of us have been working on it for over thirty years! One of its great strengths is its long memory, but that makes it tempting to devise storylines that stretch over decades. You end up feeling a real ownership of it. Likewise it would be very hard to leave Birmingham. Despite the hopelessly out of date reputation the city still has, Birmingham is a fantastic place to live and work. London is always going to exert a pull, but it's only 90 minutes away on the train and the quality of life here is so much better.
How is writing for radio different from writing for TV or theatre?
I genuinely believe that radio is the hardest discipline, precisely because all the focus is on the words. There really is no place to hide. The upside is that you can do anything and go anywhere for barely any money. We're very lucky in this country to have such a high output of radio drama and I'd encourage any aspiring writer to give it a go. If you can crack the good old wireless you can do anything. What do you think makes a great radio actor?
A distinctive tone of voice is a great start! Not overplaying is important too, as is being able to sound spontaneous. Normally a radio actor will perform the script straight off the page and it's very easy to sound as if you're reading. You also need to be able to turn the pages without make a noise! Was the stabbing planned from the time Rob joined the series?
No. I introduced Rob as a sort of domineering, chauvinistic type of character. Some people would find his traditional sensibilities very charming, but it would wind others up - particularly Helen's mum and dad. It was only when Sean O'Connor became Editor that he suggested taking the story further, culminating in the stabbing.
How far in advance was the verdict decided upon?
If I remember rightly there was never anything to decide! We always knew Helen would be found not guilty. Part of our aim was to turn Helen into a heroine. Having done that there was nothing to be gained dramatically from keeping her in jail. Plus we knew the listeners had already been through enough! How long did it take you to write the trial episodes?
I had about two days to write the pitch, five days to do a scene-by-scene breakdown and then just over two weeks for the actual scripts. The Archers is made very quickly and it wasn't any different for the trial. What kind of research did you do?
Fortunately we took on an additional researcher just to do this story. She worked very closely with a criminal barrister to provide legal advice and devise a realistic structure for the trial. Any queries I had about procedure or language I could always fire at them. I also spent a day at Birmingham Crown Court going from courtroom to courtroom getting a feel for how the system works. What is the process of 'getting into the characters' heads' like, particularly in the case of Rob and Helen?
I'm often asked this and always struggle with what to say, other than imagination and empathy. I suppose I always start with the assumption that nobody thinks they're a bad person, even someone like Rob. We all find some way of justifying our own behaviour and if you can find what that justification is you can normally get into the head and the heart of the character.
How is the scriptwriting divided amongst the writing team?
We work in five-week blocks and each writer writes a week's worth of scripts from Sunday to Friday. This means that there are always five writers working simultaneously. We try to keep in touch with each other as much as possible so that the stories unfold seamlessly, and of course we have fantastic script editors to help with that process too. Were you expecting the Helen and Rob storyline to resonate so strongly with the public?
We knew it would be big but we could never have predicted quite how strongly it would resonate. Domestic abuse storylines are familiar on other soaps and are normally portrayed in working class settings. I think by placing it in Ambridge and therefore in the heart of middle-England we've revealed that abuse can happen to anyone of any class or background. From speaking to survivors I've learned that it's far more common that I would have ever liked to believe. How would you answer the accusations of sensationalism which some listeners have levelled at the storyline?
I can accept that some listeners may have felt it wasn't an appropriate story for Ambridge, although I would point out that The Archers has always tackled hard-hitting stories from time to time. However, sensationalism is when you tell a story for a quick, passing thrill. Of course a story needs dramatic moments, but this story has been played out slowly and sensitively over almost three years. I don't think we would have had so much support from charities like Women's Aid and Refuge if they thought it was sensationalist. Sadly it's an all too realistic reflection of many people's experience.
Sign up to our free daily email for the latest royal and entertainment news, interesting opinion, expert advice on styling and beauty trends, and no-nonsense guides to the health and wellness questions you want answered.