The Woman in the Wall true story is just as harrowing as the BBC drama depicts as Lorna's past delves into a shocking historical scandal
You might be wondering about The Woman in the Wall true story and if Magdalene Laundries still exist after watching this gothic thriller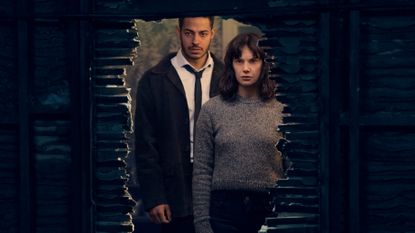 (Image credit: BBC/Motive Pictures/Chris Barr)
woman&home newsletter
Sign up to our free daily email for the latest royal and entertainment news, interesting opinion, expert advice on styling and beauty trends, and no-nonsense guides to the health and wellness questions you want answered.
Thank you for signing up to Woman & Home. You will receive a verification email shortly.
There was a problem. Please refresh the page and try again.
The Woman in the Wall true story is every bit as traumatic as the BBC drama suggests and there's more to it than many will know.
Starring Ruth Wilson, who's acting talent is a huge reason to watch Luther, The Woman in the Wall is a gothic thriller that delves into an incredibly traumatic scandal in Ireland's history. Whilst Ruth's Lorna Brady might be facing a nightmare in 2016, her past experience at one of Ireland's Magdalene Laundries is every bit as important to the six-part series. Not every viewer will know what these institutions were and did and some might be wondering how much of The Woman in the Wall is based on real events.
Here we explain The Woman in the Wall true story and how it came to inspire the show's writer and creator Joe Murtagh to shine a light on this side of history.
What is The Woman in the Wall true story and what are Magdalene laundries?
From the heart wrenching Steeltown Murders true story and equally devastating The Sixth Commandment true story, many of the BBC's biggest dramas of 2023 have been inspired by utterly chilling events and cases. When it comes to what the Woman in the Wall is based on, though, things are a little more complex as the main story is fictional but the basis for Lorna Brady's backstory is rooted in reality. Lorna wakes up to discover an unknown body in her home and whilst this storyline is a creation of the BBC/Showtime drama, Lorna is still haunted by her time at one of Ireland's Magdalene Laundries and these institutions existed for hundreds of years.
These were workhouses run by religious organisations where so-called "fallen women" were sent, such as those who fell pregnant outside of marriage. The institutions subjected these women to forced manual labour and appalling conditions. As reported by the Irish Times the first Magdalene Laundry in Ireland opened in 1767 and this was the Protestant Church of Ireland-run laundry, the Magdalen Asylum for Penitent Females.
Later Catholic congregations went on to run them - Sisters of Mercy, Sisters of Our Lady of Charity or Refuge, Sisters of Charity and the Good Shepherd Sisters. In 1992 a mass grave at the site of one of the Magdalene Laundries, Donnybrook Laundry, was uncovered after the Our Sisters of Our Lady of Charity or Refuge wanted to sell off the land. 155 unmarked tombs were discovered, creating a huge scandal and exposing horrific practices of the Magdalene Laundries.
Many of the women who'd been sent to laundries were, as per the BBC, done so by the Irish State and there were reportedly around 10,000 who were forced to do unpaid manual labour between 1922 and 1996. In 2013 Enda Kenny, then-Irish Prime Minister, issued a formal apology on behalf of the Irish State for its role in the Magdalene Laundries.
"For 90 years Ireland subjected these women, and their experience, to a profound indifference," he declared. "By any standards it was a cruel and pitiless Ireland, distinctly lacking in mercy. We swapped our public scruples for a solid public apparatus."
The Irish Government also set up a compensation scheme for survivors of the Magdalene Laundries and this later received an extension. The Woman in the Wall true story is truly horrific and in the BBC drama this is the backdrop against which the wider story is set.
Speaking to the BBC as the BBC/Showtime drama was commissioned, the show's creator and executive producer Joe Murtagh expressed a profound sense of frustration and sadness that so little is known about the laundries and what those poor women went through. By combining the fictional tale with The Woman in the Wall true story, he stated that he hopes they can "shed" light on what went on at these institutions for so long.
"My family is from Mayo, the county in which the fictional Kilkinure is set, and it deeply frustrates and saddens me that it feels so few people have heard of the Laundries that existed across Ireland," he said. "I hope that by making something that has the familiarity of a genre piece we are able to shed some light on the awful things that occurred within these kind of institutions and introduce this history to the wider public, so that nothing like it may ever happen again."
He later discussed his inspiration in more detail with the BBC and revealed he hadn't known about the laundries either.
Joe said, "As for the inspiration behind the series, primarily it was coming across the real-life stories of the Magdalene Laundries. I just couldn't believe what I was reading. It was Peter Mullins' film The Magdalene Sisters that first introduced me to it. I couldn't believe that it had happened, but I also couldn't believe that I didn't know that all this had happened."
Stating that "most people outside of Ireland" didn't know it had occurred and he'd been spurred on to make the show by a "sense of outrage".
"And I wanted to do it in a very particular kind of way where, because it was so unknown, I wanted to kind of cast the net wide, and get the story out there to as wide an audience as possible," Joe added.
Do Magdalene Laundries still exist in Ireland?
Given that so many people might not be aware of what happened at the Magdalene Laundries in Ireland, after learning about The Woman in the Window true story some fans might be concerned about whether the laundries still exist. Thankfully, they don't but the last Magdalene Laundry - the Sean McDermott Street Magdalene Laundry - only closed relatively recently in October 1996.
Last year a memorial dedicated to all those who'd been incarcerated at the Magdalene Laundries, Mother and Baby Homes and other institutions was unveiled at the Little Museum of Dublin.
Magdalene Laundries were established in the 18th century and were followed by Mother and Baby homes in the 20th century where unmarried mothers were also sent and endured equally horrendous experiences, including illegal adoptions of their children. The last Mother and Baby home closed down in 1998 and The Woman in the Wall creator and writer Joe expressed how it's almost hard for people to comprehend The Woman in the Wall true story that the show is based on because it sounds "mediaeval".
"When I tell people that the last laundry closed in 1996, and the last Mother and Baby home closed in 1998, they can't believe it, because the stories sound so mediaeval - they are mediaeval," he said, before later speculating about how such a "harrowing" part of Irish history isn't widely known.
Joe disclosed, "It's hard for that not to feel like an active act of repression, or covering this up, or brushing this under the rug. It's this sense of shame that stopped people talking about this for years, and I feel like it's still stopping people from talking about it. It is still affecting quite a lot of people, and there must be thousands more who don't even know that they've been affected by it."
"The further you get into it, when you start reading about illegal adoptions, and falsifying death certificates in order to prevent birth mothers from finding their sons and daughters, this idea of "move on" just isn't tenable," he added.
In The Woman in the Wall, Lorna certainly hasn't been able to "move on" after falling pregnant 25/30 years earlier and being forced into one of the Mother and Baby homes. Despite having physically left the institution behind, the psychological impact of her traumatic time there continues to torment her. After discovering the dead body of a woman in her home with no recollection about whether she could be responsible, Lorna resolves to solve the mystery and also find out what happened to her child.
The Woman in the Wall continues on BBC One on Sundays at 9pm, with all episodes that have aired so far currently available to watch via BBC iPlayer.
Sign up to our free daily email for the latest royal and entertainment news, interesting opinion, expert advice on styling and beauty trends, and no-nonsense guides to the health and wellness questions you want answered.
Emma is a Royal Editor with seven years of experience working in digital publishing. Her specialist areas including literature, the British Royal Family and knowing all there is to know about the latest TV shows on the BBC, ITV, Channel 4 and every streaming service out there. When she's not writing about the next unmissable show to add to your to-watch list or delving into royal protocol, you can find Emma cooking and watching yet more crime dramas.