The Crown's Olivia Colman is actually related to a member of the royal family
The Crown star Olivia Colman has royal blood after all!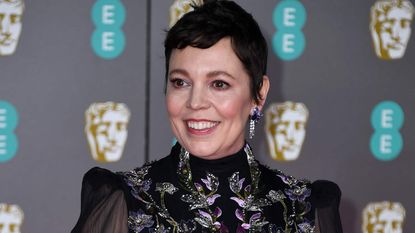 (Image credit: Gareth Cattermole/Getty Images)
Olivia Colman has received rave reviews for her portrayal of Queen Elizabeth II in The Crown– and now it turns out she's actually related to a member of the royal family.
---
According to researchers at MyHeritage.com, (opens in new tab) the leading global family history company, Olivia and the Queen are in fact 13th cousins, both descended from Richard Saunders (1452-1480) and Agnes Courtenay (1452-1485). Richard and Agnes lived in Surrey, England.
The news that Olivia has royal blood of her own will no doubt come as a pleasant surprise after she revealed that she's developed a new found love for Her Majesty.
"Having played the Queen, I have become slightly in love with her now," Olivia told the Financial Times earlier this month.
"I think as far as royals go, she has such humility and a sort of stoicism that are very impressive."
The Oscar-winning actress will see her time on the throne finish at the end of series four, with actor Imelda Staunton taking over the role of Queen Elizabeth II for series five of The Crown.

Olivia's newfound connection to the Queen could soon become a more pleasant story to tell, after she revealed that she had an awkward encounter with Prince William.

Appearing on The Graham Norton Show, Olivia Colman was asked if she had ever met a royal, to which she replied: "Yes, but it didn't go very well."

The star said she struck up a conversation with Prince William while the pair attended a dinner together.

She said: "He asked what I was doing at the moment before he quickly added, 'Actually, I know what you're doing.'

"I was so excited and asked, 'Have you watched it?' His answer was a firm, 'No'. But he was very charming and very lovely."