Miriam Margolyes claims Arnold Schwarzenegger deliberately farted in her face
It's safe to say she's not a fan of his!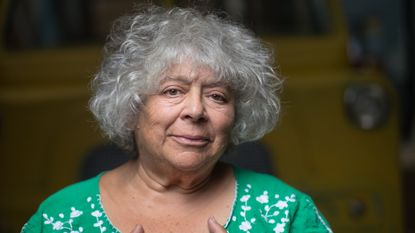 (Image credit: Getty)
Miriam Margolyes is never one to mince her words, and she's now sensationally claimed that Arnold Schwarzenegger deliberately farted in her face while they were filming a horror film.
She says the incident took place back in 1999 when the pair were co-starring in the horror End of Days. In the film, the Austrian former bodybuilder played an ex-police officer, while Miriam was an assistant to Satan.
When the pair filmed a fight scene, Miriam says, "He was actually quite rude. He farted in my face. Now, I fart, of course, I do – but I don't fart in people's faces. He did it deliberately, right in my face."
She added to the I've Got News For You podcast, "I was playing Satan's sister and he was killing me, so he had me in a position where I couldn't escape and lying on the floor. And he just farted. It wasn't on film, it was in one of the pauses, but I haven't forgiven him for it."
Miriam also revealed that she didn't particularly get on with Arnold, which is hardly surprising. She said, "He's a bit too full of himself and I don't care for him at all. He's a Republican, which I don't like."
End of Days was directed by Peter Hyams and also starred Gabriel Byrne, Robin Tunney, Kevin Pollak and Rod Steiger.
The Harry Potter star is well known - and loved - for her outspoken nature. Last year, Miriam branded Monty Python 'complete s***s' and she's 'never forgotten' how they treated her.
She explained in her book, This Much Is True, how the famous comedy group seldom made space for all sorts of funny women.
Miriam said, "If you consider it, the Monty Python exhibits did not function, humorous ladies, solely the occasional dolly chook. And I definitely wasn't that."
She also explained how she believes a lot of this is to do with the outdated attitudes from the elitist private schools these men attended before going to university. "At that point, and the entire time I used to be at Cambridge, a lady couldn't be a member of the Footlights Club. Girls weren't welcome: we attended solely as company," Miriam said.
She added, "These chaps wished to sleep with ladies, not compete with them. I used to be neither ornamental nor bedworthy, and they discovered me insufferable."
Robyn is a celebrity and entertainment journalist and editor with over eight years experience in the industry. As well as contributing regular to woman&home, she also often writes for Woman, Woman's Own, Woman's Weekly and The Sun.