Louise Redknapp 'Mine And Jamie's Marriage Works Because We Don't Talk About It'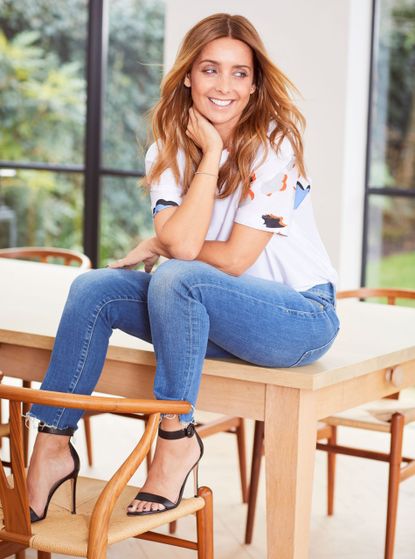 woman&home newsletter
Sign up to our free daily email for the latest royal and entertainment news, interesting opinion, expert advice on styling and beauty trends, and no-nonsense guides to the health and wellness questions you want answered.
Thank you for signing up to Woman & Home. You will receive a verification email shortly.
There was a problem. Please refresh the page and try again.
Louise Redknapp is hot off the Strictly Come Dancing train, having finished in joint second with her popular dance partner Kevin Clifton at Christmas. And it seems the 40-year-old star has found new life after the dance show - because we think she's looking better than ever. And the mum of two, and wife of former football star Jamie Redknapp, is certainly keeping busy after the show. She's busy focusing on her fashion blog, A Style Album, and her successful beauty range, Wild About Beauty. And now, the former singer has another string to add to her belt, with a new collaboration with Ariel.
Louise has teamed up with Ariel to redefine the meaning of clean. She said, "I know how important it is to keep clothes looking like new to ensure I feel confident no matter the challenge. I rely on Ariel 3 in 1 PODS as they go beyond stain removal and clean like new so you can dress for confidence." Ariel and Louise Redknapp partnered to redefine the meaning of clean - find out more here.
We chatted to Louise to find out a bit more about her...
You came second in Strictly last year - congratulations! How was it? Is is something you've always wanted to do?
I don't think I've always wanted to do it. The options have been there before, but I just thought that I couldn't. But last year just seemed like the right time to do it. And I had a ball. I'm so pleased I did it. I don't think I was majorly unconfident before, but it definitely helped me fall in love with something. I come from a world of performing, and doing Strictly made me want to carry on doing it, so that has boosted my confidence. And being in the show has definitely made me think that I'd like to start to auditioning for West End roles - I hope that will be my next move.
Did you find yourself getting fitter with Strictly? Did your body change?
Doing Strictly, I danced from 10am-6pm each day, and in the last two weeks I did 10am-10pm, because you're learning three dances by the end. And amongst that you're doing all the PR, the VT's - a million and one things. So I didn't even really think about it to be honest - it's just needs must when you're doing Strictly! You need to learn a dance, so you don't really think about anything other than practising it. I think it's a bonus that you get fit whilst you're doing something you love.
Do you exercise a lot?
I'm certainly not a major gym bunny that prioritises going to the gym. If I've got an opportunity to go for a coffee and a piece of cake with a friend over the gym, then I'll always chose that! But I do also know I feel better when I'm being active, so for me it's about finding things that I enjoy. I tie keeping fit in with being social, so I do Pilates with my friends, I'm still doing dance classes with some of the guys from Strictly. I just try and enjoy what I do.
How do you make sure to get a good work/life balance?
Well, it's chaos most of the time! Some weeks I manage it really well, and I have loads of time with the kids, myself and for work. And other weeks I feel like I barely see the kids because I'm always working. I think it's just about not beating ourselves up. It's just taking each day, day by day, and for me, as long as the kids see a positive role model in me, whether at home or at work, that's happy and successful at what I've chosen to do - that's what matters.
Setting boundaries doesn't always work! I don't set any boundaries. Every day is different, and every day requires different things. Some nights I do have to finish a blog post. But then there's another night that all my time goes to watching the boys play football. It's all about a happy medium. Either way, you make it work.
What do you do to unwind?
I love a good boxset. I love getting in to bed and watching something whilst I fall asleep. I'm watching The Fall at the moment, and I'm love it, but it's a bit scary! Not the best thing to go to sleep to...
You and Jamie are celebrating your 20th anniversary together next year. What's your secret to a happy marriage?
We don't talk about it that much! When we go home, we shut our front door, and our married life is the same as everybody elses. Its not really a showbiz marriage, because we try very hard to just keep everything really normal. And we just do normal things together, which I think is really important.
Where is your happy place?
Selfridges! On my own, for an hour, with a cappuccino! I love walking around and losing myself in all the outfits. Just being out and being surrounded by nice things. You can't be on the phone in there! You can lose an hour in there very easily.
Do you have any secret beauty tips and tricks you could share?
Well, I love my Wild About Beauty bronzer! But doing things you love and being happy is the best way to radiate an inner kind of beauty. I think we all try and look after ourselves, and obviously I work in fashion, so clothes are important to me. And as a woman they give me lots of confidence - I really think that clothes can make a difference to how you feel in your day.
What are your three wardrobe staple items?
I always say I have a uniform, especially on the days where I don't know what to wear! I love a good blazer, a good white shirt, a jacket, and a pair of jeans. Am I allowed four things? If I've got those things, I can carry on with my day. I also love a cool leather skirt and a sexy high heel. If I've got those, I'm good.
But I would always prefer to be underdressed than overdressed. I'm somebody that would prefer to be pared down and laid back rather than trussed up and looking stupid! So I do just stick to what I know. I know what works for me and simple is best. I'm not very tall, I'm not very big. If I try and go for loads of frills and shapes and long arms I look ridiculous.
Who is your fashion icon?
Christine Centenara (Kim Kardashian's former stylist and Vogue Australia's fashion editor) would be my biggest style crush. I think she's an amazing fashion editor, and I get inspired by how she puts things together. She always manages to do something that makes them look slightly quirky.
What is your favourite season to dress for?
I love dressing for winter because I love layering - boots, coats, scarves, a beanie hat. I hate winter for the weather but I love it for the fashion. But clothes are so much more expensive in the winter! A big coat and boots are so much dearer than a shirt and shorts. But I think if you can get something that's more expensive and make sure it will last longer, that's great. I do like investment pieces especially because I stick to such a standard look throughout my day.
Where do you get your favourite pair of jeans?
I think you can get a really good pair of jeans on the high street. Topshop do great denim, and Frame also do great denim - with the two of them you're pretty covered.
How is Ariel redefining clean?
Redefining clean means simply to be feeling confident in your clothes every day. I know that I feel my best when I feel comfortable and happy in clothes, and that's how Ariel wants women to feel in their clothes. And if you have a stain down your top, no one feels comfortable! So it's really about feeling confident every day.
Louise Redknapp fact-file:
How old is Louise Redknapp? The star is 42 years old, and was born on 4th November in Lewisham, London.
Louise Redknapp's children are Charley, 13, and Beau, 9, who are both at school. They live with her and Louise Redknapp's husband, Jamie Redknapp. He is a former professional footballer who played for Bournemouth, Southampton, Liverpool and Tottenham Hotspur, before retiring in 2005. But before getting married, Louise Redknapp's maiden name was Nurdey. And what about Jamie and Louise Redknapp's wedding? Louise and Jamie married on 29th June 1998, when on holiday in Bermuda. Louise was only 23, and the couple were engaged and married with a week!
(Louise and Jamie Redknapp with son Beau)
Louise has had an extensive career in showbiz, and was famously in the band Eternal from 1995 -1998. And what about Louise Redknapp in Strictly? She took part in Strictly Come Dancing in 2016, and came second in the show alongside her professional partner Kevin Clifton.
Louise Redknapp also runs a fashion blog, A Style Album, where she posts regularly with her friend, Em. And we know that Louise Redknapp has style, as she's usually seen rocking a relaxed, casual and simple look.
Want to take a peek at Louise's inner thoughts? Take a look at Louise Redknapp's Twitter page, @LouiseRedknapp
Sign up to our free daily email for the latest royal and entertainment news, interesting opinion, expert advice on styling and beauty trends, and no-nonsense guides to the health and wellness questions you want answered.
Amy Hunt is an experienced digital journalist specialising in homes, interiors and hobbies. She began her career working as the features assistant at woman&home magazine, before moving over to the digital side of the brand where she eventually became the Lifestyle Editor up until January 2022. Amy won the Digital Journalist of the Year award at the AOP Awards in 2019 for her work on womanandhome.com.