Lisa Faulkner On Finding Love, Her Blended Family And Seeing A Counsellor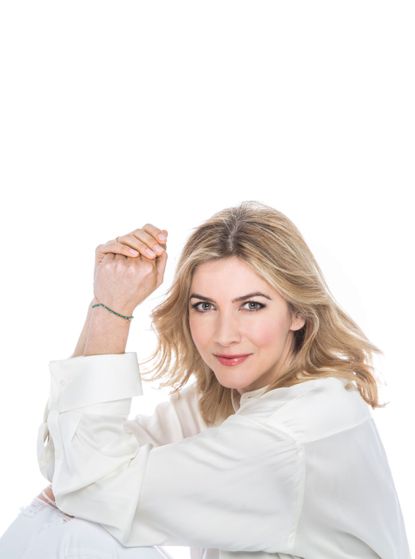 Lisa Faulkner, 44, lives with her partner, MasterChef judge John Torode, in London. She has an adopted daughter, Billie, nine, and John has four children from previous relationships.
One of the best things about going into a relationship slightly later in life is that it makes you appreciate what you have. It's easy to be quite foolish when you're young, but now that I've found John, I think, "I'm not going to let this go, I'm going to look after this." We have date nights every week - we'll go for dinner or to the cinema - and we write little notes for each other when one of us goes away. John actually left for work this morning at 5am, and I found one next to the teabags. It was lovely.
I love the fact that between us, John and I have this wonderful blended family. I don't see myself as a mother figure to his kids though, I'm more of a friend and a confidante. When all the children are in the house with us, it's the best feeling. My favourite time is when it's breakfast and you've got one person boiling an egg, another making pancakes and someone else putting sausages in the oven - and all the jars of jam and chocolate spread are out on the table. It's what I call "happy chaos" - I love it.
Counselling has seen me through some difficult times - not only when I lost my mum to throat cancer when I was 16, but through an ectopic pregnancy and several failed rounds of IVF. It's funny though, because there's this assumption a counsellor gives you the answers to your problems, but actually, you just have to talk, and some days you come out feeling great and other days you come out feeling rubbish. It's not easy, but there is light at the end of the tunnel.
For a long time, I measured success on being offered another job. The other day I looked around me when I was at home and the kids were jumping on and off the bed, and there was mess everywhere and I thought, "Everyone's happy" - and I felt like I'd done something right. Now I see success as appreciating the small things because in fact, they're the big things.
When my mum was very ill, she wrote me a letter in which she said, "Keep your shoulders back and don't follow the crowd." That's become more important to me the older I've got. It's easy to say, "I'm this age now and I'm stuck in this rut and that's fine" - but actually, sometimes you have to jump. For years my life was defined by being an actress, then I did MasterChef and my heart would beat with an excitement I hadn't really felt before. If I hadn't closed my eyes and thrown myself into it, I wouldn't be doing the thing I love today. We've all got it in us to do that.
My new book, From Mother to Mother, has been inspired by the women in my life. It started when I asked all my family and friends who are mothers for their favourite recipes that have been passed down the generations - and they let me play around with them. You'll find everything from my cousin's butternut squash Bolognese to Auntie Lil's chicken soup, each with a twist. And maybe I'm biased, but they taste pretty good!
Lisa's book, From Mother to Mother (Simon & Schuster), is out 9 March.
Photograph: Trevor Leighton