'I nearly blew it': Kate Garraway makes huge error on I'm A Celebrity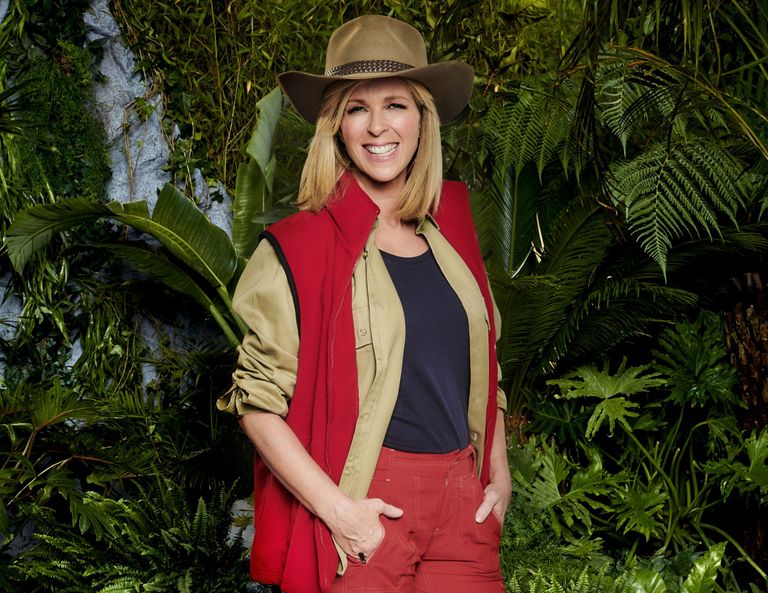 By Amy Hunt
Kate Garraway has swapped her comfy news seat on Good Morning Britain for a place in the I'm A Celebrity jungle, but following tonight's episode, it looks like Kate isn't all too familiar with the everyday jungle proceedings!
Her fellow campmates Cliff and Adele had just succesfully completed the Dingo Dollar challenge, and were relying on the rest of the camp to answer the question correctly, in order to win some After Eights.
It was Kate who went to answer the jungle phone to Kiosk Kev, who asked which percentage of people would rather travel to the future than to the past.
MORE:Kate Garraway's very classy yellow dress is exactly what we need to say bye to winter blues
But after relaying the question to the rest of the celebrities, Kate broke rule one of jungle life, and put down the phone to Kiosk Kev before even answering the question!
Her fellow celebrities panicked after realising what they'd done, with many assuming it meant that they'd missed out on the coveted foodie prize.
Jokingly, Roman Kemp asked, 'Have you not watched this show Kate?!', given how often the jungle phone rings.
Ian Wright was convinced that they'd blown it, telling the rest of the camp that Kev wouldn't ring back after being hung up on.
And of course, viewers of the show were quick to take to social media to share their reactions, with one calling the dramatic moment one of the 'funniest moments of the show' so far.
While others called Kate's mistake, 'iconic'...
The presenter herself seemed mortified by her error, saying afterwards, 'I nearly blew my responsibility there!'
Kate Garraway appeared to be the star of Tuesday night's show, reducing fans to fits of giggles later on in the episode.
Some of the male campmates, including Ian Wright, Myles Stephenson, and Roman Kemp, decided on a practical joke to lighten the mood in camp, hiding in the bushes of the jungle in order to jump out on an unsuspecting Kate.
And as she wandered through the path, she appeared terrified when Ian eventually jumped out at her.
But it was her scared scream which proved both confusing and hilarious to viewers, with many likening it to the sound of a bird or an alarm.
One wrote on Twitter, 'This was the highlight of the episode!! Brilliant 😂🤣😂', while another said, 'What kind of scream was that from Kate?! Sounded like a bird noise', and a third wrote, 'Sounded like my smoke detector.
What did you think? Listen for yourself below...
I'm a Celebrity typically runs for three weeks, and if this year's series follow suit, the show is set to run until around 7th December.