Is The Clovehitch Killer based on a true story? Inspiration behind Netflix movie revealed
The Clovehitch Killer, a 2018 thriller now on Netflix, was mostly inspired by a terrifying real-life story about a serial killer in Kansas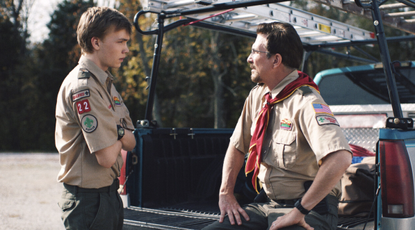 (Image credit: Netflix)
Although The Clovehitch Killer, a coming-of-age thriller directed by Duncan Skiles and written by Christopher Ford, was first released back in 2018, fans are now revisiting the story that inspired it as the movie is currently available to stream on Netflix.
Just as terrifying as The Strays on Netflix, the thriller was mostly inspired by the real-life story of serial killer Dennis Rader, more widely recognized as the BTK Killer.
Famous horror and supernatural fiction author Stephen King even called the production "excellent" and "unbearably suspenseful."
WHAT IS THE CLOVEHITCH KILLER ABOUT?
The Clovehitch Killer centers around 16-year-old Tyler Burnside, who lives with his parents and sister, all devout Christians, in the small town of Clarksville, in Kentucky.
Watchers are immediately introduced to the story of the local Clovehitch Killer, a serial killer that bound and strangled 10 female victims and then disappeared 10 years prior to when the film kicks off.
While out with a girl one night, Tyler finds a bondage photograph in-between the seats of his father Don's truck - an episode that leads him to believe that his dad might have had something to do with the infamous killer.
With the help of an "amateur Clovehitch historian" and fellow teenager named Kassi, Tyler starts investigating his father's possible ties to the murderer.
Although Don initially convinces Tyler that his uncle Rudy was the killer and even entered a vegetative state given the guilt he felt over the whole situation, audience members quickly realize that Don is certainly not who he says he is.
WHO STARS IN THE CLOVEHITCH KILLER?
In The Clovehitch Killer, Charlie Plummer takes on the role of Tyler Burnside opposite Dylan McDermott as his father Don. Samantha Mathis plays Don's wife Cindy while actress and DJ Madisen Beaty, of The Curious Case of Benjamin Button and Other People fame, plays Kassi.
IS THE CLOVEHITCH KILLER BASED ON A TRUE STORY?
The Clovehitch Killer, currently streaming on Netflix, is mostly based on the true story of serial killer Dennis Lynn Rader, also known as BTK, a name that Dennis actually gave himself that stands for "bind, torture, kill."
Currently serving 10 consecutive life sentences in a maximum security prison in Kansas, Dennis killed 10 people in both Wichita and Park City between 1974 and 1991.
After each heinous crime, Dennis would send letters to both media outlets and police departments describing his actions in detail - but he was not caught until years later, in 2005, when he started sending the gruesome messages again after a 10-year-long hiatus.
HOW TO WATCH THE CLOVEHITCH KILLER RIGHT NOW
The Clovehitch Killer is currently streaming on Netflix so anyone with a subscription to the service can watch it.
The film is also streaming on Apple TV and Amazon Prime.
Anna Rahmanan is a New York-based writer and editor who covers culture, entertainment, food, fashion and travel news. Anna's words have appeared on Time Out New York, the Huffington Post, Fortune, Forbes, Us Weekly, Bon Appetit and Brooklyn Magazine, among other outlets.