How To Make Gardening Your Career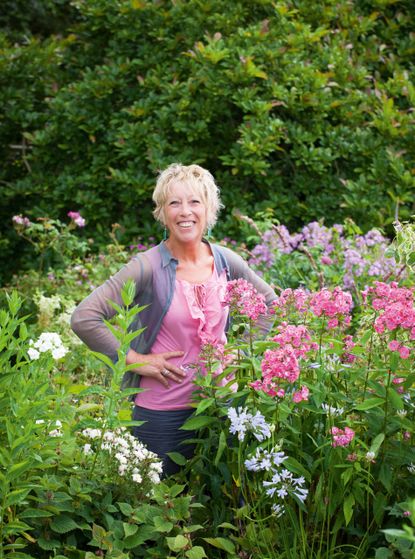 Do you dream of turning your passion for gardening into more than just a hobby? With the Chelsea Flower show running 24 May-28 May, we meetfour people who were inspired to forge careers out of their love of gardening.
TV gardener and author Carol Klein lives in Devon with her husband Neil. They have two grown-up girls.
"I was an art teacher in London for 13 years but I desperately wanted to garden. That was out of the question in London, so I got a teaching job in Devon. We only just managed to scrape the mortgage together, but we got a greenhouse so I could grow seeds and cuttings.
After my daughters were born I thought it was about time I did what I really wanted to do, which was to grow things and be in my garden. So I got a stall at a market selling homemade bread, jam and my plants.
Shortly afterwards, my nursery, Glebe Cottage Plants, started to exhibit at major flower shows. We did 16 shows for 17 years, including the Chelsea Flower Show, where we won six Gold medals. I ran the nursery for 30 years but nowadays I concentrate on writing and gardening TV shows.
I've never had a career plan; I just had a great wish to be close to plants. I'll never retire."
Favourite flower?"It depends when you're choosing - in spring it's the primrose."
Landscape and garden designer Jo Thompson designed the M&G garden at last year's Chelsea Flower Show. She is divorced, with a son and a daughter, and lives in Sussex.
"From the moment I first walked down the Main Avenue and saw the machinery, everyone working 12 hours a day towards the same end of making beautiful gardens, I thought, 'this is it'.
Gardening played absolutely no role in my life growing up. It wasn't until I got married, having trained as a primary school teacher, and we were living in our tiny first flat in London that I realised how spaces can be transformed. The flat had a little flat concrete space on top of our roof and I asked the people at Clifton Nurseries, which was nearby, what could be done. They just said, "Leave it to us", and created a gorgeous little haven.
When we moved to Kent after our first child, we needed help with our odd-shaped garden. That was when I realised that being a garden designer was an actual career - and I really wanted to do it. So, instead of getting a new teaching job, I investigated courses and found one called The English Gardening School run by Rosemary Alexander, which involved two days a week in London plus three days of study. Although it meant really scrimping and saving, we got childcare for two days a week, then I fitted the study days into the weekend.
My first paid job was for friends with a big field of a garden. That led to a roof terrace in London that was published in the Society of Garden Designer's annual review, which led to my first Chelsea, in 2009. I did the urban garden in 2010 which won Best in Show in its category and that's when things really took off for my business.
Every day is different and I absolutely love it. I don't mind working evenings and weekends because I've really found my passion, which changes everything."
Favourite flower?"A rose..Rosa banksiae 'Lutea' has early clusters of dainty primrose yellow flower."
Visit jothompson-garden-design.co.uk
Gardener Sarah Raven lives in Sussex with her husband, Adam Nicolson. Together, they have five children.
"After doing my first degree in history I switched to medicine, which I loved. But starting late meant I was married with a baby and working 72 hours a week. Hardly seeing my baby was heart-breaking.
When Rosie was six months old we moved to Perch Hill, which was a very ramshackle ex dairy farm but in a beautiful place. I did a job share and I started growing stuff - my father, who died when I was 17, had instilled in me a passionate love of plants and botany, and plant biology. I'd always loved cut flowers and, together with my friend Louise Farman, I set up a business called Garlic and Sapphire, doing cut flowers in offices and restaurants. When I went back to finish my medical training, Louise carried on the business with the idea that I'd supply flowers to her.
At that time nothing was written about gardening and Monty Don, who is a very old friend of my husband Adam, suggested we write a piece together in the Observer. Adam had this idea that I write a book about growing cut flowers. He helped me to write a proposal and it was commissioned - me all the time saying, "But I'm a medic!" I finished the book during my second maternity leave. I never went back to medicine.
Off the back of the book, people started asking if I could teach them how to grow cut flowers, which is how I started doing courses and discovered I love teaching.
Louise is still my business partner now. I am the creative director and we have a financial director. We employ 30 staff and Sarah Raven the mail order brand has grown by five times in five years. I work every day of the week but that's because I love what I do.
Favourite flower?"Dahlias are the highlight of late summer."
Monty Don, 60, has been married to his wife Sarah for more than 30 years. They live in Herefordshire and have two sons and a daughter. He's a writer, speaker on horticulture and TV presenter, best known for presenting the BBC series Gardeners' World. He will be covering the Chelsea Flower Show for the BBC this year.
Monty started gardening at the age of seven, as one of many household chores. In 1989, he made his television debut on This Morning in a five-minute gardening slow with Richard and Judy, but when the costume jewellery business he set up with wife Sarah folded in 1992, Monty spent three years on the dole. He started writing about gardening, which led to his gardening column for the Observer in 1994 and he then became the first amateur gardener to front Gardeners' World.
"I always see gardening as escape, as peace really. If you are angry or troubled, nothing provides the same solace as nurturing the soil. I see myself as a writer who happens to garden."
Favourite flower? "It depends on the season, but if forced I'd go for the humble primrose."
Sign up to our free daily email for the latest royal and entertainment news, interesting opinion, expert advice on styling and beauty trends, and no-nonsense guides to the health and wellness questions you want answered.