Does Angelina die in Manifest? A deep-dive into season 4, part 1 of the Netflix show
Spoiler alert: despite the plenty of dangerous situations she finds herself in part 1 of season 4 of Manifest, Angelina is still alive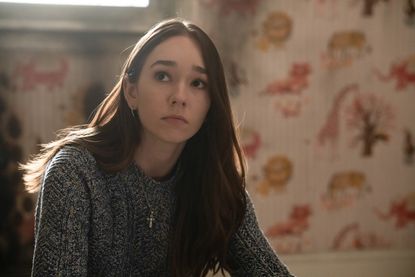 (Image credit: Netflix)
Now that everyone is pretty much caught up with part 1 of season 4 of Manifest on Netflix, it's time to answer some questions.
There are loads of queries on people's minds, from is Manifest getting a movie? to information surrounding the Manifest ending. Perhaps most pressing, though, is the question: does Angelina die in Manifest?
In the season 3 finale of Manifest, fans were shocked to witness the death of Grace Stone (played by Athena Karkanis) following her stabbing by Angelina Meyer (Holly Taylor), who then runs away with Grace's daughter Eden (alternatively portrayed by Brooks and Parker Johnson).
The murder, which actually happens off screen but is presumed to be committed by Angelina, set off a chain of events that immediately started unfolding on the premiere of season 4.
At the beginning of the latest season, fans are led to believe that Angelina actually passed away after kindnapping Eden, whom she believes to be her guardian angel. Specifically, we're immediately told that witnesses noticed the duo jump off a bridge where Angelina's own fingertips and her backpack were discovered.
In the first episode, authorities peg the absence of bodies to the water current below the bridge that supposedly swept them away.
What the audience discovers later is that, although Angelina was planning on jumping off the bridge with the child, at the exact moment she was about to do so, Eden called her 'mama' - indirectly convincing the kidnapper not to jump to her death.
And so a series of runaway experiences kicks off, with the pair first staying with Anna Ross and then landing at a shelter for 828 passengers that, surprise!, is actually a trap. Angelina escapes death once more thanks to Adrian Shannon's help.
At this point, though, the Stone family finally finds Eden and Angelina.
DOES ANGELINA DIE IN MANIFEST?
While at a refuge, Angelina finds out that a failsafe has been installed that would blow the place up should the police show up. Once she notices the arrival of the Stones, Angelina takes the detonator and threatens to kill everyone should Ben take Eden.
The father-and-daughter pair is thankfully able to rush out of the house while Cal tries to calm Angelina down. His efforts prove fruitless, though, as Angelina ends up using the detonator and blowing up the refuge just as Cal runs out.
Lest you think this the end of the line for Angelina, think again! In fact, not only is the character able to escape the explosion she herself caused but, throughout the following few episodes, she's seen surviving fairly dangerous experiences multiple times.
Despite her mother holding her hostage again, for example, she's able to once again find freedom. She almost magically avoids getting shot by Michaela and getting crushed as a wall collapses around her. She also sticks her arm into a pit of lava but leaves the scene unscathed.
Clearly, Angelina does not die in season 4, part 1 of Manifest but whether she'll get to survive through all episodes of part 2, which is scheduled to drop on Netflix some time in the near future, is yet to be seen. We certainly won't put it past her.
Anna Rahmanan is a New York-based writer and editor who covers culture, entertainment, food, fashion and travel news. Anna's words have appeared on Time Out New York, the Huffington Post, Fortune, Forbes, Us Weekly, Bon Appetit and Brooklyn Magazine, among other outlets.