Coleen Nolan breaks down as she opens up about her sisters' cancer diagnosis
The Loose Woman star returned to the show to update fans on the heartbreaking news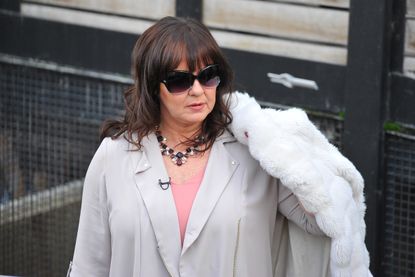 Coleen Nolan was in tears as she appeared on Loose Women on Monday to talk about her sisters Linda and Anne's battle with cancer.
The ITV star and singer opened up to her fellow Loose Women co-stars via a zoom call, where she revealed how she was coping and spoke candidly about her sisters' diagnosis, admitting that there had been some 'terrible days' for her family in the past few months.
"The news came after such an incredible time we had. You know with the Nolans Going Cruising," she recalled."Then two weeks later this devastating news hit us."
"But as usual with my sisters, they just, obviously devastated but then just went for it battling it and are still battling it and nearly at the end of their chemo," she continued, visibly emotional."I think Anne has one left and Linda has two."
Explaining how she had dealt with it, Coleen told Andrea McLean, Denise Welch and Judi Love that she'd been struggling to come to terms with the news and often found it hard to hold her emotions back.
"It's difficult for me to sit at home and cry and feel sorry for myself when I see them being so stoic and still laughing," she said. "Obviously they have terrible days when they are incredibly ill and it's really hard because I just can't go and see them."
While both Linda and Anne have been putting on a brave face and staying strong, Coleen did share that the hardest part for Linda so far was losing her hair. "She feels guilty and thinks people think she's being vain," she explained.
"I am very lucky because I have my children who get me through everything... And my family, we have a WhatsApp group going, we speak all the time and you get to a place when you think 'We have got to get through this."
Earlier this month, Anne opened up about her fears in a gut-wrenching interview with The Sun. "I don't want to die. I love my life, my daughters, my grandchildren, my friends, and all my family," she told the publication."I want to live for as long as I possibly can, and I'm scared of dying as well. Even though I believe in God, I'm still scared."