Andrea McLean reveals she received death threats from bullies as a teenager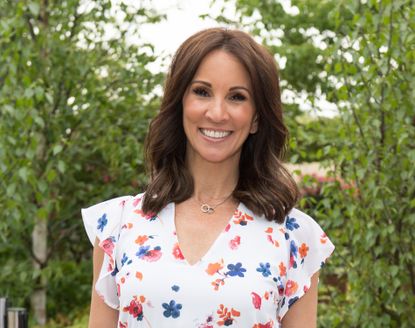 The Loose Women star opened up on a recent show about a being bullied as a teenager, revealing that sometimes it would get so bad that should would received death threats.
During Tuesday's (27 August) episode of Loose Women, Andrea told the audience that the bullying began when she returned to Scotland after spending most of her life in the Caribbean.
Born in Glasgow, Andrea was raised in Trinidad and Tobago until moving back to the UK at the age of 15. Upon starting her new school, Andrea was targeted by a group of classmates who continued to torment her for another two years.
Recalling the horrific experience, the 49-year-old said: "It was truly awful actually. I never told my parents because I thought they'd feel guilty about bringing me back to the UK.
MORE: Andrea McLean shares picture with lookalike daughter as she takes her to work for the day (opens in new tab)
"Also, I kind of thought I could deal with it myself. I'm very creative, I'm quite arty, and at that time did my art O-level, wanted to go A-level, I was thinking about doing an art foundation course.
"They ripped up all my art work, all the stuff that was going towards my exams."
Andrea went on to detail how the girls threatened her life, saying: "They would threaten to kill me, they'd follow me home.
"I never went to the loo the whole time I was at school because they'd follow you in. It was truly awful."
She also explained that she would "stagger her timings" and spend time keeping busy to avoid the bullies, but on the last day of school they told her "all bets were off" as they knew they wouldn't get punished for their actions.
MORE: Andrea McLean reveals the valuable life lesson she's made sure to teach her daughter (opens in new tab)
Andrea has previously opened up about her bullying experience on Lorraine Kelly's talk show in November last year. She explained that the classmates began picking on her after she defended another girl being bullied.
"How it actually started was these girls were very, very viciously picking on another girl at school.
"She was quite a vulnerable girl, was vey defenceless and all I did was walk over and say, 'What are you doing? Leave her alone.'
"Literally they all went, 'Now it's your turn' and that was for two years."
Isa Jaward is a journalist from London who has written for the likes of Time Out, The Guardian and Music Week.