Jojo Moyes is proudest of her latest book, 'I wanted to write about women over the age of 25 having really good sex with someone who just liked them'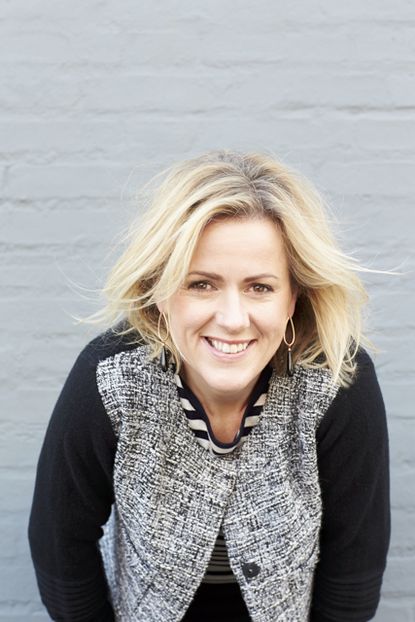 (Image credit: Stine Heilmann)
Acclaimed writer Jojo Moyes has a history of literary success and with her latest book, The Giver of Stars, this looks set to continue, as she reveals her inspiration to Woman & Home...
Writer Jojo Moyes' successes include The Girl You Left Behind and Me Before You, which was made into hit film starring Sam Claflin and Emilia Clarke. Her latest book is The Giver of Stars, about five extraordinary women in 1930s Kentucky, who worked as travelling librarians.
How did you come up with the idea for your latest book?
In The Giver of Stars, I wanted to write a book about women who actually did things and were resourceful, practical and capable, rather than women mired in feelings and relationships, and worrying about what they look like.
I'd come across an article about 1930s packhorse librarians in Depression-era Kentucky. It had astonishing images of smartly dressed young women in breeches and blouses, riding huge horses or mules, and carrying bags of books.
They were all on a mission, as part of President Roosevelt's WPA scheme – Works Progress Administration – to teach people to read, and provide them with knowledge, entertainment and stories.
What was life like for these extraordinary women?
These women quite commonly travelled 140 miles a week on horseback through astonishingly rough territory – huge mountains, forests and rackety bridges, delivering library books.1930s Kentucky was a tough place to be a woman – the patriarchy was not happy about them taking on this role. It was considered dangerous, and many believed people should only be reading the Bible. Yet the children were hungry for stories. Local people were clamouring for books – everybody was desperate for the women to ride up.
How did their story inspire your book?
The more I read, the more I thought, 'This is a modern story about everything from female friendship to how women support each other.'I have a horror of the idea that women must always be in competition with each other because that's just not my experience. I would die without the women in my life – they have literally carried me. I also wanted to write a book about women over the age of 25 having really good sex with someone who just liked them, which I don't see enough of in fiction.
One of my characters, Alice, comes from a repressed English family and comes into a society that is equally repressed. Her husband cannot make love to her, and nobody is telling her anything. There's a poem in the book that lights the touchpaper – and all hell breaks loose!
How did you go about researching the setting and time period?
I spent a lot of time in Appalachia. For two trips I stayed in a tiny cabin very near the town where the story takes place. I needed to get the voices of Appalachians to make this book work, and I completely fell in love with Kentucky. A lot of the women lead very tough lives but they are funny, spirited and resourceful – and they are all storytellers.
Can you describe the writing process?
I wrote the book in a fever in nine months. With some parts I made myself cry. I have to – if I don't cry, then I know the reader isn't going to cry. I'd get up at 5am on holiday to write. I find it very hard to sleep and to slow things down, and so I work at a prodigious rate because I don't know how not to. It's the book I'm most proud of, and my hope is that people like it as much as I enjoyed writing it.
Which of your characters do you feel reflects you the most?
Of all the characters, I think there's a lot of Alice in me. I've never been one of those people who feels like I fit into a group naturally. She's an observer and, like most writers, I am too. But, like Alice, I love being on a horse. I'm someone with a manically busy brain, but being with horses is one of the few experiences that forces you to just 'be'. It's where I enter a different state.
Have you ever owned a horse yourself?
I had a retired, useless racehorse called Brian who I loved immensely, but sadly he died last September of an illness we couldn't save him from. My daughter is at university now so I've inherited her horse, and I also have a rescue pony and our old pony, Freddie, who's 25 – they're like an old married couple together.
Do you have any other pets?
We have our elderly Border terrier and we've got Big Dog, a Great Pyrenean rescue dog. She is the love of my entire family's life, and has her own Instagram page @nanookthebigdog (opens in new tab). I'm known locally not for books, but for being the lady with the big dog!
Did you ever imagine you would have so much writing success?
My life has far exceeded my expectations. If my 14-year-old self had known how things were going to turn out, I would have fallen over. In my twenties I wrote three novels that didn't get published.
At 31, I finally got book number four published. Then it was a long way – and another eight books – before I got a bestseller. So it wasn't a rapid rise by any means. But now, the idea that I get to work in Hollywood, to write books and to fly round the world and promote them… I haven't actually got words for that.
SHOP NOW:£20, The Giver of Stars, Amazon (opens in new tab)
The Giver of Stars (Michael Joseph) is out now in hardback, £20
Emma is a Senior Lifestyle Writer with six years of experience working in digital publishing. Her specialist areas including literature, the British Royal Family and knowing all there is to know about the latest TV shows on the BBC, ITV, Channel 4 and every streaming service out there. When she's not writing about the next unmissable show to add to your to-watch list or delving into royal protocol, you can find Emma cooking and watching yet more crime dramas.