Harriet Walker's maternity drama, The New Girl, is the gripping new novel you won't be able to put down
We spoke to The Times fashion editor Harriet Walker about her thrilling debut.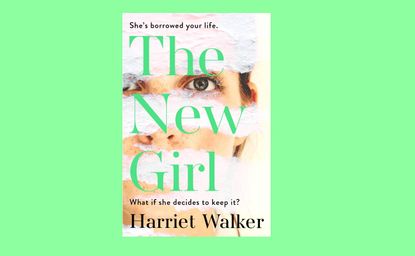 How would you feel about someone keeping your seat warm in a career you've spent decades building?
Grateful..? Trusting..? A little bit suspicious?
The New Girl (opens in new tab), the debut novel from The Times fashion editor Harriet Walker, explores the discomfort of embracing life as a new mum, while leaving your career - albeit temporarily - behind.
We spoke to Harriet about how her own experiences of early motherhood inspired her to write this insightful and gripping debut.
You wrote The New Girl during your own maternity leave, how much of your own experience inspired the emotions explored within the novel?
I did start the book while on maternity leave, but I didn't finish it. I would be superhuman if I'd written a whole book on mat leave! I had a 'good' maternity leave. The book is quite dark and there's a lot of suspicion in there and I think that's because all maternity leaves, even the goods ones, are really emotionally draining. Having a baby throws up all these things about yourself, about where you fit into the world. How useful you see yourself as. So that informed part of the plot.
On one hand, I was away from a job that I really love and enjoy doing, and I felt guilty for missing it. I was having a lovely time with my baby but it felt strange not to be in the office; I missed the thrill of it. I wanted to talk about a woman who was pulled between these two worlds. Between being the perfect mum and the perfect career woman.
The book is a hybrid between a Devil Wears Parda-esque look at the fashion world and a pacy thriller - an unusual combination...
When I first started writing The New Girl, it wasn't going to be about fashion at all. I had these three women - and their stories - in my head. But then, speaking to women who worked in other industries - women who were quite tepid about going back to work - and hearing their questions reminded me of how weird and fascinating the fashion world can be to people who aren't familiar with it.
"When I was on maternity leave I felt really guilty about everything."
During my maternity leave I was reading really great, punchy thrillers - very gripping and twisty. I read a lot of Erin Kelly, I think that she's brilliant. I read Liane Moriarty. Louise Candlish as well. I used to think 'I couldn't write a plot like that', but spending so much time at home, I began thinking that there's so much terror and menace lurking beneath the surface of your own domestic life, that you don't even need a book to be car chases and explosions to follow the thriller format.
When I was on maternity leave I felt really guilty about pretty much everything. I felt I was doing the baby stuff wrong, that maybe I wasn't cut out to be a mum. I felt guilty for not earning any money and relying on my husband. There's that constant fear of doing something wrong. And that's where the crux of the plot came from - that constant fear of being found out. The constant scrutiny of being online all the time. Having someone that you've let down and you don't know how to make it up to them.
The three central women of the novel, Winnie, the bereaved mother, Maggie, the threat at work, and Margot, who's torn between the two, all have very different experiences and agendas. Is there one character you think the reader roots for?
The idea is to spread the sympathy between the characters. I wasn't working towards one or the other, or the idea of a super villain. Part of what I was trying to do with the story was explore how you can have an effect on someone else's life without really realising it. Women in particular are so aware of whether they might have offended someone, or whether they've annoyed someone and haven't realised and a lot of the online conversations and social media plays into that as well.
"It's a whole new stick to beat yourself with, social media."
You can put a picture up because you're having a good day and if someone else is having a terrible day, are you hurting their feelings? Could it be deliberate? Do you know they're going to see it? Are you trying to make them feel worse? It's a whole new stick to beat yourself with, social media. It's a whole new social anxiety. It's a parallel level to the life you're living. I wanted to portray all of the women in the book as equally flawed. Just human - everyone makes mistakes.
Perhaps The New Girl's most ominous character is Twitter troll @HelenKnows.Was that aspect of the plot drawn from real life?
Unfortunately it's a fact of life many of us face now and the way women are targeted by trolls is very different to the way men are targeted by trolls. With women, it's quite often to do with your appearance, your age, whether someone wants to have sex with you or not. Your status and your job - whether you're any good at your job. All those things add up and if you read enough comments in a day, you log off at night and you believe them.
There are women in the spotlight, particularly female MPs, that have had it so much worse than I've ever had, but I've done ten years with people commenting on what I've written - and it's made me feel sick at times. If someone came into your office, shouted at you and called you a bitch, it would seem ridiculous. But because it happens online it's something you have to deal with.
We really didn't see that ending coming! Did you have the ending in mind before writing The New Girl?
I had an ending in mind, but there were so many changes along the way. As a journalist you're in charge of your copy - there may be rough changes but you know where it's going. But with a book, you're not at all and it takes on a life of its own. You send it in and then it's in the hands of the editor. All the changes they made were for the best.
Is there another book on the horizon and can we expect to see the same characters again?
When the publishers bought The New Girl it was part of a two-book deal. I wasn't even expecting to get one book published, so to get two was amazing. So that was really exciting but also terrifying. I've just finished a third draft and am in the editing process. It's due to be out in the states next May.
It's not a sequel to The New Girl. The characters are different, but there are some similar themes, exploring group dynamics and female friendships. As well as the way women are treated on the internet. And, again, that domestic suspense.
SHOP NOW: The New Girl, by Harriet Walker (opens in new tab)
w&h's review of The New Girl
Margot Jones has a lifestyle women can't help but envy - a high flying career in fashion journalism, an equally aesthetically-pleasing house and husband and a baby on the way. So there's no way she'd be threatened by her maternity cover, the unpolished and unassuming Maggie, would she?
When Maggie replaces Margot in her job as fashion editor in the glossy Haute magazine, Margot's paranoia begins to spiral, her worries fuelled by social media updates on the life she left behind.
An astute and gripping domestic thriller that holds a mirror up to the fragility of female friendship and the sometimes devastating effects of social media. We guarantee you'll be up all night racing towards The New Girl's explosive finale.
The New Girl is out to buy now, £12.99 at Waterstones.
Lauren is the former Deputy Digital Editor at woman&home and became a journalist mainly because she enjoys being nosy. With a background in features journalism, Lauren worked on the woman&home brand for four years before going freelance. Before woman&home Lauren worked across a variety of women's lifestyle titles, including GoodTo, Woman's Own, and Woman magazine.