Cuisinart Easy Prep Pro food processor review
Does the Cuisinart Easy Prep Pro food processor make the cut as one of the best food processors out there?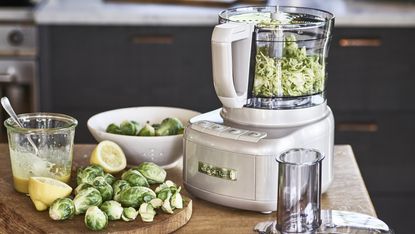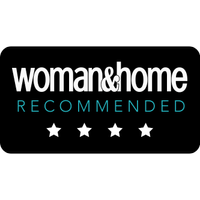 (Image credit: Cuisinart)
Handle large and small jobs with ease, with this machine's two handy bowls
Reasons to buy
+

Easy to use

+

Good for small amounts
Reasons to avoid
-

Non-removable spindle

-

Noisy
Switch seamlessly between chopping a small amount of herbs, slicing vegetables and whizzing up a handful of nuts with the Cuisinart Easy Prep Pro food processor (opens in new tab). How? Well, this neat model is equipped with two bowls – one big, one small – that nest together without anything escaping from the smaller one. This means that you can use the Cuisinart Easy Prep Pro as a full-sized food processor or a mini chopper without creating extra washing-up. While it's not billed as a compact model, this food processor's footprint is fairly small, so it won't take up too much space on the worktop – just another plus-point to help it measure up against the best food processors (opens in new tab) out there.
The 1.9L Easy Prep Pro food processor sits at the more affordable end of the market, costing £125 when bought direct from Cuisinart or Amazon. You may be able to find it for slightly less at other retailers, such as Wayfair.
Cuisinart Easy Prep Pro food processor design details
A choice of two finishes – Frosted Pearl and Silver – help the Cuisinart Easy Prep Pro food processor to feel less like a workhorse and more like an appliance you'd be happy to have on display. The rest of the design is quite functional, however, with a twist-in bowl and lid and pusher without any insert. When in place, the bowl's handle sits above the control buttons, making them slightly more awkward to operate. There's also no cable storage (beyond a tie wrap) for any excess of its 80cm cord. On the plus side, silicone feet underneath the machine keep it stable on the worktop while in use.
Functionality of the Cuisinart Easy Prep Pro food processor
What's great about the Cuisinart Easy Prep Pro food processor is all the smaller preparation jobs it can handle in its 0.7l bowl, which fits snugly into the 1.9l main one. This mini bowl has a seal around the rim preventing any ingredients escaping into the larger bowl, and also features its own chopping blade. The main bowl is ideal for larger tasks, and is equipped with a fairly standard choice of chopping blade, dough blade and two reversible slicing/ shredding discs. It's all powered by a good-sized 350W motor and controlled by four push buttons at the front. These aren't the smoothest – you sometimes have to push quite firmly to get a response – but they're clearly labelled. There are two speeds, High and Low, plus a pulse. The fourth button, Off, stops the speeds rather than turning the machine off – we found this confusing as you'd assume pressing the High or Low button again would stop the motor, but it doesn't.
Cuisinart Easy Prep Pro food processor performance
In testing, we found the small bowl to be more efficient than expected – half a chicken breast was minced rather than roughly chopped in a short amount of time. Some larger pieces remained but, reassuringly, all of it was contained and the larger bowl remained clean. The larger bowl was used to slice carrots on the lowest speed, which it did in seconds. Even though we tried stacking them to keep them upright, the slices were still uneven but there weren't that many scraps. The dough blade made perfect bread dough – we used the pulse to combine and a low speed to knead. Rather than wrapping around the blade or spindle, it moved around the bowl easily. We found the Cuisinart Easy Prep Pro food processor to be quite noisy on the High speed, the Low option was much more tolerable.
Weighing up the Cuisinart Easy Prep Pro food processor
Compared to some of the other food processors that we trialled, the Cuisinart Easy Prep Pro food processor is fairly lightweight, weighing in at just over 2kg. As it's not too heavy, you should be able to store it in a cupboard or on a shelf with ease.
Cleaning the Cuisinart Easy Prep Pro food processor
The removable parts are all dishwasher-safe but the Cuisinart Easy Prep Pro food processor's spindle is static, which means you'll need to clean it in situ. We found that bread dough ingredients worked their way underneath the tool and onto the spindle, leaving floury residue that had to be wiped away.
Cuisinart Easy Prep Pro food processor warranty
Although most of the Cuisinart Easy Prep Pro food processor is plastic, it feels generally well-built and is backed up by a five-year guarantee.
Summing up… the Cuisinart Easy Prep Pro food processor
While its range of tools and speeds is fairly standard, the Cuisinart Easy Prep Pro food processor feels like a solid machine that can deliver versatile food prep for families and keen cooks alike. Not only is it an attractive appliance to have out on a worktop, but there also isn't oodles of kit to store or attachments that you might never use. Its design presents a couple of niggles but, overall, it's a reliable food processor at a sensible price.
Rachel Ogden is a UK-based freelance journalist with more than 20 years' experience of writing, editing and sub-editing. For the last 13 years, she has worked exclusively in interiors, writing about everything from extending your home to kitchen worktops, flooring, storage and more.
She has worked for a huge swathe of brands, including Woman & Home, Ideal Home, Elle Decoration, Real Homes, Grand Designs, Living Etc25 Beautiful Homes, The Evening Standard, The Independent and many many more. She was also shortlisted for Lifestyle & Interiors Journalist of the Year in the 2018 Property Press Awards.