Feel and look great with these 10 top brands for a healthier you this autumn
It's the season of self-care, so why not invest in some new products and services that will help you feel in your best health yet...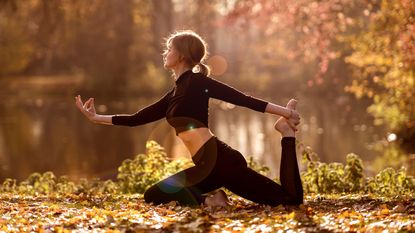 woman&home newsletter
Sign up to our free daily email for the latest royal and entertainment news, interesting opinion, expert advice on styling and beauty trends, and no-nonsense guides to the health and wellness questions you want answered.
Thank you for signing up to Woman & Home. You will receive a verification email shortly.
There was a problem. Please refresh the page and try again.
The new season is the perfect time to invest in yourself and practice some self-care. Looking after yourself as the nights draw in and we edge into winter is important. A strong immune system and establishing good wellness habits can help you stay strong and fight off any signs of a winter cold. Autumn is also a great time to try a new look and indulge in some pampering. These are 10 brands that will help you look and feel great as we enter the new season.
---
lipivir®
As we enter colder climates, cold sores are an unfortunate health issue that we need to deal with. lipivir® is the only product in the world that can prevent cold sores.
Most people are exposed to the virus when they're young due to close contact with someone who has a cold sore. For most, it won't cause symptoms until you're older. Often, you may not even know you have it until you get a cold sore. Until now, people could only shorten an existing outbreak by one to two days, but lipivir® can ensure the outbreak doesn't happen.
Another plus of lipivir® is that its packaging is neat and small, easily fitting into any bag or pocket, so it's handy and ready to use whenever you need it. Plus, the transparent gel makes the application discreet and you can still use lipstick, lipgloss and make-up when applied shortly after lipivir®.
Get 25% off your first order and free 48-hour home delivery always. Find out more
Hepa Diet
If you want to get back into shape, try Hepa Diet for great results. Hepa Diet is a 14-day meal plan launched in the UK in September 2020. Initially, this diet was created in Germany to help people with fatty liver disease.
It was developed by Hardy Walle, MD, Ph.D., internal medicine specialist and nutritionist with more than 20 years of experience and broad expertise in nutrition counseling. The diet is designed to reduce visceral fat. It also perfectly fits many other people who either have extra weight or want to keep fit.
The Hepa Diet program is designed for two weeks, and it combines Hepa shakes and normal food, such as vegetables, protein and oils. This diet will help you build healthy habits and encourages an active lifestyle for all age groups.
Try Hepa Diet today. Get 15% off with promo code HDWH15. Find out more
JLL
With the nights drawing in, and the weather getting colder, it's the perfect time to bring the gym to you with the perfect at-home workout setup.
Having your own home gym is not as unattainable as it may once have seemed. JLL Fitness is making it easier than ever to have everything you need, delivered to your home. They offer a diverse range of affordable cardio equipment for the home including treadmills, exercise bikes, cross trainers and rowing machines that fit the needs of all levels of fitness, so there's really no excuse.
All cardio equipment comes with at least 12 months warranty, so you can be confident in your purchase. JLL Fitness also offers a buy now, pay later option and after-sales support. Best of all, you can enjoy free delivery on all items.
Use code WFIT21 for 5% off. Find out more
HoMedics Stretch XS
To look after your back health, invest in a hardworking mat that will help boost flexibility and mobility. HoMedics' range of home wellness products is uniquely designed to promote your wellbeing.
HoMedics Stretch XS back stretching mat is inspired by yoga-style stretches and is pre-programmed with four sequences—Stretch, Twist, Energise and Flow. Using a simple, handheld control, every treatment can be customized to the perfect intensity and suit your flexibility. Stretch XS is designed for the yoga-less and yoga lovers alike and you can combine your treatments with deep, slow breathing to unlock and enhance your relaxation.
Guiding you through a variety of sequences, delivering the benefit of calm controlled stretching without leaving your mat, every treatment has been designed by their yoga professional. The versatile design with precision air chambers inflates, gently allowing your lumbar or shoulders to stretch, release and relax.
Get £50 off the HoMedics Stretch XS with exclusive Women & Home code: STRETCH50, just £189.99 (RRP £239.99). Offer runs from 1 October to midnight 31 October. Find out more
Canabidol™
Canabidol™ CBD oil has become a firm staple among the wellness products found in women's health cabinets, thanks to claimed benefits. CBD is believed to have therapeutic properties designed to help improve your everyday wellbeing.
Canabidol™ CBD is your must-have CBD partner during the colder autumn and winter months, with the UK's first clinically approved Canabidol™ 500mg CBD Dermal Patches that are perfect for localized topical CBD delivery on targeted areas for up to 24 hours. You may also want to try the brand's award-winning Canabidol™ CBD Rescue Creams, which are the first cannabis cosmetic clinically proven to soothe the skin.
Canabidol™ CBD is an exclusive pharmacy range that also includes premium CBD Oils that range in strengths of up to 2000mg. The Canabidol™ CBD range was developed to meet the exacting standards required in the pharmacy sector for the retail sale of high-quality CBD products. Prepare for colder months with Canabidol™ CBD.
Use code WOMAN15 at checkout on any purchase via the website and save 15% on the most premium, trusted UK CBD products with Canabidol™.
Bespoke Smile
Gone are the days when cosmetic dental treatments meant a 'fake' smile or excessive 'work' and risk of damage to your teeth. With innovative and patient focussed approaches, leading cosmetic dentists now recommend a range of procedures or tweakments that can enhance what you already have—making the best of your natural smile.
Dr Sam, the founder of Bespoke Smile, is a pioneer in smile transformations in a minimally invasive way. He uses 'ultra-thin' veneers that are hand-painted to create the most natural look yet. His vision is to educate the public and dentists in options to enhance a person's smile and aid their natural facial symmetry rather than creating fake looks.
Cosmetic dentistry should always also have a key focus on the health and function of a smile. This means that Dr Sam and his team always include considerations of oral health, bite and aesthetics while planning a smile makeover. Dr Sam says, "When a smile is beautiful, healthy, and long-lasting we find it truly impacts our patients to feel much more confident and able to take on whatever life might throw their way."
Alongside pioneering dentistry, Dr Sam believes customer experience is key. He has created a practice with a luxurious but welcoming feel—meaning dental appointments are a relaxing experience that will leave you feeling pampered and refreshed. When you're able to watch Netflix while having your treatment, it makes a trip to the dentist feel much more akin to a spa visit than the dreaded dentist.
Request a free of charge consultation at Bespoke Smile
Check out the clinic on Instagram for further information about the friendly team at Bespoke Smile: @bespokesmile or @dr.samjethwa
BREAST360
October is Breast Cancer Awareness Month, but every month is important to think about breast health and making sure you carry out regular checks and ensure you're giving your body what it needs to stay strong. After all, when it comes to breast health, prevention is key.
BREAST360 is a supplement that offers breast support. Developed by medical professionals, ingredients have been designed to help protect breast cells. BREAST360 Essential offers breast health support for every woman. It includes plant extracts and minerals with proven benefits. Taken daily, it has been designed to protect the breast cells from many day-to-day stresses of the modern lifestyle including pollution, chemicals, pesticides, and more, according to Dr Naomi Newman-Beinart, PhD, "There are many other measures you can take to look after yourself this October too, including regular check-ups and maintaining a healthy lifestyle."
For each bottle sold in October £1 will be donated to Breast Cancer UK for cancer prevention. 10% off with code W&H10 valid until 30 November. Order now
Pyrocalm
Tackle acid reflux head-on with Pyrocalm. Pyrocalm is the first branded omeprazole 20mg, available over the counter, that can provide up to 24-hour relief. Pyrocalm Control Gastro-Resistant Tablets (omeprazole) can be used for the treatment of reflux symptoms, including heartburn and acid reflux—that pesky symptom when the acid from the stomach travels up to the throat.
During pregnancy, hormones can cause the valve at the top of the stomach to relax, which can lead to heartburn. The valve allows stomach acid to pass into the gullet and irritate the lining. Pressure on the stomach may also push contents back up the gullet. Pyrocalm is available as a two-week supply for round-the-clock relief. Simply take one tablet in the morning, swallowed whole, with a glass of water. Have confidence in heartburn control.
Omeprazole can be used during pregnancy and whilst breastfeeding. Pyrocalm Control® 20mg Gastro-Resistant Tablets. For the short-term treatment of reflux symptoms in adults. Contains 20mg Omeprazole. Always read the label. Medicines can affect the unborn baby. Always talk to your doctor or pharmacist before taking any medicine in pregnancy. Find out more
Spotlight Oral Care
Spotlight Oral Care has just taken at-home teeth whitening to a whole new level with their cutting-edge teeth-whitening pen. Spotlight Oral Care is an oral health and beauty brand, founded by dentists and sisters, Dr Lisa and Dr Vanessa Creaven.
In a world full of at-home teeth whitening DIY disasters—bleach, charcoal, or lemon juice just won't cut it—this product has finally allowed people to achieve that ever-elusive brighter-than-the-sun smile—without the toothache!
So how does it work? Created by dentists, this clinically proven tooth whitening pen contains the active ingredient Hydrogen Peroxide, which actively dissolves stains and whitens teeth on the go. Dr Lisa and Dr Vanessa told w&h, "Unlike other whitening pens which use a white, paint-like substance to cover stains, our Spotlight Teeth Whitening Pen has a unique formula which actively dissolves stains for a whiter, brighter smile."
Use the code womenandhome30 for 30% off via their website
Uralix
There's nothing worse than having to endure a pesky UTI—something that unfortunately women suffer from more than men. Enter: Uralix. Uralix is a herbal complex for help with symptoms and long-term protection of the bladder, maintaining a healthy urinary tract.
Do you feel you are stuck in a cycle of recurring bladder infections, with no end in sight? Urinary tract infections are preventable. Yet people are not aware they can prevent a majority of UTIs from happening in the first place. Uralix has been designed with bioactive ingredients that support bladder function.

Uralix is 100% antibiotic-free and clinically researched, safe ingredients to support and promote good bladder health. It is manufactured in the UK, adhering to the highest quality standards. Uralix is free from gluten, dairy, nuts, fish, shellfish, animal products, palm oil.
10% off with code W&H10 valid until 30/11/21. Order now
---
If you've enjoyed reading this article and are interested in more inspiration in everything from food and drink, health and wellbeing to family life, why not follow Checklist on Facebook, Twitter and Instagram @ChecklistSocial, or sign up to the newsletter? Checklist is dedicated to providing the best free online competitions too—discover amazing new services and products when you visit the website today.
Sign up to our free daily email for the latest royal and entertainment news, interesting opinion, expert advice on styling and beauty trends, and no-nonsense guides to the health and wellness questions you want answered.
Lauren is the former Deputy Digital Editor at woman&home and became a journalist mainly because she enjoys being nosy. With a background in features journalism, Lauren worked on the woman&home brand for four years before going freelance. Before woman&home Lauren worked across a variety of women's lifestyle titles, including GoodTo, Woman's Own, and Woman magazine.