11 Ways To Beat Cellulite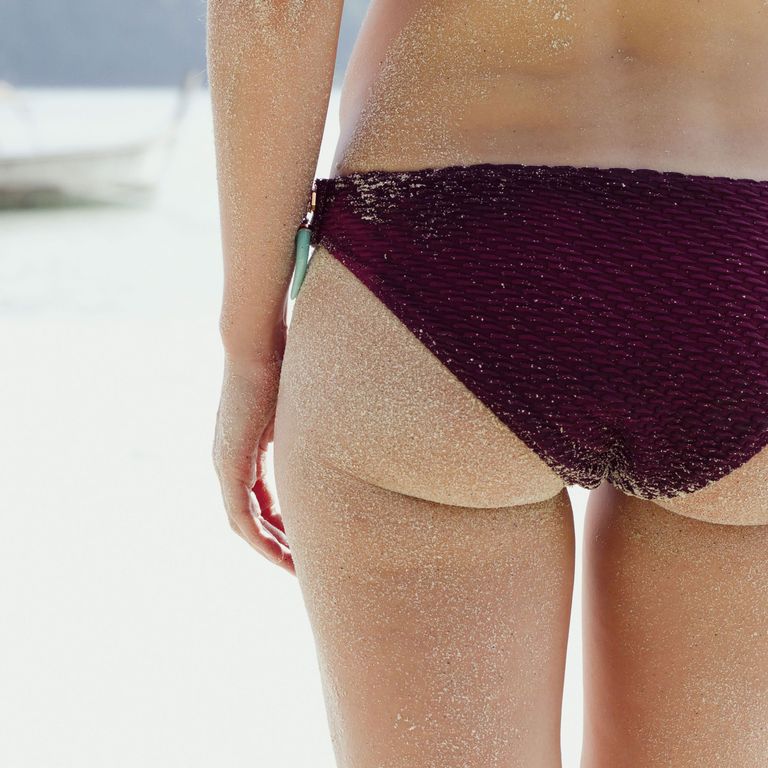 (Image credit: Rex Features (Shutterstock))
Banish dimpled skin with these simple tricks
Did you know that ninety percent of western women will experience cellulite? Even supermodels aren't immune ? A-listers Tyra Banks and Kate Moss have both admitted to suffering from dimpled thighs! In fact, it doesn't matter what your size or weight, cellulite will affect most women at some point in their lives.
But what exactly is cellulite? You might be surprised to find out that, essentially, it is just normal fat. It's actually the tissue under your skin that causes the dimpled look of cellulite. Unlike the rest of our bodies, the fat on women's bums and thighs is held by a honeycomb of fibrous tissue. The 'orange peel' effect is fat pushing through this lattice of tissue.
There are two ways to beat cellulite - getting rid of the fat, and boosting the collagen below the skin. Our 11 best cellulite treatments and tips tackle both - and some are simpler than you'd think!
From the foods and drinks to add to your shopping basket (and the ones to avoid) to the cellulite treatment that French women swear by, these cellulite-busting tips will transform your skin. We even have simple exercises that you can do at home to blast cellulite and tone your thighs at the same time. And don't forget the many beauty buys on the market that will tame those dimples. But which ones are worth investing in? We?ll show you the creams and oils that actually deliver on what they promise.
Whether summer is just around the corner and you plan on sporting a summer dress, or you just want to feel more comfortable in your own skin, treating cellulite will get you one step closer to looking and feeling your best.
Keep reading to discover the cellulite treatments that will banish those dreaded dimples for good...
Find more beauty tips here.
Try the treatment French women swear by
French women know that lymphatic massage at home or in a spa will increase circulation and drainage, as well as breaking down uneven tissue for smoother skin in better condition underneath. Lymphatic massage isn't a new concept. Some French women have been having the treatment three times a week for years to keep the dreaded orange peel at bay and stay in shape. So, how does it work? Your therapist uses rhythmic, invigorating movements to remove the build up of toxins from the body. Results are instant - puffiness is gone and a more even skin tone is revealed. Spa NK's Ultimate Detox massage targets the lymph system and is specially designed to remove cellulite with a course of six treatments. Urban Retreat also offer 'G5 gyratory massage' from £40 for 30 mins at their flagship Knightsbridge spa.
Body brushing
Skin brushing helps stimulate circulation and boosts your lymphatic flow. This improves the drainage in fat cells - so you should see leaner-looking legs. It's also an effective exfoliator, so your skin will be better at absorbing any cellulite creams you use. For the best results brush at least once a day with long strokes towards your heart.
Stay hydrated
Drink plenty of water (up to 2 litres a day including any water in food) to make sure your system flushes it through rather than hanging onto fluid which will bulk out fat cells. Eat lean protein - it's packed with albumin, which absorbs fluid. Excess salt, on the other hand, will make you look puffy.
Caffeine
Not drinking coffee, but using cellulite creams with caffeine. Studies have shown that once absorbed into the skin, caffeine speeds up the rate the body processes fat and drains fluid from fatty tissue. The best creams, like Mama Mio's Shrink to Fit Cellulite Cream, will have caffeine, aminophylline or theophylline near the top of the ingredients list.
Lunges and squats
Regular cardio exercise will improve your circulation, remove excess fluid and tone muscles - so your skin will look smoother regardless of cellulite. But if you're pressed for time, you just need two simple moves - lunges and squats. Both build lean muscle in your bum and thighs - the most cellulite-prone zones.
Aim for 60 a day of one exercise, or 30 of each, and you don't need to go to the gym to try them - why not test them out while you're waiting for your dinner to cook or while you are watching TV.
Eat the right things
Fruit and veg is packed with vitamin C, which fights collagen breakdown for tighter tissue. The essential fatty acids in fish and olive oil, meanwhile, stop cells clumping together. Avoid processed and fried foods, which will increase fat storage.
Juniper Oil
Juniper stimulates the skin's connective tissue, making it firmer - and denying cellulite the chance to break through. Massage The Organic Pharmacy Detox Cellulite Body Oil, with juniper, grapefruit and rosemary oils, into your skin as firmly as possible to get the most out of the ingredients.
Beat stress
Cortisol is a stress hormone that can cause thinning of the skin and increased fat storage - conditions in which cellulite thrives. It can also slow the production of hormones that boost healthy skin.
Marine extracts
Certain kinds of algae have cellulite-fighting properties including vitamins, omega-3 and omega-6 fatty acids and antioxidants. Guam's Anti Cellulite Mud has been found by academics to have a significant effect - but you will have to sit around in clingfilm while it takes effect!
Anti-cellulite creams
Choose a specialised cellulite cream, like Shiseido's Body Creator range, rather than a cheaper one with vague 'contouring' promises. Specialist creams boost your circulation and increase collagen production - but they do need continual use to maintain the results. Work in with brisk, massaging motions - friction warms the skin, making it more receptive to the ingredients. Discover our Top 10 Cellulite Creams
Weight training
Building muscle mass through strength training and weight training prevents and decreases the appearance of cellulite. It also stimulates anti-ageing hormone growth which helps to keep us looking young!