100-year-old German great-grandmother who has an album filled with Obama photos enters politics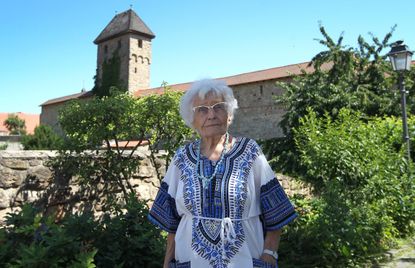 If you've ever thought it was too late to take a stand for the things you believe in, then you need to take a leaf out of the book of a plucky centenarian great-grandmother from Germany.
At the grand age of 100 Lisel Heise – a retired teacher – has been elected to the town council of Kirchheimbolanden – a quaint community with a population of 8,000.
Lisel's passion for politics was turbocharged after her mic was cut off during a plea to reopen an outdoor pool a few years before she turned 100.
"When I started out, some people really didn't want to listen to me apparently -- they even pulled the plug!" she told publication thelocal.de.
Before adding, "Now people from around the world are coming to talk to me. Who's laughing now?"
The sprightly local politician also revealed that she was spurred into action by the Fridays for Future youth protest movement – which focuses on the crisis of climate change and was inspired by prominent activity 15-year-old Greta Thunberg from Sweden.
"The kids really give me hope. There is a tendency in politics to favour the car industry and that's counterproductive," she said.
"It's great that the youth aren't just waiting for the grownups to do something."
And it seems that politics was in the blood for Lisel, whose father Fritz Waltgenbach – a shoe factory owner – was also a town council member.
In November 1938 – the height of Nazi Germany – he bravely spoke against the torching of the local synagogue and the persecution of Jews, an act which led to him serving time in prison and narrowly avoiding being sent to a concentration camp.
Lisel feels that she may have inherited some of her boldness and bravery from her father.
"The apple doesn't fall far from the tree," she revealed.
Widowed four years ago after seven decades of marriage Lisel lives in the expansive home she once shared with her parents and now resides in with one of her four children and an adult grandson.
MORE:Everything you need to know about the woman&home Amazing Women Awards 2019 in partnership with Hotter (opens in new tab)
The living room (opens in new tab) of the eight-times great grandmother includes an extensive book (opens in new tab) display as well as a volume of photos of Barack Obama.
"A politician needs to have a vision and think logically but also humanistically," she said sagely.
And on current US president Donald Trump, whose ancestors came from the nearby village of Kallstadt, she had this to say: "I'm ashamed his grandfather is from here" and "[he's] turning the world upside down".
What a go-getter!
Miriam worked for woman&home for over five years and previously worked on the women's lifestyle magazines Woman and Woman's Own.