See the difference a smart and versatile air fryer can make in your kitchen
Your favorite dishes made quicker and easier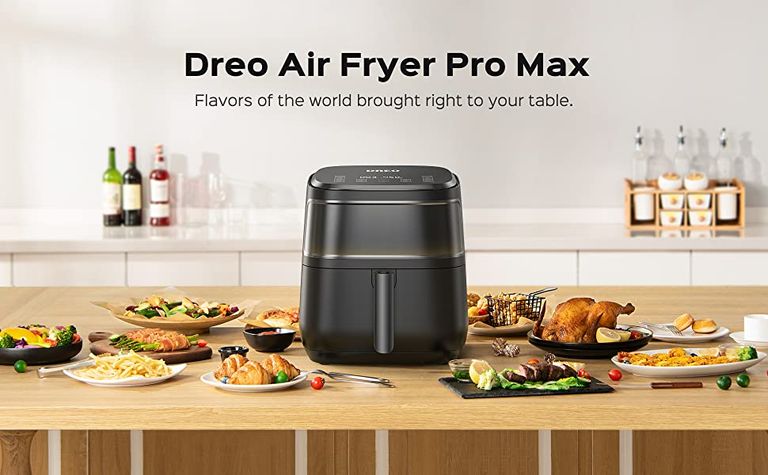 (Image credit: Dreo)
Air fryers are everywhere lately, and there's a good reason for that. They're truly helpful kitchen appliances that can do the job of your oven but also go beyond that. Of course, not all air fryers are equal, but Dreo's home appliances are designed with smart considerations and powerful capabilities, so you can count on the Dreo Air Fryer Pro Max to offer a solid kitchen gadget upgrade.
At their most basic level, air fryers provide a more compact cooking appliance that can heat up quicker than your oven and circulate that hot air for crispier food. That heat is sealed in so cooking is more efficient than a full-size oven. They're especially great when preparing smaller meals—like a couple of late night cookies or some fish filets, perhaps.
However, the Dreo Air Fryer Pro Max offers up a 6.8-liter capacity so you can cook large items and portions all at once too—even a five-pound chicken, while still benefiting from the speed of an air fryer.
You can also cook at a wide range of temperatures from 100 to 450 degrees Fahrenheit, and you can cook in a variety of modes with baking, broiling, dehydrating, and roasting available on top of air frying. Juicy steak, crispy french fries, tender fish, and even jerky are all possible in this air fryer.
To help you get the perfect finish on your food there is a large window on the Dreo Air Fryer Pro Max. You can see your food as it cooks—so the right browning on your chicken wings or the extra crispness you like on your bacon will be easy to achieve. This is something few air fryers offer! Of course, you can ignore the window completely and rely on Dreo's various presets instead and let the air fryer handle all the cooking for simplicity too. The Dreo Air Fryer Pro Max will even remind you to shake certain foods so they get cooked evenly and come out extra crispy.
Dreo has considered all parts of the cooking process with this air fryer. It's smart, so when you remove the basket, it'll automatically pause cooking and then resume when you re-insert the basket. The frying basket and plate both have a non-stick coating so food scraps and grease come off with ease, plus you can throw them both into the dishwasher. Rounded corners also make it easier to wipe everything clean.
From beginning to end, the Dreo Air Fryer Pro Max can simplify your cooking. It'll heat up in a snap, and its high temperatures and circulation will let you cook that much faster—not to mention saving you power in the process. Air frying can let you cook healthier meals that still come out crispy without relying on high-fat oils. And clean-up is super simple.
From meals for breakfast, lunch, and dinner to tasty snacks and crispy appetizers, the Dreo Air Fryer Pro Max is ready to be your culinary best friend in any cooking project. It's all part of Dreo's mission to deliver smart and sophisticated technology for modern living.
View the Dreo Air Fryer Pro Max on Amazon here.