Best Christmas drinks to indulge in this year
Every year festive tipples fill the shops and these are some of the Christmas drinks we love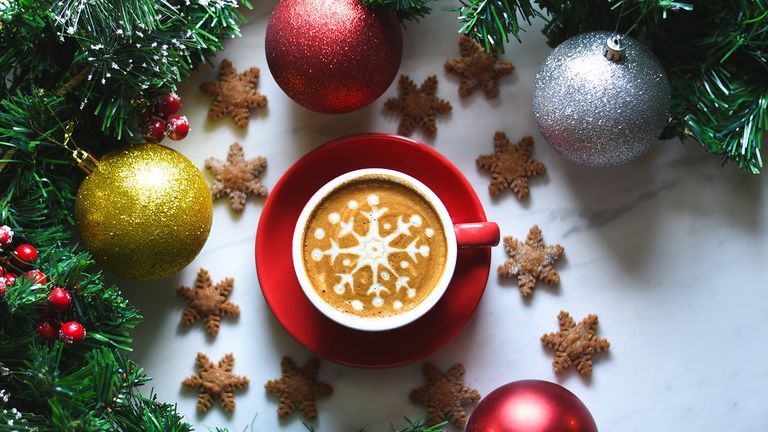 (Image credit: Getty)
Of course we all love Christmas drinks, so we've put together a selection of our favourites which we hope you will become your favourites too. Whether you prefer rum, gin, vodka or something a little less strong, we've curated a list to give you a bit of everything.
If you're also looking for the best selection of Christmas food to serve on the big day or over the holiday season then our experts have also conducted a huge Christmas Taste Test where you can see all the highest rated products. From mince pies, to turkeys to the all-important Christmas pudding.
Festive flavours are important at Christmastime – they make everything a little more joyful and are a great way to invoke memories of years gone by...
Best Christmas drinks to indulge in this year
One of many Christmas gins that have been created and a good one! It's got a great festive flavour – like something out of the Nativity, it's made with the botanicals frankincense and myrrh.
It's fragrant to the nose and a great way to create a warming G&T over the festive period. The clove and orange flavours also make it a lovely gin to drink all year round.
Warner's Christmas Cake Gin
Inspired by a traditional Christmas cake recipe, this gin is full of festive flavour. Infused with dried orange, nutmeg and cinnamon, there's also a hint of chocolate.
A glug of cherry-flavoured gin is added at the end to give it that true Christmas fruity flavour. Warner's are known for making great gin – their flavoured ones are particularly popular – and this one is another lovely addition to their collection!
ASDA Extra Special Mince Pie Gin Liqueur
Another classic Christmas flavour – Mince Pie. While mince pies themselves may not be to everyone's taste, combining them with gin is definitely appealing. A great value gin which is a fun way to see in the festive period.
As this is a liqueur it can be served on its own. Try it over ice or even warmed up as a different take on mulled wine.
M&S Clementine and Rhubarb Light Globe Gin Liqueurs
These exciting gin liqueurs will definitely become a festive highlight. If the excitement of a Christmassy gin wasn't enough then these light-up bottles will bring the big day to life. Plus, if the light-up bottle wasn't enough, there's also edible 23-carat gold leaf inside.
M&S have brought back the clementine due to popular demand and now added a new rhubarb flavour. These are great served over ice or why not serve with Prosecco on the big day.
Finders Spirit of Christmas Pudding Spiced Rum
All the flavours you associate with a Christmas pudding are evoked in this delicious rum – brown sugar, dried fruits, cinnamon and citrus. Christmas pudding and rum are two flavours that work really well together.
This is another well-made flavoured rum from Finders. Try serving with ginger beer to make a truly festive evening tipple.
Is there any alcoholic tipple that screams Christmas quite like Baileys? This salted caramel version makes it even more festive. Creamy, salty, caramel flavours help to bring warmth to those cold winter evenings – even when served over ice it still manages to warm you up. Why not try a splash in a hot chocolate, too?
This recent addition to the Baileys family will also make a great gift for family and friends.
Aber Falls Gingerbread Gin Liqueur
Forget the gingerbread house, this year is about gingerbread liqueur! Aber Falls is a relatively new distillery based in North Wales. This gingerbread gin liqueur has flavours of ginger and honey and lovely hints of vanilla and cinnamon.
Ideal for sipping but also great mixed with a tonic or, for an even bigger ginger hit, combine it with a ginger beer.
Lyre's Non-Alcoholic Amaretti
It's important to remember not everyone will be wanting to drink this Christmas. This is a great option for those wanting to remain sober over the festive period. Its flavour is reminiscent of the classic amaretto, with lots of almond flavour as well as hints of vanilla.
Enjoy on ice, make into an amaretti sour with lemon juice and bitters or combine with an espresso for an after-dinner delight.
Finally, although not flavoured with anything festive, fizz is an important Christmas staple. This fantastic English sparkling wine is made from grapes grown on the Waitrose Leckford Estate in Hampshire.
Made with Chardonnay, Pinot Noir and Pinot Meunier grapes, its nutty aroma and apple and peach flavours have garnered lots of praise and even a Decanter award.
Jessica is a Senior Food Writer at Future and is an enthusiastic, self-taught cook who adores eating out and sharing great food and drink with friends and family. She has completed the Level 1 Associate course at the Academy of Cheese and is continually building on her knowledge of beers, wines and spirits.
Jessica writes food and drink related news stories and features, curates product pages, tests and reviews equipment and also develops recipes which she styles on food shoots. Some career highlights for Jessica include chatting to one of her favourite food writers and chefs Sabrina Ghayour for an interview in Country Homes and Interiors and having the opportunity to meet the legendary Michel Roux Jr. and Raymond Blanc.