Zara and Mike Tindall have cemented themselves as the most relatable royals for this hilarious reason
Her uncle might have been looking at the biggest day of his life, but Zara and her husband made the most of a child-free evening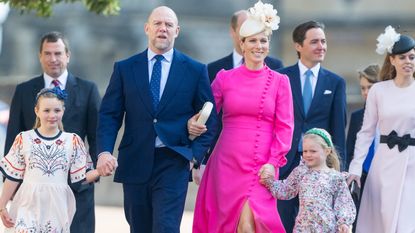 (Image credit: Samir Hussein/WireImage)
The Coronation of King Charles III was a spectacle the likes many people haven't seen in their lifetime. It was one of the biggest moments in living memory for the royal family – second only to the loss of the late Queen Elizabeth II. But all the pomp and circumstance didn't stop Charles' niece, Zara Tindall and her husband, Mike Tindall, from enjoying a rare night without their three children.
Zara and Mike Tindall were reportedly out partying until 2am the night before King Charles' coronation
Mike has gone on to say the couple weren't going to waste a rare night without their three children – and it's hilariously relatable
---
While you might have expected the royal family to have been getting their beauty sleep and making sure everything was in pristine condition the night before King Charles' coronation last weekend (May 6), some were less concerned about having the world watching Britain for the historic moment.
Zara Tindall and her husband, Mike, were reportedly out living it up until the wee small hours of Saturday morning – in fact, reports suggest the two were seen leaving a London club at 2am, hours before they'd have to be up and out the door heading to Westminster Abbey.
Explaining their decision, Mike Tindall spoke to Good Morning Britain and charmed fans with his relatable honesty.
Appearing on the British morning television show, Mike, the son-in-law of Princess Anne, basically admitted that the couple weren't going to waste a night away from the kids.
Zara and Mike share three children - Mia, Lena, and Lucas.
Mike said, "It was quite nice to have a little date night. When you've got three children, it's not always the easiest to get out and just have a drink together."
"It was quite nice to have a little bit of time where we could just go out and have a drink and have a chat. I definitely don't regret that."
When prompted on whether he actually did regret it the next morning – heading to the coronation on little sleep – Mike amusingly quipped, "Never worry about what's tomorrow. Enjoy the moment and then you can deal with the next day later."
Wise words!
It wasn't just his pre-coronation antics that delighted fans, though. Mike and Zara kept the party going all weekend, dancing the night away at the Coronation Concert.
Defending his dance moves, he joked, "It's very difficult when you're on a raised platform that's under a lot of lights, I felt I didn't really put my best foot forward in terms of [my dancing]. If you started doing interesting dance manoeuvres on that platform next to the King I'm not entirely sure it would have gone down that well."
He then revealed that he takes his advice from an unlikely source – Will Smith's character from the 2005 romcom Hitch.
Mike quoted Will's character, stating, "'You've got to stay in your safe zone' and my flag waving, I tried to be the best flag waver out there."
Jack Slater is not the Last Action Hero, but that's what comes up first when you Google him. Preferring a much more sedentary life, Jack gets his thrills by covering news, entertainment, celebrity, film and culture for woman&home, and other digital publications.
Having written for various print and online publications—ranging from national syndicates to niche magazines—Jack has written about nearly everything there is to write about, covering LGBTQ+ news, celebrity features, TV and film scoops, reviewing the latest theatre shows lighting up London's West End and the most pressing of SEO based stories.