Will there be a season 3 of Warrior Nun?
The hit Netflix show has been put under the spotlight as fans wonder will there be a season 3 of Warrior Nun?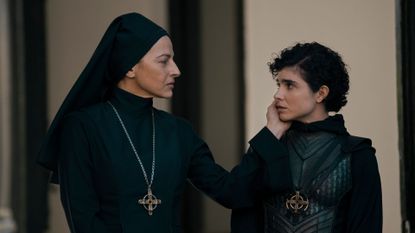 (Image credit: Netflix)
Warrior Nun gained a cult following with the Netflix show airing for two dramatic seasons but many are now wondering if it'll be back for a third.
For those who love to read fantasy books, and are always on the hunt for the next show to binge-watch on Netflix, Warrior Nun is the perfect option to add to your list.
Created by Simon Barry, the Warrior Nun first aired in July 2020 and is based on the comic book Warrior Nun Areala written by Ben Dunn. The first two seasons of the occult fantasy drama center around nineteen-year-old orphan Ana Silva, who wakes up in a morgue with superpowers. In her search for answers, she comes to understand she is part of the Order of the Cruciform Sword, an ancient sect of demon-killing nuns that fight evil in many realms.
What happened in Warrior Nun season 1?
As one of the best Netflix shows season one saw teenager Ana waking up from the dead with a mysterious and divine artifact in her back. Given by a messenger of God, the Angel Adriel, the Halo bearer gives its wearer superpowers that can fight the universe's biggest foes. While Ana is on her journey to leading the Order of the Cruciform, the sinister company Arq-Tech is working behind the scenes to expose Ana as the apparent gateway to heaven by creating an 'Arc' that allows people to experience the other side. At the same time, Ana discovers that she may be the only person who can defeat Adriel, who is slowly gathering forces to reignite his ancient religion. Season one ends with Adriel returning to power from the center of the Necropolis as the Master of Demons, and wanting to unleash his fury on Earth to get his Halo back.
What happened in Warrior Nun season 2?
Season two was picked up only a matter of months after the first season's massive cliffhanger. It sees Ana hiding in Switzerland as Angel Adriel's influence is slowly increasing in the real world. He has successfully taken over Arq-Tech and is turning more individuals to his deadly cause. A mysterious teen, Miguel, offers the mystifying Crown of Thorns as perhaps the only way to stop Adriel and his growing army. Ava's character is further on her journey to understanding her power and by the final episode of the series, steps into Adriel's realm alongside the Order to defeat Adriel and his army once and for all. The season is left with yet another major cliffhanger as it looks like Ava is dying and running out of options to survive, but when a revelation from Sister Lilith reveals to Ava that the only way to survive is to enter the Arc, she bravely steps foot into the other realm.
Will there be a Warrior Nun season 3?
Unfortunately, as of December 2022, Warrior Nun has not been renewed for a third season. Rather, it was cancelled by Netflix, leaving cast, crew and fans across the world stunned at the show's somewhat quiet departure.
Warrior Nun's creator and one of its directors took to Twitter (opens in new tab) to share his sadness at the show's cancellation in an outpouring of love and "sincere appreciation to all the fans who worked hard to bring awareness to this series", describing working on the show as a "privilege".
One of the show's writers, David Hayter, also shared his thanks for the love shown by many for the show and thanked fans for placing billboards demanding the show be saved outside Netflix's HQ in Los Angeles, and called them "the best fans in the world".
David also didn't back down from clearing the show's name when it came to accolades around reviews in the industry. Replying to a Rotten Tomatoes tweet that the HBO hit House of The Dragon was the best-reviewed Sci-Fi fantasy series of 2022, he labeled the reporting a "mistake". Fans took their fury one step further and created a petition to bring the show back - it's now been shared thousands of times on social media and has over a whopping 100,000 signatures, with some fans calling the shock cancellation "unbelievable news".
Elena is currently a digital intern at woman&home. Having completed her Undergraduate degree in Politics and International Relations at the University of Sussex in 2021, Elena began her career in journalism by completing a course on the media and creative industry with Media Trust, which led to her being commissioned to write for Red Magazine. She loves travel, the arts and culture, and is always looking for ways to make her lifestyle more eco-friendly.