There's only one person with a lifelong Met Gala attendance ban, can you guess who it is?
Every year, hundreds of celebs flock to the Met Museum of Art in New York for the Met Gala, but this one celeb never will...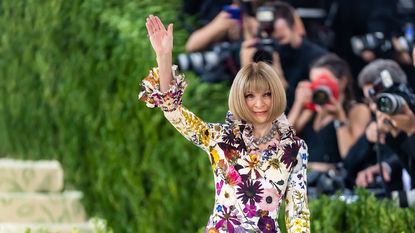 (Image credit: Gilbert Carrasquillo/GC Images/Getty)
The Met Gala is an annual celebration of art, fashion, culture, and philanthropy - but according to Anna Wintour, this one celeb will never be allowed to experience it.
There are a handful of stars who are almost always guaranteed to appear at the Met Gala - for example, Kim Kardashian, Rihanna, and Blake Lively, to name just a handful.
This year, at the Met Gala 2023, they'll be celebrating the work of the late Karl Lagerfeld, who famously designed for major fashion houses like Chanel and Balmain. The attending stars for this year, whether newbies or vets are certain to show up serving the best Met Gala looks and make poised appearances on the red carpet, paying homage to the late designer and supporting a philanthropic cause.
There is one celebrity, however, who Anna Wintour (who curates the guest list each year) says will never be allowed at the Met Ball.
There has been speculation through the years of certain celebrities who are not welcome at the annual fashion event. This one celeb, however, is the only person Anna has ever explicitly said herself is a perpetual no-go.
On an episode of The Late Late Show with James Corden, Anna appeared to play a game of Spill Your Guts or Fill Your Guts with James - a show on which the contestants either have to answer a salacious question, or eat something disgusting.
James started off his question to her, which she would either have to answer honestly, or consequentially eat pickled pig's feet if she didn't.
"You famously host the Met Gala, which takes place in Manhattan each year?" he starts. "Celebs from all walks of life are desperate to get a ticket... so my question is, who would you never invite back to the Met Gala?"
The audience breaks into uproarious laughter as Anna bluntly, and without hesitation, gives her answer.
"Donald Trump."
It may surprise folks that the former President has attended some Met Balls in the past between the years of 2004-2012 - but as of Oct. 26, 2017, as officially declared by Ms. Anna Wintour herself, he will never be invited back on her watch.
Despite Anna's firm request to never have Donald Trump at the Met Gala, there are actually some celebs who have flipped the switch, swearing that they'll never attend the Met Gala, even if they were invited.
One of those people is Demi Lovato, who attended the Met Gala back in 2016. The singer said that their reason for not wanting to return is that "one celebrity was a complete bitch and was miserable to be around. It was very cliquey," according to Billboard.
"I remember being so uncomfortable that I wanted to drink," Demi also said, recalling her struggles with alcohol addiction. They were so uncomfortable, in fact, that they left the Gala and immediately went to an AA meeting. "I changed my clothes, but I still had my diamonds on—millions of dollars of diamonds on in an AA meeting," she continued.
Madeline Merinuk is woman&home's US lifestyle news writer. She covers celebrity, entertainment, fashion, and beauty news but is also obsessed with internet trends - you can find her reciting trending TikTok sounds out loud at any given time.
After winning multiple student journalism awards for her investigative work, she graduated from Hofstra University in 2021 with a B.A. in Journalism. After graduating, she worked at today.com, the digital site for the Today Show, where she wrote pop culture news and interviewed big-name personalities like Emily Ratajkowski, Haley Lu Richardson, Emma Corrin, and more.
Her personal interests, in no particular order, are: cheese, Joni Mitchell, reading, hot yoga, traveling, having multiple chapsticks in every handbag at all times, and dancing to ABBA songs as if she were in the Mamma Mia movies.