Sian Williams on life after a double mastectomy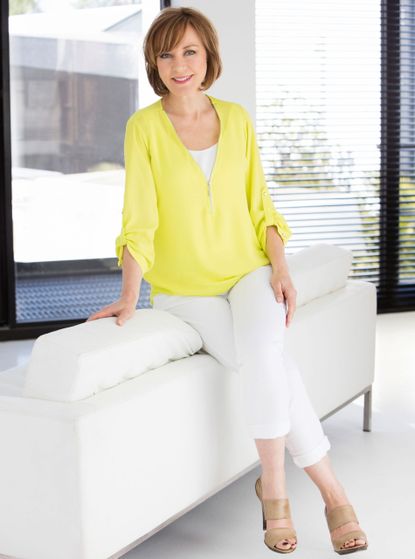 I thought I knew about trauma. I'm a trained trauma assessor and have an MsC in psychology. And, like everyone, I've had trauma of my own - like when my son was born flat and blue and I lost four pints of blood. And when my mum died, seven years ago and I thought I couldn't get back up again - but somehow I did.
Then, the week after my 50th birthday, I was diagnosed with breast cancer. I'd just accepted a new job and our family was full of excitement about moving from London to Kent. And I was a regular runner who drank green tea and ate salmon. So being told I had cancer seemed so improbable that when I went for the results of a biopsy, following a mammogram, I didn't even ask Paul to come because I just assumed it was routine.
I sat in the doctor's office taking notes to help me remember what was said. It took me a while to realise that the words I was writing down - cancerous tissue; procedure, double mastectomy - just didn't compute or feel connected to me.
After 30 years of being a reporter I clicked into journalism mode. I focused on getting the facts and decided I couldn't allow my self to indulge - which is how I saw it then - in any emotion. My dad is a journalist too, and very fact based. Although my mum was more emotional, I've always felt more comfortable not allowing myself to be overwhelmed by emotion.
I had a double mastectomy scheduled for January. I told myself it was, 'just a procedure'. We were due to move house the day after the operation but it didn't even occur to me to cancel. I made plans for childcare; told Paul to go ahead with everything as planned and got through the surgery by focusing on practicalities.
But there were all these emotions that I didn't want to feel popping to the surface. My biggest fear was not being there as a mum; I couldn't stop thinking that I want to be here for Evie to watch her get married. My aunt died of breast cancer and I'd lost my mum to liver and bowel cancer and I gradually began to realise how bewildered and scared I was.
But it wasn't until I left hospital that the reality really sank in. In moving, I had left behind my support network so I had no friends in Kent. Nobody even knew I'd had the operation apart from the children's teacher. I'd go and pick them up with these big drain bottles dangling down which I'd try to hide with my coat. I remember going see my GP to have my dressings changed. I was still very raw after surgery and looked down to see a magazine with a colleague of mine on the cover looking incredibly glamorous. It was such a reminder of a previous life and I realised I had never felt less like a woman or my previous self.
I realised that I needed some strategies to help me recover. I decided to start by talking to other people who had survived loss and trauma. I wanted to write about it as a way to help myself and other people to deal with trauma.
I spoke to so many remarkable people. Like a colleague who lost his leg and then lost his mind; someone with PTSD and a woman in her 90s who had lost her parents in the Holocaust. What I realised is that they had not only survived really terrible things, they had been transformed by them.
I realised that that acceptance is part of the process of recovery. And I realised that a big part of their survival and transformation was the ability to reflect on what has happened. Being someone who is used to locking difficult feelings up, slamming down the lid and throwing away the key, that was the hardest thing to do. But I realised it's the first step in working out what matters and what doesn't.
Being ill showed me parts of myself that I really didn't like. I was horrible to Paul at times because I was so intent on being strong that I didn't feel I could share my fears with him. He never knew if I was 'Strong capable Sian', or if I needed help, which was very confusing for him, and we had some really explosive moments and furious rows as a result.
But Paul is an extraordinary man. I've learned I need to let him know if I need help and if I need him to be the outstretched hand supporting me. I discovered there's a strength in letting myself be vulnerable. I allowed myself to say, 'Today I feel less like a TV presenter and more like a cancer patient - and that's OK".
I also realised I had to take things a step at a time. Talking to trauma survivors, they seemed so resilient that I found myself saying 'I can't be doing it right'. It felt so tough. They reminded me that their journey was in the past - and I was still on mine.
Writing this book made me realise there is an old Sian and a New Sian. New Sian is more forgiving - of other people but mainly of myself. I'm kinder, more accepting and more willing to learn from things that are difficult. One big change is that I have become better at living with uncertainty. I like certainty and am used to dealing with facts. My cancer might come back but if it does I'm in a stronger position to del with it.
When I was diagnosed I opted for 'immediate reconstruction', which is a slow and on-going process. I didn't really know what it was because I didn't hear that bit - I was more fixed on the cancer bit! They put in temporary expanders and they told me they could tattoo my nipples the same day as they took my old ones off, which seemed so incongruous and which made me laugh out loud. I said no to that but I might change my mind. And the reconstruction process is still going on - it has taken longer than I thought it would."
And I'm more forgiving of my body. I have a caesarean scar and these scars are just like that; scars you carry from previous experiences. And in the same way you have to acknowledge previous traumas you have to acknowledge that scars are a part of your body. I look at my body and I think, 'You're bloody lucky you're here Sian'. My aunt didn't get to see her children grow up. I'm in my 50s and I carry the scars of life but actually I see them as a reminder of the blessing that I am here. I am able to be with my family. How remarkable is that?
Click to read an exclusive extract from Rise: Surviving and Thriving After Trauma by Sian Williams.
Sign up to our free daily email for the latest royal and entertainment news, interesting opinion, expert advice on styling and beauty trends, and no-nonsense guides to the health and wellness questions you want answered.