Jamie Lee Curtis' rescue pup 'truly couldn't give a sh*t' about her Oscars trophy but he gave her the best greeting home instead
New Oscar winner Jamie Lee Curtis uses her platform to raise awareness about puppy adoption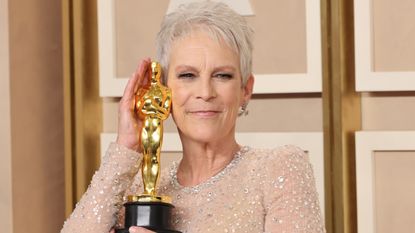 (Image credit: Photo by Rodin Eckenroth/Getty Images)
It was about time: after decades in the industry, the always-great Jamie Lee Curtis finally won her very first Academy Award this past weekend for her wonderful work on Everything Everywhere All at Once.
After giving an emotional shout-out to late parents Tony Curtis and Janet Leigh, Jamie Lee went back home and celebrated with one of the most important figures in her life: her rescue pup, Runi.
But the 64-year-old actress made it a point to not only celebrate her big night but use her platform to raise awareness on issues close to her heart, including the wellbeing of animals.
Once home, Jamie Lee posted a photo of herself still all dressed up, with her new trophy in hand alongside Runi.
"The best greeting last night was from my beautiful @perfect_pet_rescue pup, Runi, who truly couldn't give a sh*t about the statue I was holding," she wrote in the matter-of-fact tone she's known for as a caption to her upload. "He just was happy to have me home, connecting with him the only way you can when you feel love toward an animal the way I feel toward him and him to me. #adoptdontshop"
Fans quickly took to the platform to praise Jamie Lee.
"Thank you for being an adopter, not buying fancy breeds and using your platform for so much good!," one of her followers wrote.
"One more reason why you are amazing 🐾🤍 #adoptdontshop," yet another noted.
Even PETA chimed in from the organization's official account. "So sweet, congratulations 💖🎉 Love that you are celebrating with Runi and reminding folks how special it is to feel unconditional love from an adopted pup. #NeverBuyDogs," commented the nonprofit.
This actually isn't the first time that the actress used the Oscars to promote a cause that's important to her. At last year's Academy Awards, in fact, Jamie Lee showed up on stage holding Mac-N-Cheese, a cute pooch, while honoring the late Betty White during an In Memoriam segment. Betty was actually a famous animal lover.
Jamie Lee then mentioned that Mac-N-Cheese was up for adoption in celebration of the late Golden Girls star and, in a beautiful unfolding of events, actor John Travolta announced on Instagram the next day that his own son had decided to adopt the pup.
Clearly, Jamie Lee knows what she's doing - and not just when it comes to animal rights. A few months ago, for example. Jamie Lee made headlines while tearfully condeming 'abhorrent' Kanye West for antisemitic outburst.
"The holiest day in Judaism was last week. Words matter. A threat to Jewish people ended once in a genocide. You are a father. Please stop," the star wrote on Twitter in response to Kanye's comments.
She denounced the rapper once again on TODAY, growing visibly tearful as she recalled her reaction to his tweet.
"I woke up and I burst into tears," she told host Hoda Kotb. "Defcon 3 on Jewish people? What are you doing?"
"It's bad enough that fascism is on the rise around the world. But on Twitter, on a portal, to pour that in? As if Jewish people haven't had it hard enough?"
"It's abhorrent," she added, before tearfully reflecting on her paternal grandparents, who were Hungarian Jews. "I hope he [Kanye] gets help. I hope his children get help from him. It's terrible."
Although still fighting for what she believes in, it's nice to see Jamie Lee let loose a bit, especially considering the accolade she just received.
Throughout the past few days, the celebrity has posted a slew of hilarious memes and images on her Instagram account, celebrating her lauded win - and we honestly can't get enough of them. Keep 'em coming, Jamie Lee!
Anna Rahmanan is a New York-based writer and editor who covers culture, entertainment, food, fashion and travel news. Anna's words have appeared on Time Out New York, the Huffington Post, Fortune, Forbes, Us Weekly, Bon Appetit and Brooklyn Magazine, among other outlets.