How to watch Gogglebox UK 2021 online from anywhere in the world
How to watch Gogglebox UK online so you can watch British people watching TV from anywhere in the world.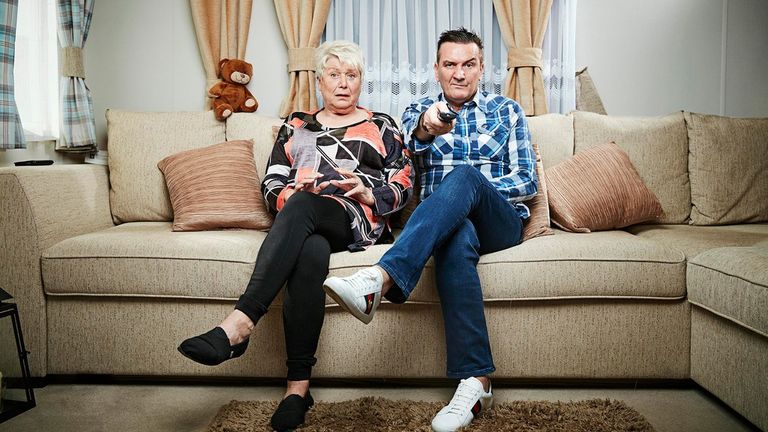 (Image credit: Channel 4)
If you want to watch Gogglebox UK but you're not sure how, read on to find out what channel the show is on, when and how to watch Gogglebox if you're outside the UK.
A Friday-night staple, Gogglebox UK has returned for a brand new season, meaning that some of Britain's most opinionated and avid TV viewers are back to share their candid thoughts and (strong) opinions on the best and worst television shows in Britain.
Narrated by Craig Cash, Gogglebox is an award-winning, long-standing reality series that captures everyday people - families, groups of friends, the list is endless - examine and opine about popular TV shows that have earned praise from UK audiences.
With Series 17 coming to our screens on Friday, 26th February, here's how to watch it online and catch up on previous instalments of the show:
How to watch Gogglebox in UK: What channel is Gogglebox on and when?
Series 17 of the British version of Gogglebox is currently airing on Channel 4 in the UK.
You can watch brand new episodes on Friday evenings at 9pm (GMT) on Channel 4, or go to channel4.com/programmes/gogglebox to watch Gogglebox UK online for free and catch up on any episodes you have missed so far.
If you're based in the UK you can also watch every episode from all 17 different series of Gogglebox UK online via Channel 4's video on demand streaming service – 4od.
How to watch Gogglebox UK online from anywhere
If you're based outside of the UK and you want to watch the British version of Gogglebox, then you will need to use a VPN service to get around the geo-restrictions. It's a really easy-to-use piece of software that lets you change the IP address of your phone or laptop so it makes it look like you're back in the UK.
Our sister site, TechRadar, have tested all of the major VPN services and they rate ExpressVPN as the absolute best. They say: "It's compatible with all of your devices, supports most streaming services and ranks amongst the fastest. You can even install it on devices like an Amazon Fire TV Stick, Apple TV, Xbox and PlayStation. So for a one-stop shop, you can't go wrong with Express."
If you've never installed a VPN before, don't worry, it's quick and easy. Just follow these three steps:
Download and install the VPN following ExpressVPN's easy-to-follow instructions (ExpressVPN comes with a 30-day money back guarantee and if you click here you can get 49% off and 3 months free, too.)
Once you've installed your VPN, open the app and select your server location as anywhere in the UK
With your VPN installed and server location set to the UK, you can now go to Channel 4 online and watch Gogglebox UK.
Get 49% off and 3 months FREE
ExpressVPN service | Get 49% off and 3 months FREE  
The absolute best VPN service, compatible with all of your devices, supports most streaming services and ranks amongst the fastest.
Getting a VPN is 100% risk free with ExpressVPN thanks to their  30-day money back guarantee.
VPN Disclaimer: We test and review VPN services in the context of legal recreational uses. For example: accessing a service from another country (subject to the terms and conditions of that service); protecting your online security and strengthening your online privacy when abroad. We do not support or condone the illegal or malicious use of VPN services. Consuming pirated content that is paid-for is neither endorsed nor approved by Future Publishing.
UK Gogglebox cast 2021
The Gogglebox cast has changed a lot since the show first aired in 2013, but there are some families who have stood the test of time and still appear on the show today.
With so many different families and households featured on the show, here's who to look out for in 2021.
The Malone family – Tom Malone Jr. recently announced his departure via Instagram from the show after a six-year run. His family, however, is here to stay.
The Bagg family – the fun-loving Bagg family have returned after joining the cast in 2021. Producers spotted the sons on TikTok and casted them for the show, thanks to their funny family videos.
The Michael family – After taking a break for a couple of seasons, the Michael family returned to Gogglebox in 2015. Parents Andrew and Carolyne appear with two of their children Louis, Alex on the show and their other two children, Pascal and Katie, occasionally feature.
The Plummer family –Tremaine, Twaine and Tristan first appeared on Gogglebox for series 8 of the show. The three brothers all live in Bristol, where they film for the show.
The Worthington family - The Worthington family has grown since Alison, George and their daughter Helena joined Gogglebox in series 10. Helena has recently welcomed a baby bog called Erwin.
The Walker family - Chantelle, Monique and Elizabeth are brand new additions to Gogglebox for series 16.
The Ven family – Made up of couple Marcus and Mica and Mica's daughters Sachelle and Shuggy, the Vens are making two years on Gogglebox this year.
The Siddiqui family – Made up of dad Sid and his sons Umar and Bassit, the Siddiqui family have been on Gogglebox since the very first show and are the only family to have appeared on every single series.
Daniel and Stephen – Stephen originally appear on the show with his ex Christopher and then his mum Pat, but since marrying Dnaiel in 2018, the couple now share the couch and appear on the show together.
Paige and Sally – Series 16 is Paige and Sally's third for Gogglebox as the mother and daughter duo from Birmingham first appeared on the show in series 14.
Abby and Georgia – Best friends Abby and Georgia from Durham first appeared on the show in 2018 and have been making viewers giggle ever since.
David and Shirley – Part of the Gogglebox family since 2015, this is Caerphilly couple Shirley and Dave's 10th series of the show.
John and Beryl – You wouldn't want to get on their wrong side of this pair who don't hold back the bickering just because they're on the telly which coincidently makes great television.
Pete and Sophie - Siblings Pete and Sophie have been on the show since series 10 and are known for their biting (but hilarious) criticism of TV shows and endless puns.
Amira and Iqra – Mates Amira and Iqra from London joined the Gogglebox cast a decade ago. Occasionally Amira's sister Anmi also appears on the show.
Jenny and Lee – Part of the show since series 4, best friends Jenny and Lee live in Hull and are fan favourites thanks to their commentary on TV shows.
Mary and Marina – This Bristol-based pair of friends love to sip wine while they watch the week's TV and have been series regulars for eight seasons now.
Ellie and Izzi – Sisters Ellie and Lizzi fro Leeds joined the show in series 6 and are still going strong 10 seasons later.
Giles and Mary – 2021 marks Giles and Mary's sixth year of appearing on Gogglebox. The artist and writer duo live in Wiltshire.
Anne and Ken – This is only Anne and Ken's second series of Gogglebox but the sweet couple made a great first impression when they first appeared on series 15.
Linda and Peter – Part of the Googlebox cast since 2016, Linda and Pete were originally on the show with their son George – who went on to appear in Celebrity Big Brother.
Sue and Steve – London-based couple Sue and Steve first appeared on Gogglebox in 2019 so are still relative newcomers, but they're back for the new series this year.
How to apply for Gogglebox
While we'd all love to be paid to curl up on our sofas at home and watch television, unfortunately Channel 4 are not looking for any new families to take part in Gogglebox UK at this time.
As a result, there is no application process open to apply for Gogglebox online.
However, if you still want to take part in a Channel 4 show, you can head to channel4.com/4viewers/take-part.
Here you can apply to appear in a whole range of shows from The Great British Bake Off to Married at First Sight, Come Dine With Me and Countdown.
An internationally published digital journalist and editor who specialises in SEO strategy and content production, Rachael has worked as a writer and editor for both news and lifestyle websites in the UK and abroad.
Rachael's published work covers a broad spectrum of topics and she has written about everything from the future of sustainable travel, to the impact of the coronavirus pandemic on the world we live in, to the psychology of colour.
She prides herself on being an excellent giver-of-gifts and is equally respected and loathed amongst her friends and family for starting her Christmas shopping every year in August.
When she's not writing or editing, Rachael can be found hiking, running, surfing or enjoying other outdoor pursuits, such as standing in line for a table at the latest Big Mamma restaurant.