Denzel Washington reveals he didn't cry at his mother's funeral
Multiple award-winning actor Denzel Washington broke down talking about his late mother while on The Late Show With Stephen Colbert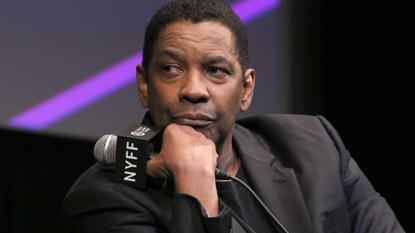 (Image credit: Jim Spellman / Stringer)
While promoting his new film, Joel Coen's The Tragedy of Macbeth, Denzel Washington made an appearance on The Late Show With Stephen Colbert and broke down when talking about his late mother Lennis Washington, who passed at the age of 97 back in June.
The late-night host, incredibly adroit at candid interviews (remember when Michelle Obama shared her simple "tools" for coping with low-grade depression on screen?), re-visited a quote attributed to Denzel about a mother being a boy's one true love and asked the actor about the ways in which he feels he's been honoring his own mother through his work.
The questions brought Denzel to tears. "A mother is a son's first true love. A son, especially that first son, is a mother's last true love," he said. "I'm getting chocked up. Sorry."
The actor went on to recount his mother's funeral and revealed that he actually didn't cry throughout the event. "I don't know [why]," he said. "I guess I saved it up for you. For crying out loud!" The joke prompted a collective laughter.
Denzel's honesty was met with surprise and love all throughout social media, as fans took to Twitter and Instagram to show the actor support.
"I'm crying with you, bro," wrote a Twitter user. "Visited my 93-year-old mom in the nursing home yesterday. Frail and didn't recognize me, I walked out crying..."
"Crying with Denzel Washington tonight was not something I had on my agenda," wrote another.
Yet another person took to Twitter to comment on the episode, "Denzel Washington crying over his mother on Stephen Colbert [is] priceless," it said. "Yup, that [bond] between a mother and the child!"
---
Denzel's words likely resonated most with Stephen himself, who unfortunately lost his father James and two older brothers, Peter and Paul, in a plane crash in 1974, when he was only ten years old. His mother, Lorna Colbert, passed in 2013 at the age of 92.
At the end of the interview, Denzel urged Stephen to hug and love family members and friends. "I know it well," responded Stephen.
Anna Rahmanan is a New York-based writer and editor who covers culture, entertainment, food, fashion and travel news. Anna's words have appeared on Time Out New York, the Huffington Post, Fortune, Forbes, Us Weekly, Bon Appetit and Brooklyn Magazine, among other outlets.