Dancing With The Stars 2021: Who are the judges?
Are your favourite stars coming back?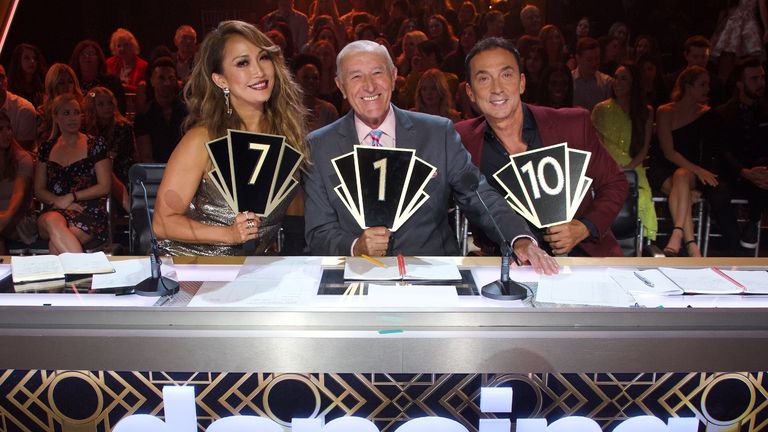 (Image credit: Getty)
After 15 years on air, hundreds of celebrities and a lot of sequins, Dancing With The Stars has hit its 30th season. 
We've got a few months to wait before Dancing With the Stars season 30 kicks off - usually September, October time - but conversation has already started about which celebrities will appear on this season of our favourite dancing show and whether it will be bigger and better than ever as ABC marks the show's milestone. 
And, with the covid-19 pandemic having caused mayhem for the Dancing With The Stars panel last year, which of the judges will be returning for season 30?
Who were the judges on Dancing with the Stars 2020?
Last year the show - inspired by the UK's Strictly Come Dancing - underwent some changes, with long-term host Tom Bergeron and Erin Andrews, who had been a co-host since 2018, both replaced by America's Next Top Model star Tyra Banks. 
With Covid-19 restricting travel, veteran judge Len Goodman was also unable to join the panel and was replaced by Dancing with the Stars professional dancer - and six time DWTS winner - Derek Hough. 
If you're not keeping up, the Dancing With The Stars season 29 judges line up looked like this: Bruno Tonioli, Derek Hough and Carrie Ann Inaba.
But, despite the changes it was an epic season - with Bachelorette star, Kaitlyn Bristowe, scooping the Mirrorball trophy with Artem Chigvintsev and Catfish creator, Nev Schulman, and Rapper, Nelly, finishing in second and third place respectively. 
More from Woman&Home
Who are the judges on Dancing With The Stars 2021?
The upcoming 30th season marks a real milestone for the show, which premiered back in 2005 off the back of Strictly Come Dancing's success in the UK, so it would be a shock if the network didn't renew DWTS. But who will sit at the Judges' Table?
Len Goodman 
Veteran Dancing With The Stars judge, Len Goodman, was forced to miss season 20 of the hit show as travel restrictions, owing to the covid-19 pandemic, meant he was unable to travel to America to film.
Despite his absence, it is thought Head Judge Len - who has been a judge since the first season in 2005 - will return as and when it is safe for him to do so as he's a much-loved member of the show. 
Len, 76, previously missed a season of Dancing With The Stars back in 2015 due to filming commitments with the UK's Strictly Come Dancing - of which he was also Head Judge before leaving in 2016. 
He recently spoke out about the show's first same-sex couple. 
Derek Hough
Although Derek Hough was only stepping in for Len Goodman during season 29, he proved popular with viewers with his "new energy".
While it's unclear whether Len will return to the panel full-time, there is speculation that Derek could also return as a fourth judge - like his sister Julieanne Hough was from seasons 19-24.
As well as having a brief fling with Cheryl Cole, Derek found fame on Dancing With The Stars after joining in 2007. 
He also served as a judge on NBC's World of Dance competition. 
 Bruno Tonioli 
Bruno Tonioli is usually busy splitting his time between Dancing With The Stars and Strictly Come Dancing, but last year DWTS was his sole focus as the TV star was unable to travel to the UK for filming. 
The choreographer has been a hugely popular judge since joining the show and we'd be surprised if he didn't return for season 30. 
Carrie Ann Inaba 

World-renowned choreographer, Carrie Ann Inaba, has had a regular spot at the Judges' Table since the show launched in 2005, so it's highly expected she'll return for season 30.