ITV's A Confession: the harrowing true story behind Imelda Staunton's inspiring character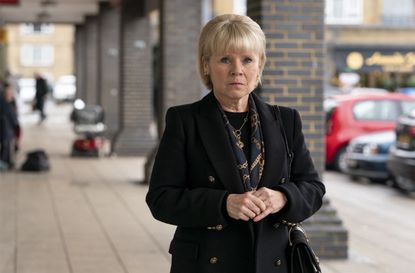 The gripping new ITV drama, based on a dark true story, has viewers hooked.
ITV's A Confession, which premiered on Monday, is based on the disappearance of Sian O'Callaghan in 2011, which had devastating repercussions for Sian's family, and the family of another missing woman, Becky Godden-Edwards.
Who does Imelda Staunton play?
Imelda Staunton plays Karen Edwards, a mother who lived down the street from Sian's family, and started to question whether this disappearance could be connected to that of her own daughter, Becky, who had been missing for eight years.
Imelda was well aware of the task of taking on a woman like Karen Edwards, who remained brave in the face of so much heartbreak. They met before filming began, and Imelda admitted to The Independent (opens in new tab) that this was "exhausting."
"It's an unimaginable place that this poor woman is living in…. Karen's got a wonderful suit of armour. She's terribly strong. Her daughter's life wasn't easy before her death."
What happened to Sian O'Callaghan?
Sian O'Callaghan disappeared in the middle of the night on 19th March 2011. Under the lead of Detective Steve Fulcher, played by Sherlock actor Martin Freeman, a 47 year old cab driver, Christopher Halliwell was arrested in connection with Sian's disappearance five days later.
By going against police rules, Detective Fulcher managed to get Halliwell to admit to Sian's murder. Halliwell then lead Fulcher to the body of another woman he had murdered... that of 20 year old Becky.
Imedla's performance as Karen has certainly made an impression on viewers, with one commenting on Twitter that she 'is an actual queen'.
Another praised Imelda the cast at large for how well they have handled such a sensitive story,
Viewers have also been hooked on Martin Freeman's performance as Detective Steve Fulcher, whose decision not to take Halliwell to the police station left his career in tatters.
Speaking to What'sOnTV (opens in new tab), Martin admitted that he did not know what he would have done if he was in Detective Fulcher's position, 'Steve was trying to find Sian alive. He wanted him to talk. Steve asks, 'If it was your daughter, what would you like me to have done?' I've got no answer other than, 'What you did.''
With questions like that to be answered, we'll definitely be tuning in next week...
A Confession continues Monday 9th September, 9pm on ITV.
Mollie worked as a junior reporter across Women's Lifestyle brands, focusing on news, with a particular fascination with all things royal.
Mollie started out doing work experience across digital websites, before taking up a role as a digital intern, working mainly on woman&home, where she excelled at sourcing original stories for the woman&home audience, but also wrote up fashion, beauty, and general lifestyle features. She now works in marketing for a creative media recruitment company.
Mollie is a candle, film, and food fanatic, who also makes a mean margarita.