Why marriage counselling might actually be beneficial for happy couples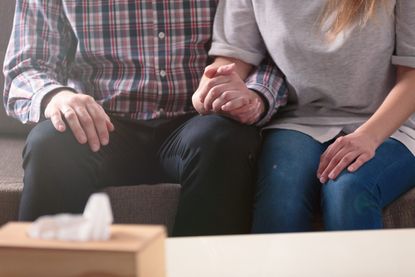 (Image credit: Getty Images)
woman&home newsletter
Sign up to our free daily email for the latest royal and entertainment news, interesting opinion, expert advice on styling and beauty trends, and no-nonsense guides to the health and wellness questions you want answered.
Thank you for signing up to Woman & Home. You will receive a verification email shortly.
There was a problem. Please refresh the page and try again.
Over the years, marriage counselling has been presented to us as a last resort; a final, desperate attempt to save a flailing marriage or relationship.
Sadly, there's arguably still a stigma attached to the process. While we reckon we should do everything we can to improve our relationships, admitting that you and your partner attend couples therapy is still unfortunately seen by some as somewhat of a taboo.
It's true that couples counselling is normally considered to be for people who are at crisis point, who see no other way to help their relationship move forward. But a new idea is emerging - one where seemingly happy couples attend regular therapy sessions to help keep their relationship that way.
Marriage counselling is something a smattering of celebrity couples have been open about already. Marina and Ben Fogle explained that they partake in regular 'marriage MOT' sessions. Marina explained in The Telegraph that she and Ben see the counsellor, who helped them through the loss of their son some years ago, now to work on their marriage.
She said, "We see her individually and together, and we've realised that it's as important as seeing a dentist regularly.
"Had we heeded my friend's advice [to go to couples therapy] eight years ago, I believe that we would have matured emotionally sooner, have been able to support each other better and possibly deal with the challenges we've encountered more efficiently."
The idea that laying a solid foundation for dealing with problems while the going is easy - rather than tackling the issues when they've been festering for some time - is certainly intriguing. Because although plenty of us start our relationships with the very best of intentions, staying content, happy and fulfilled in a long-term commitment can be something we take for granted.And of course, as anyone would likely admit, relationships and marriages aren't always easy.
And sadly, the statistics don't lie. According to a 2013 study from the Office of National Statistics, marriages that eventually end in divorce are lasting longer than ever before. The average duration of a marriage that ends in a divorce was 11.7 years in 2013, up from 11.3 years in 2003.
A lot of the time, couples will wait until the last moment so seek help. But there are actually plenty of therapists who suggest that going long before that point could possibly provide some amazing benefits for you and your partner's relationship.
Why are happy couples seeking therapy?
Dawn Kaffel, a London-based relationship therapist (couplescounselling.com), explained to w&h that seemingly 'happy' couples coming to therapy is actually something she's seen more of in recent years.
"I've been a therapist for over 20 years", she said. "And I think there has been a subtle shift from couples leaving it to late, to coming to therapy when they've had the realisation that, 'we're in a good place, so how do we stay in a good place?'"
In fact, Dawn is a a huge advocate for happy couples going for therapy as a way of performing an 'MOT' on your relationship.
MORE:The surprising reason why Ruth and Eamonn say their marriage has stood the test of time
"I've seen a rise in pre-marital therapy actually, couples who are getting married after a long time together. And in my experience, coming to therapy when your relationship is good is akin to an MOT for cars; they're going very well, but we want to make sure that they're going to get through the winter (the difficult parts of a relationship), so to speak."
Relationship coach Jo Barnett (datingcoach.me.uk) also confessed that she'd seen a rise in the same thing. "I've worked with people before they get married, because there will always be differences in approaches and opinion. In my opinion you can't have it [therapy] early enough."
So what sort of benefits can marriage counselling therapists actually provide you with?
If you're already feeling pretty content in your relationship, you're probably wondering - how on earth could counselling help us?
According to Ammanda Major, a relationship counsellor and Head of Service Quality and Clinical Practice at Relate, seeing a counsellor with your significant other can help with something as simple as having important conversations the right way.
She told us, "One thing it's helpful for people to consider, is that if there's an issue for discussion, you may need or want to go into it at a deeper level. It may not be that there are big problems in your relationship; you just may want to be able to talk about important things in the best way possible. A couple might want to think about, 'how can we do this big conversation justice?'.
So perhaps a therapist can simply help to build useful and effective communication skills for couples for years to come - as opposed to tackling big, difficult problems.
And there's no doubt that being able to talk things through without arguments can help whenever troubles may arise - because let's face it, life isn't always a walk in the park - whether you're adjusting to being new parents or dealing with stressful, time-consuming jobs, or any other trying situations.
Couples counselling, it seems, can also help couples avoid using language that could potentially lead to a confrontation.
Ammanda also said, "A therapist can help people to open up. But I think sometimes helping people to reframe how they say things is the most vital thing. The moment you've said something in a different - perhaps kinder - way, that presents the opportunity for your partner to hear it differently as well.
"And I know these things sound so basic but they can sometimes be so difficult to do well."
Dawn also explained to w&h that undergoing counselling ahead of huge life-changing events, such as a baby, or perhaps a big move abroad, could help couples to weather all kinds of rocky seas.
MORE:This is the UK city with the happiest marriages, according to research
She shared, "Having a child, for example, is a big transition, things can go wrong between couples then. Baby books will tell you the practical things, but not very often about the emotional side, and how, once the euphoria of the the initial stages is over, you have to reconnect as a couple. Partners have to reconsider, in the new family dynamic, where does us as a couple come in? If couples could come in for therapy before then, I think it could avoid a lot of problems."
Jo Barnett also explained that another benefit of seeing a couples counsellor together could be discovering things you may not have realised - such as certain tension points - which could help to ensure you don't run in to problems on the topic down the line.
"One of the roles that I, and counsellors play, is to sort of mirror what's going on in the relationship," she explained. "And with certain issues, or ways of speaking, they might not be able to see it. They don't know what they're seeing because they're in it, but we can point it out to them. And once they understand what's happening, they're able to address it, and move forward in a positive way."
Can marriage counselling have a negative impact on your relationship?
However, if you've not been to therapy before, it's totally normal to be dubious or nervous about the prospect.
And it's even more normal to question whether therapy might really be for you if you feel you're in a blissful, happy and committed, loving relationship.
In fact, Clare Ireland, a relationship counsellor at London-based practise Coupleworks (coupleworks.co.uk), expressed her concerns over heading for therapy if there are no serious problems to address.
Sharing her view, she said, "A couple that is functioning in a workable way might find themselves looking at hitherto manageable issues as suddenly problematical. If they consider their relationship to be 'happy' and are maybe seeking deeper happiness, there could be a risk in exploring with a therapist. They could start to find things which had not bothered them before."
And it's a valid point - and something only each individual couple can evaluate before considering heading for therapy.
However, Clare did applaud the idea of pre-martial therapy, saying it can be "very forward thinking". In her words, the option could be "a wise decision and the right time to look at, as yet, unspoken anxieties".
But according to Ammanda, reframing how we as a society see couples therapy is a useful way to help eradicate the fear and stigma around therapy, and to give couples a chance to explore it as an option for keeping their relationship as strong. "Lots of people see it as mad - 'why would I spend lots of money when there's nothing wrong with my relationship?'
"But our concept of therapy is changing, thank goodness. Lots of people see it as a check-up. We're looking after our bodies; why is it so difficult to try and improve our relationship? We need to look after them too."
And Ammanda and Jo warn, leaving it until something awful happens - such as infidelity - often means that it's been left too late to save the relationship. Ammanda said, "I see so many people who are on the brink, because they have left it far too late. The rut, the negativity sets in. It's been going on for so long, I often ask couples, why has it taken you so long to ask for help?"
While Jo agreed, "When a relationship/marriage breaks up, it's generally over the small things that haven't been understood. Not listening, not taking someone's point of view seriously enough – it's normally not anything big. If they wait until the big things, it's often too late, I find."
So it may be that couples therapy is most beneficial for those who are starting to see the beginning of problems in their relationships - who are aware of problems that could snowball which are starting to make them feel unhappy. Seeing a therapist at this point, it seems, may help to avoid issues growing out of control.
And, unlike Clare, Jo disagrees that there is any risk in coming to therapy if you already feel happy and content in your partnership. She told us, "I don't think there's any risk. If it's going to cause problems, then they are problems that are going to come up later down the line - but at that point, they'll come up without a professional there to deal with it. The third party is only there to help."
Ammanda agreed, saying, "In couples counselling, it is the couple that will decide if the issues are relevant, and if they don't want to talk about something, they don't need to. Also, on the other side, therapy can help in uncovering issues that people didn't think were relevant - it can help them start to see that maybe they do have a relevance to them as a couple. But, it's up to them to decide if they want to engage."
So, it seems that couples therapy when you already feel quite content in your relationship really is down to the individual - there's no right or wrong answer, and it all depends on whether you as a pair feel you could benefit from it.
And as with so many things, there really is no shame in seeking help at any stage of your life - whether you feel you're coping or not. Therapy is there as a means of support, and can, for lots of people, be a valuable way to talk out their feelings.
As a parting word, Ammanda told us, "I think people should feel comfortable getting this type of help at any point in their lives. There is no life stage that cannot be supported by therapy."
Sign up to our free daily email for the latest royal and entertainment news, interesting opinion, expert advice on styling and beauty trends, and no-nonsense guides to the health and wellness questions you want answered.
Amy Hunt is an experienced digital journalist specialising in homes, interiors and hobbies. She began her career working as the features assistant at woman&home magazine, before moving over to the digital side of the brand where she eventually became the Lifestyle Editor up until January 2022. Amy won the Digital Journalist of the Year award at the AOP Awards in 2019 for her work on womanandhome.com.