Is Halloween a holiday, when is trick or treating 2021 and what's the spooky true story behind this much-loved tradition?
Halloween 2021 is almost upon us and we can't wait for the trick or treating to begin!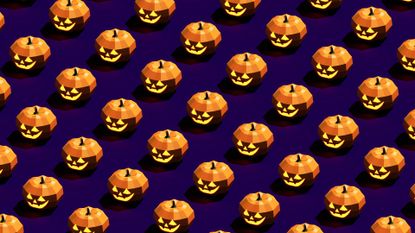 (Image credit: Flavio Coelho via Getty)
Is Halloween a holiday? has been the question on all fright-lovers' minds this fall as the spooky season's ultimate celebration draws ever nearer.
For those who have already delved into the best Halloween movies on Netflix and have been seriously tempted by the stunning Le Creuset Halloween collection, the start of Halloween itself surely can't come soon enough. Now with Halloween just days away, many people will be excitedly preparing their scariest costumes, getting out the Halloween party games and planning out their route around the neighborhood for trick or treating when the time comes. Though when it comes to this popular festival and its most iconic customs, there is so much that we might not have realized as the celebration traces its roots back to ancient times.
But is Halloween a holiday, when is trick or treating in 2021 and what is the true story behind this fun-filled tradition?
---
Is Halloween a holiday?
Sadly for Halloween lovers out there, this annual fall celebration isn't an actual public holiday in the US. Instead businesses and stores are open as usual and public transport remains on a regular daily schedule on Halloween. However, whilst you might not always get the day off for the big day, this year many people will be able to enjoy all the spooktacular fun of Halloween without worrying about work commitments as Halloween 2021 is a Sunday.
When is trick or treating 2021?
Most people across the country will likely be looking to set out in their most ghoulish costumes and collect their haul of treats on Halloween itself, October 31st, though some areas are reportedly planning to hold trick or treating the day before, earlier on in the weekend. Last year the Covid-19 pandemic meant that curfews and special rules were in effect when it came to trick or treating.
This year, restrictions vary depending on which state, city and area you live in, so it's important to check your local laws and guidelines before you make any trick or treating 2021 plans. That way you won't be left disappointed and can ensure things are kept safe by checking what restrictions there are and if trick or treating is happening where you are this year.
Generally when trick or treating takes place, you can expect to see people arriving on your doorstep from between 5:30-6pm and for the last trick or treaters to have finished by around 9pm on Halloween night.
What are the origins of trick or treating?
We might all love the age-old Halloween tradition but when it comes to the origins of trick or treating, it's all too easy to forget that there's a spookier and rich history behind this beloved custom. As reported by History.com (opens in new tab), you can trace the roots of Trick or Treating as a custom as far back as Celtic times.
Back then the pre-Christian festival of Samhain was celebrated on the night of October 31st and the Celts are understood to have gathered to offer sacrifices and pay homage to the dead, believing they returned to the earth on this sacred night.
The historical site suggests that some Celts even chose to dress up in animal skin costumes to drive away unwanted ghostly visitors, whilst food was also left out to appease unwelcome spirits. Whilst modern-day Trick or Treating is certainly more of a light-hearted affair, the concept of dressing up and offering food is certainly something Halloween enthusiasts will recognize today.
The sinister origins of the Trick or Treating continued into medieval times, where the spread of Christianity in Celtic lands had become more common and some aspects of the ancient faith were blended with Christian festivals. According to History.com this was the case with Halloween, with the Christian Church designating November 2nd as All Souls Day and the dead were once more honored in a way reminiscent of Samhain.
Those who were poorer would reportedly visit the houses of wealthier families and be given pastries known as 'soul cakes' in return for praying for the families' dead relatives. This practice was known rather chillingly as 'souling' and as the years went by, it was often carried out by children who would ask for gifts door to door.
Meanwhile, The Herald Scotland (opens in new tab) reports that in Ireland and Scotland, children took part in 'guising', dressing up and putting on some form of entertainment or 'trick' such as telling a joke before collecting their 'treat' which was typically food and now often sweeties (candy).
Folklore suggests that the children opted to go out in costumes to avoid being detected by ghosts. 'Guising' is thought to have come from the word 'disguise' and reflected the idea of dressing up at Halloween which is so synonymous with the holiday today.
Though modern trick or treaters in the US don't typically perform their 'trick' before receiving a 'treat', making these two traditions quite different after all these years! It was the Scottish and Irish communities who are thought to have revived their old traditions in America in the 20th century and began 'guising' and 'souling' across the country, making the celebration of Halloween more popular.
Trick or treating went on to become linked to pranks by the 1920s and though the sugar rationing during World War II put a stop to the custom for several years, it soon returned in full force afterwards. Catching on, candy companies soon began marketing products specifically around Halloween and today the holiday remains an unmissable part of the fall season.
So whilst you might not get to enjoy a public holiday for Halloween, trick or treating could take on a whole new level of enjoyment now you know its intriguing origins!
Emma is a Senior Lifestyle Writer with six years of experience working in digital publishing. Her specialist areas including literature, the British Royal Family and knowing all there is to know about the latest TV shows on the BBC, ITV, Channel 4 and every streaming service out there. When she's not writing about the next unmissable show to add to your to-watch list or delving into royal protocol, you can find Emma cooking and watching yet more crime dramas.