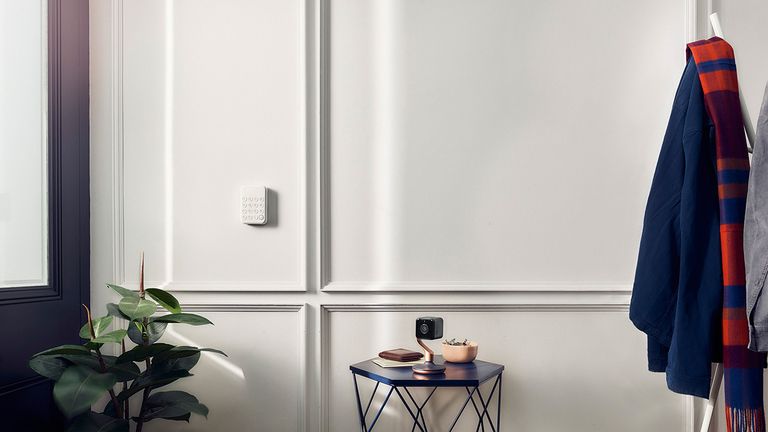 (Image credit: Hive Homeshield)
The past year has seen all of us spend more time in our homes than ever before—during months of isolation, they have become our gyms, our workplaces, our dens of relaxation, our classrooms, and so much more. So it's no surprise that over the months, our own four walls have become our safe havens. And as a result, we've all come to recognize the value of protecting our homes and everything within them more than ever before.
And one of the best ways to do this is in investing in home security that will keep your property safe for years to come. So if you're looking for the ultimate in home security, look no further than the Hive HomeShield service, which offers everything you and your family need to feel protected.
The Hive HomeShield pack includes a myriad of connected technology to keep your home secure—for the ultimate peace of mind. And the best part is, you can have it all for just £9.99 a month.
After all, with many restrictions lifted (hurrah!) and our lives slowly shifting back to normal, many of us will be reopening our flats and houses, and welcoming friends and family back into them. And more of us will be heading off on that much longed-for getaway away from our homes. So it's truly never been more important to think about keeping our abodes safe and sound in our absence—a concept that lies at the heart of Hive HomeShield.
How will the Hive HomeShield protect my home?
You may already be familiar with Hive for their smart home heating devices—but the energy experts have now branched into intelligent home security.
Whether you want to check who's at the front door, or fancy keeping an eye on your property while you're on holiday, there are a few incredible ways in which their new HomeShield package can help you to protect your home from intruders.
Gadgets included in the HomeShield system include the Hive Window and Door Sensors, the Hive View Outdoor Camera and the Hive Motion Sensor. There are a variety of packages available with the subscription, all designed to create an impenetrable smart security system that's right for your specific needs. In fact, they even have pet-friendly packages available, and the Hive View indoor camera is able to distinguish between people and animals so you won't get any incorrect security alerts.
With HomeShield you can protect your home from anywhere. All you need is your smartphone (or a tablet or Apple Watch) to operate the easy-use system.
The HomeShield means you can:
Remotely arm and disarm the security system using your smartphone, tablet, or Apple Watch
Access Live View, which allows you to instantly check on your home and any visitors at the door in real-time, via the camera
Access securely stored camera footage from the previous 30 days
Contact the emergency services using the app
Receive instant alerts, delivered to you and your family (or any other trusted contacts)
Get regular security reports
The security system has three modes to suit any eventuality, too—Home, Sleep, and Away. And because you can arm or disarm the security system from literally anywhere (whether you're at home, work, on holiday, or simply out on a shopping trip) you can be confident that your property is protected at all times.
You can even add multiple family log-in details to the HomeShield too—so anyone from your kids to your parents, to trusted neighbours when you are on holiday, can be there to respond to any security alerts.
What Hive HomeShield option is right for me?
There's a Hive HomeShield to suit every type of property, from the big to the small. Options available include:
The Starter Home Pack: great for smaller homes, with one to two bedrooms
The Small Home Pack: same as the above, with additional outdoor coverage
The Medium Home Pack: ideal for properties with two to three bedrooms
The Large Home Pack: perfect for four-plus bedrooms, plus gardens and driveways
The cost of the subscription to the Hive HomeShield service is just £9.99 a month—and at around 33p a day, that's less than the cost of a takeaway coffee once a week. Not a bad price to pay for your very own home security guard, right?
Find out more about Hive HomeShield today.
Katie Byrne is a contributor to woman&home and a writer whose interests span everything from homes and interiors, to pop-culture, travel, business and self-development. A former digital editor, her freelance journalism has featured across a wide range of print and online titles, including Digital Spy, Grazia, Family Tree and more. She also previously edited the website KBB Ark, which focused on high-end interiors, decor and home improvements. When she's not writing, she loves reading (and has the groaning bookshelves to prove it...), dreaming up new décor ideas for her flat and devouring Netflix's latest true-crime series with her husband. You can find her on Twitter: @katie_b123.