Ways To Reduce Your Risk Of Dementia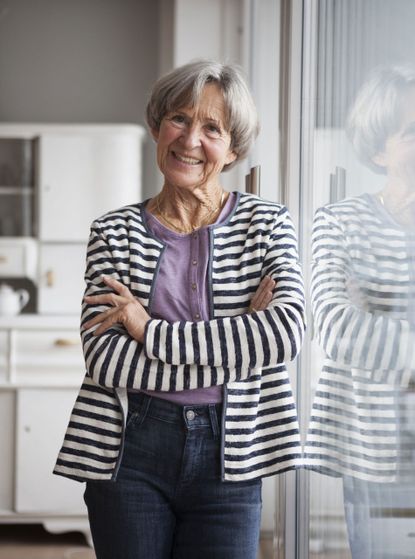 (Image credit: Rex Features (Shutterstock))
While age and genetics are the biggest risk factors for dementia, it is not an inevitable part of ageing. There are many lifestyle changes you can make to help reduce your risk of dementia.
With Dementia Awareness Week in full swing and people across the country being urged to confront dementia head on, Dr Louise Walker from Alzheimer's Society discusses the top changes you can make to cut your chances of developing the condition.
Keep an eye on your blood pressure
High blood pressure in your 40s and 50s significantly increases your risk of dementia later in life. It's always a good idea to get your blood pressure checked regularly, and if it's on the high side, speak to your GP about ways to bring it down.
Get regular exercise
Generally speaking, what's good for you heart is also good for your head. So any regular activity that raises your heart rate will not only reduce your risk of dementia, but other cardiovascular conditions such as stroke and heart disease. Research has shown that for middle-aged adults regular exercise may also help to improve thinking and memory.
Try to aim to be active for around 30 minutes five times per week - this doesn't have to be an intense session in the gym or running a marathon! You can make it something you enjoy that is suited to your abilities such as dancing, yoga, or gardening.
Eat a balanced diet
Getting a healthy diet may help to lower your chances of developing high blood pressure. There's growing evidence to show that eating Mediterranean diet that's rich in oily fish, fresh fruit, vegetables, and unrefined grains, and low in red meat and sugar may also help to reduce dementia risk.
Stop smoking Research has shown that smokers are 50% more likely to develop dementia than non-smokers. Smoking is extremely bad for your overall health, and causes damage to your heart, lungs, and blood vessels, including the ones in your brain.
If you're a smoker, your risk of dementia will be lowered significantly by quitting the habit. For advice on how to stop speak to your GP or call the NHS Smokefree helpline on 0800 022 4332.
Keep your mind active
Evidence from observational studies suggests that people who regularly do mental activities such as reading, doing puzzles and playing games may be less likely to develop dementia than those who don't.
Recent research funded by Alzheimer's Society showed that specially designed online brain training activities could have significant benefits for older people, improving memory and reasoning skills and their ability to carry out every-day tasks such as shopping, managing finances and navigating public transport. Taking up new hobbies and learning new skills are also great ways to challenge yourself and keep you brain active.
Dementia Awareness Week is Alzheimer's Society's annual flagship awareness-raising campaign in England, Wales and Northern Ireland. This year, Dementia Awareness Week is taking place from 15-21 May and is asking people to confront dementia head on. Find out more alzheimers.org.uk/DAW (opens in new tab) or call the National Dementia Helpline on 0300 222 1122.