The grown-up guide to drinking wine – without the hangover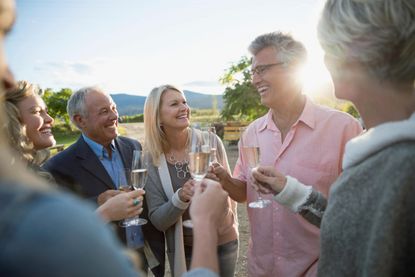 Hate the after-effects of overindulging? Make savvy choices and you'll never suffer again...
Tis the season to be merry, and us Brits certainly put that into action, with alcohol consumption rising by 41%* over the festive period.
And although we know the perpetual popping of Prosecco corks is never going to be 'good' for us, it probably won't stop the majority of us from overindulging.
More:A diet rich in this food has been linked to fewer menopause symptoms
Luckily, there are insider trickswhen it comes to selecting your the best wine for no hangover and one which can be kinder on your body.
"A lighter white like Pinot Grigio would be better in terms of lessening any after-affects, than a heavy red such as a Rioja Reserva or a Châteauneuf-du-Pape," says Neil Palmer, director and co-founder of Vintage Roots (vintageroots.co.uk).
"This is not only because it's likely to be 11.5-12.5% alcohol (compared with 14-15% for those heavier reds), but also due to how the wine is produced. Lighter whites haven't been fermented in their grape skin for as long as reds. Toxic tannins and phenols are contained in grape skins, which can cause our bodies to react badly."
Thebest wine for no hangover
There's rarely an ingredients list on a wine bottle, so it's hard to know exactly what could be causing it, but if you develop flu-like symptoms after just a couple of glasses, it could be the sulphur.
More:13 of the world's tastiest wine tours and cooking holidays
"Sweeter wines are best avoidedas they can be higher in alcohol and sulphur, the wine preservative," advises Neil. "Many people are sensitive to it, and this is also a contributory factor to 'feeling rough' or developing allergic reactions, rashes and headaches."
And, although it's hardto prove organic winescontain more beneficialnutrients and minerals,they will have fewernasties. "Certified organicwine will contain fewer orvirtually no toxins, especially pesticide residues," says Neil, "however, it does contain the same amounts of alcohol."
So if you're looking for low alcohol, what should you pick?
MORE:Low alcohol wines so you can enjoy a glass or two without a fuzzy head in the morning (opens in new tab)
"Choose from cooler regions, like Germany, Northern France and Spain," says Liam Stevenson, master of wine from borough Wines & beers. And taste has improved in recent years. "in the past, alcohol was adjusted in the winery – to the detriment of the wine's flavour– but, nowadays, the clever work happens in the vineyard," explains Liam.
Lasting damage
Recommended guidelines are to drink no more than 14 units a week (abouta bottle and a half of wine), but research** has revealed that 30% of55 to 64 year-olds drink more than this.
"Short-term effects of drinking morethan usual over the festive period include tiredness, sluggishness, abdominal discomfort, heartburn, acid reflux and weight gain," says GP Dr Judith holmes, from Spire Parkway hospital inSolihull.
Fortunately, if you have overindulged, a detox such as Dry January (alcoholconcern.org.uk), which involves going teetotal for31 days, is a useful tool.
"Dry January can help reversemany short-term effects," says Dr Holmes, "however, it can be much easier if you have taken steps to look after yourself over the festive period in the first place."
What to do if wine is not your thing?
With sales having tripled in less than a decade, gin is more popular than ever, here are our favourites..
The best gin to make you look younger
Collagin Rose, £36.99 for 50cl, ocado. Contains edible skin-boosting collagen.
The best gin your liver will love
Ceder's Wild, £19.99 for 50cl, Sainsbury's. An alcohol-free pick infused with clove and rooibos, so you won't miss out on flavour.
The best gin to boost your mood
Kyoya ShuzoPremium yuzu Gin, £68 for 700ml, japancentre.com. Made with vitamin C-rich yuzu fruit and sanshopepper, said to enhance mood and burn fat.
Whichever you choose, always remember to drink responsibly.
*Research by Think Tank Policy Exchange **NHS Digital, Health Survey for England 2015 Adult Alcohol Consumption.