Update Your Home In An Instant!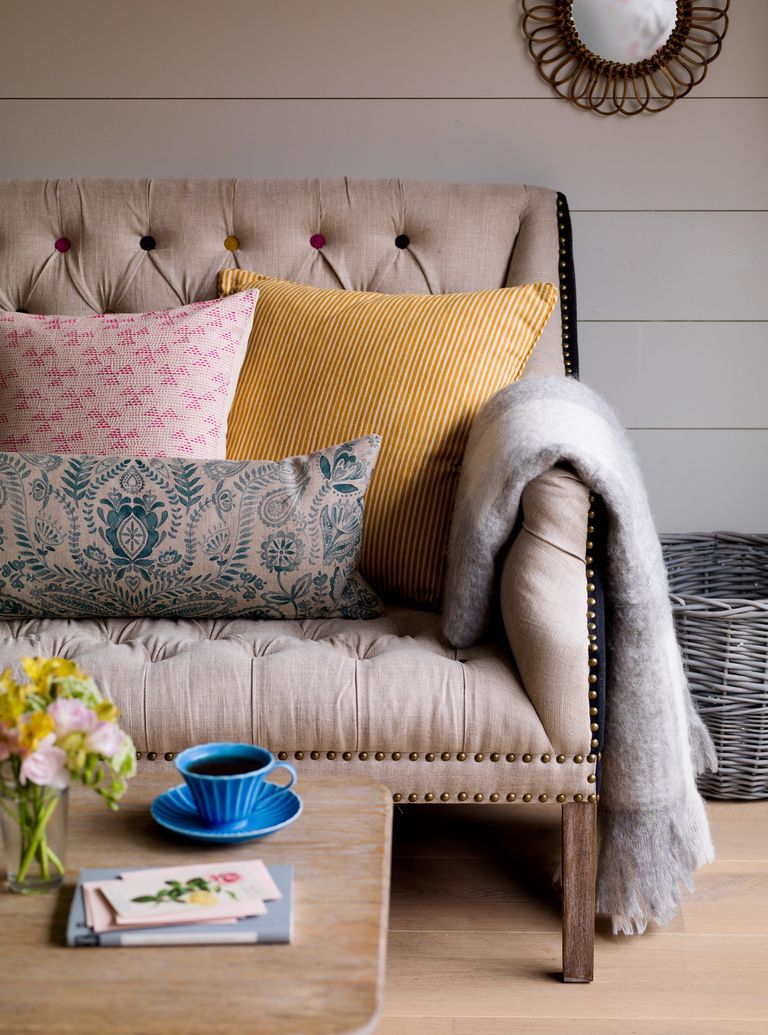 Add some cushions to your home for an instant update. We've handpicked the very best of this year's trends, so all you have to do is click for a refreshing new room...
Is your home feeling a little dreary now the festive decorations have been taken down? You don't have to do a whole home overhaul to brighten up your living space - make it look brand new with the addition of a couple of new-season cushions.
Whether your style is more minimalistic or gorgeously girly, we've complied the very best of this year's must-have home trends to show you what you should be shopping for this season. Click through now to impress your guests without breaking the budget...
Homemade
'Homemade' cushions are popping up everywhere right now, and are perfect for making a home feel instantly more welcoming. Add them to your bed or sofa if your decor is simplistic - otherwise clashing colours and designs could become too distracting. We love this M&S French Knot Cushion, £25, to instantly add brightness to any room.
BHS Vintage Chestnut Love Birds Cushion, £14
A gorgeous homemade-looking cushion, like this BHS offering, fits perfectly within the trend. Pick up on the detailing, and add it to red accessories to make the ultimate impact.
Monochrome
For a classic look that doesn't date, add some monochrome cushions to your home. Not only will they last, you can combine them with any colour scheme for an instant update. This Grey Deco Flock Cushion, £8.99, from Dunelm Mill, will look great combined with pops of bright colour throughout the home.
Cushion
Indulge yourself, and your home, with some head-turning animal print. Far from looking gaudy, this Tiger Stripe Velvet Cushion, £3.50 from Tesco, will add some glamour to your rooms. We think it will look great paired with some simple coloured cushions on a black leather sofa.
Florals
The idea of floral home decorations may conjure up images of old-fashioned accessories from years back, but there's a gorgeous range of floral cushions available in most high street shops now. Pair this Imogen Heath Rosa Blue Cushion, £65, with a pastel colour palette for a pretty look.
bluebellgray Niloy Mode 3 Cushion, £70
We're already dreaming of summer, thanks to this gorgeous bluebellgray cushion. The quirky anniversary design is so inspiring, it's like having a work of art on your sofa!
Screenprinting
Like being creative with your home? This is the trend for you! Screenprinting is everywhere this season, and it allows for complete creative freedom. Stick to a simple print, like this Dickins & Jones Bicycle Cushion, £30, or try an all-over patten. The choice is yours!
Tesco Winter Blossom Photographic Cushion, £8
Dream of spring days with the help of this cushion. A gorgeous nostalgic image will instantly grab your guests' attention.
Geometric
Instantly add a modern feel with the help of a geometric-printed cushion. We love this velvet-backed one from Mumo Paulista, £55 - the colour pops look fab against the great colour palette.
Bradbury cushion by Lorna Syson, £47.50
Try an unusual colour palette and pattern, and your home will feel instantly updated. We love this Bradbury cushion - it's sure to become a focal point in any room.