George Clooney has opened up for the first time about becoming a Father at the age of 55, revealing he is looking forward to the twins arrival in June.
He said, "We are really happy and really excited. It's going to be an adventure. We've sort of embraced it all with arms wide open."
George also shared how his friends reacted to the news, telling how although supportive they originally teased him, making baby noises at the table before bursting out laughing.
George's mum, Nina last week revealed the sex of their twins announcing that they are having one boy and one girl.
Speaking to Radar Online she said "It will be one of each! Yes, a boy and a girl. That's what I've been
told. How marvellous! My husband and I are extremely excited."
Just a couple of weeks ago, news broke that human rights lawyer Amal Clooney waws pregnant with twins. The news was announced by CBS's The Talk host Julie Chen, who said, "Congratulations are in order for George and Amal Clooney! The twins are due in June"
Close friend of George Clooney, actor Matt Damon, later reconfirmed the news revealing that George had let it slip that his wife was expecting twins back in autumn 2016. He said, "I was working with him last fall and he pulled me aside on set and I almost started crying."
The actor later went on to reveal that at the time, Amal was eight weeks pregnant. George's friend couldn't contain his excitement for the pair, saying, "They're going to be awesome parents. Those kids are so lucky."
In January 2017, George and Amal Clooney hosted an exclusive Netflix screening of the show The White Helmets at The Bvlgari Hotel in London. For the red carpet appearance, Amal wore a gorgeous floral shift dress which first sparked rumours of a baby bump. It's believed that the George and Amal began IVF treatment last Autumn.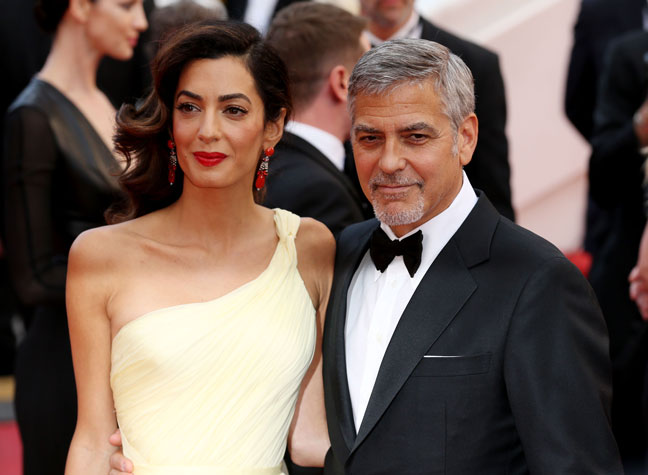 Since entering the public eye after she began dating George Clooney in September 2013, the international human rights lawyer has been putting her best fashion foot forward, displaying a range of gorgeous outfits when stepping out for public appearances both with and without George.
A Lebanese-British lawyer and activist, Amal has worked on many human rights cases and has sought to gain rights for women all over the world. She's a signatory of UNICEF UK, and has sat on the Public International Law Panel of Counsel.
Whether it's an award ceremony or simply a stroll through town, Amal always looks sleek, polished and put together. So we've charted some of her best looks from over the last few months.
November 2016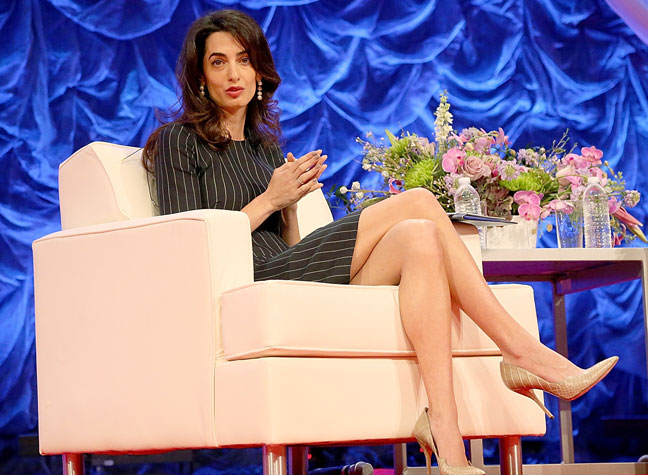 Amal spoke at the Texas Federation for Women in Austin, Texas and kept it smart. Mrs Clooney delivered a powerful speech on the power of women supporting each other, and spoke about how her mother was her role model, managing to maintain both a family and a career as she grew up. For the event, Amal rocked a pin-striped Giorgio Armani dress and a pair of her favourite Paul Andrews pumps, this time in snake-skin.
October 2016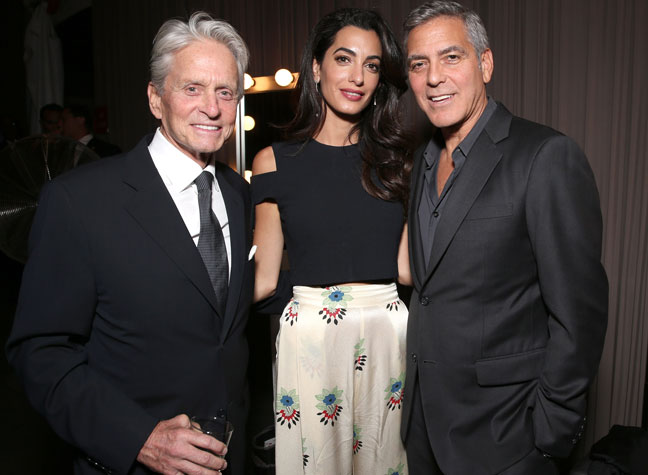 The lawyer helped to celebrate the 95th anniversairy of the Motion Picture and Television Fund (MPTF) back in October of last year in a cropped black TIBI top and a pair of white silk flared trousers.
September 2016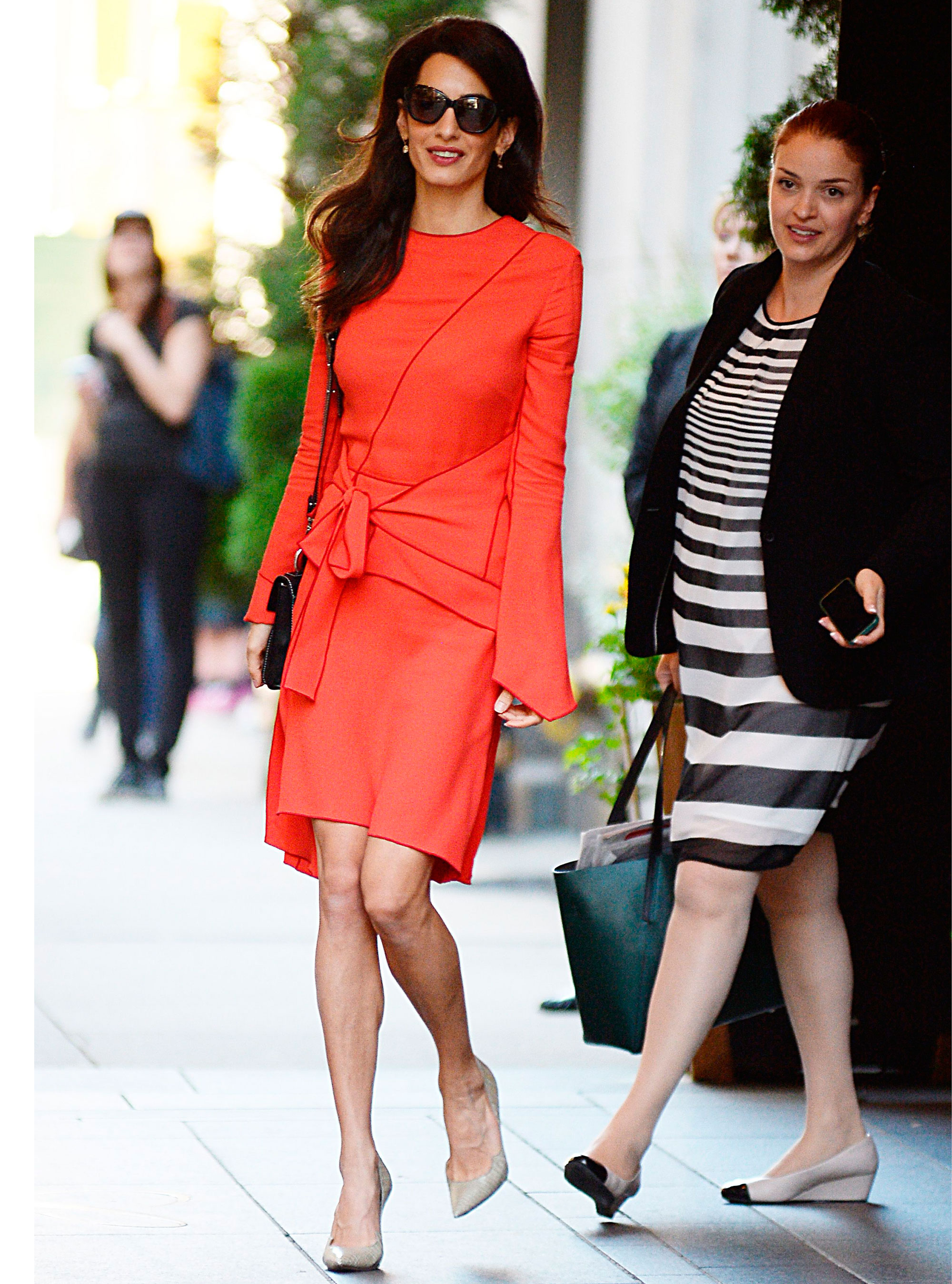 Spotted out and about on a sunny Autumn day in New York, Amal looks chic and sophisticated in his red Proenza Schouler bow dress and a pair of nude Paul Andrew pumps. She completed the look with a pair of her bold statement sunglasses to shield from the sun.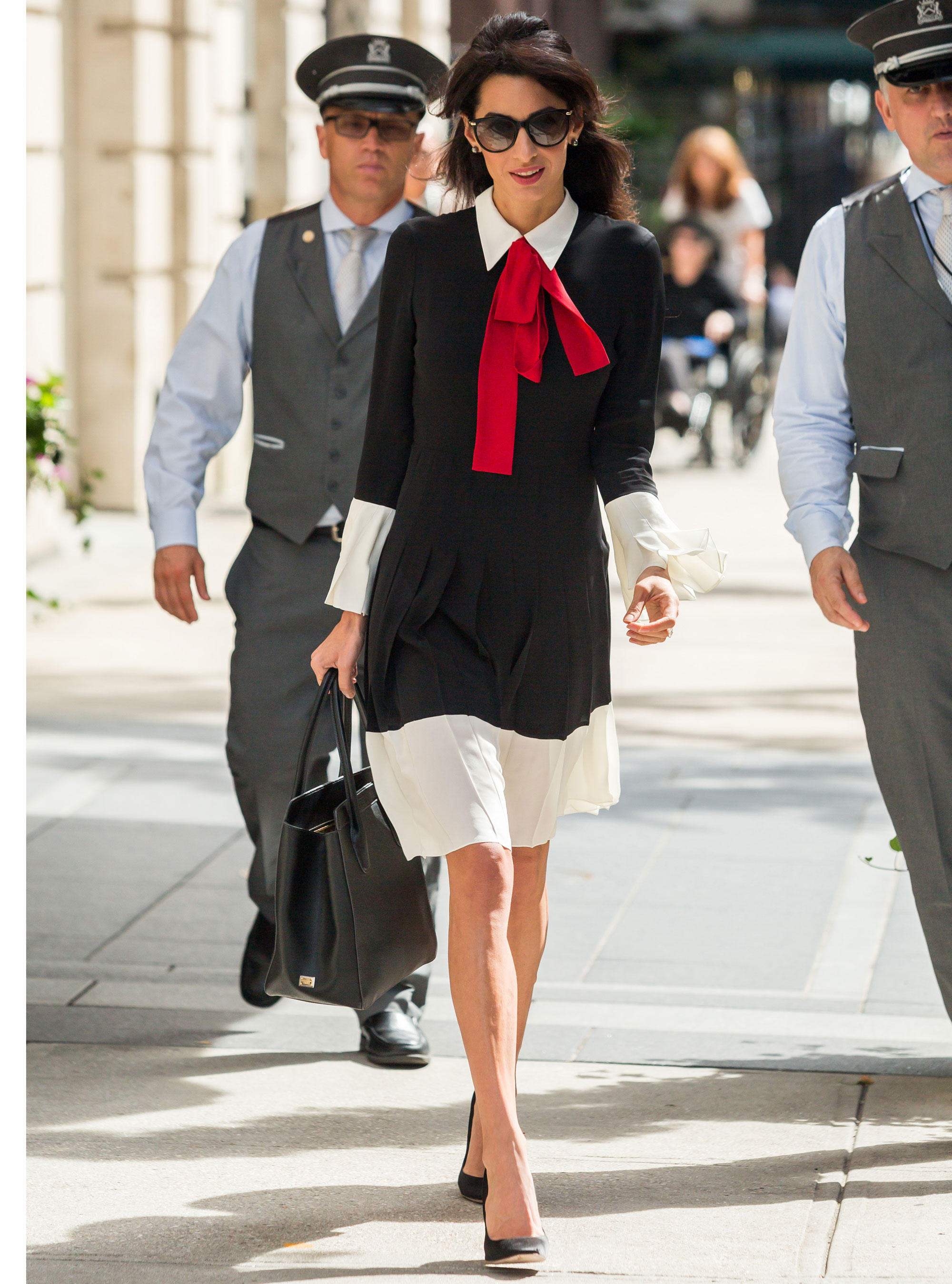 Continued below...
Taking a walk down a New York street, Amal looks ever the professional in a sailor-inspired knee-length Gucci dress adorned with a draping red bow. She paired the dress with some Giambattista Valli mirrored pumps.