Join Us At A Pink Ribbonwalk In 2013!
Join us and walk for Breast Cancer Care in a beautiful location with hundreds of fabulous readers just like you...
Opt for a 10 or 20 mile walk at one of five beautiful locations. Every walker gets free entry to the grounds of a stunning venue, a Pink Ribbonwalk medal and treats, and a celebratory barbecue at the finish!
Sign up now and save £5! To take advantage of this discount quote 'WOMAN4'.

DATES FOR YOUR DIARY

Blenheim Palace, Oxfordshire
Saturday 11 May 2013
A stunning Cotswold walk through woodland trails and villages

Scone Palace, Perthshire
Saturday 18th May 2013
A route that takes in the gently undulating Perthshire Countryside

Petworth House, West Sussex
Saturday 1 June 2013
Meander gorgeous South Downs villages, meadows and forests

Marble Hill Park, Twickenham, London
Saturday 15 June 2013
Stroll along the picturesque banks of the River Thames

INTRODUCING A STUNNING NEW VENUE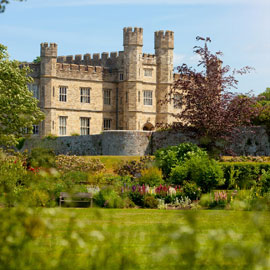 Leeds Castle, Kent
Saturday 8 June 2013
Set in 500 acres of beautiful parkland, Leeds Castle is the perfect backdrop as the start and finish for this new and exciting Pink Ribbonwalk for 2013. Our event village, set high up in the estate, has fantastic views of the castle and the surrounding lakes. From here, our walk sets off to explore the gardens, taking in a classic view of the castle and its moat, before leaving the estate and venturing through Snarkhurst Wood and on to the village of Thurhham

REGISTER HERE NOW

Looking for inspiration to kickstart your training plan? Find a host of walking plans here and feel healthier in no time.
Ideas to start your fundraising today!
- Do someone a favour. Maybe cut your neighbour's lawn or babysit for a donation
- Organise a 'Come Dine With Me' evening, and ask guests for a £5 donation

- Get colleagues to bring in a baby photo of themselves, then charge £2 to guess who's who with a prize for the winner

- Muffin Monday, Cheesecake Tuesday, Waffle Wednesday... Bake a selection of treats one day of the week and ask work colleagues for a donation.



In 2012 Lisa Snowdon joined us at the Marble Hill Pink Ribbonwalk and here's what she had to say about the experience:
'I went to my first Pink Ribbonwalk last year and I loved it! We had lots of laughs along the way and the atmosphere was amazing. I met some really inspiring people and there was real solidarity as we walked, knowing that, together, we were raising money to help fund Breast Cancer Care's vital support services. My grandmother died of breast cancer and my aunt also was diagnosed in the past so I grab any opportunity I can to help raise money and awareness for this dreadful disease. The Pink Ribbonwalk is a great way to do just that so I would encourage everyone to sign up and help us to make a difference to the lives of people affected by breast cancer.'
Want to walk with friends to help keep you motivated? Find a local w&h walking club here
Check out pictures from last year's walks to inspire you to sign up today!