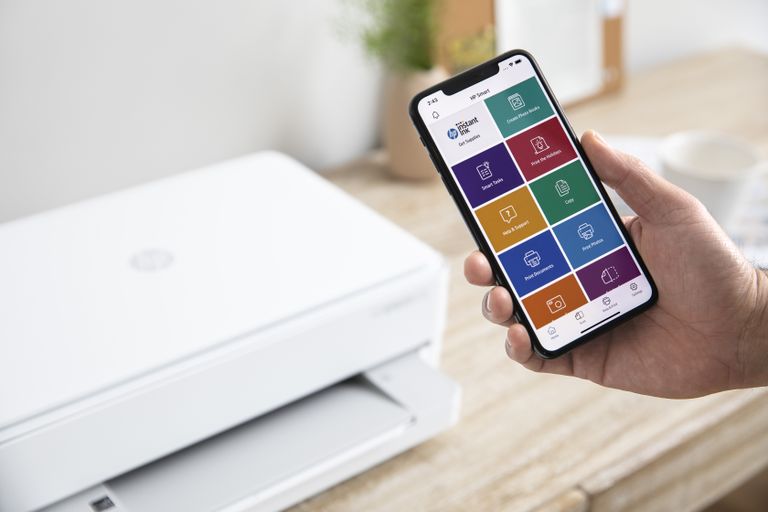 (Image credit: HP)
For many of us, a printer is a fact of life. It's simply a device we need to have for the occasional document, scan job, or to facilitate our kids' homework. But, an old printer can create more hassles than it offers solutions. The HP ENVY 6000 Series is a modern printer that can take the fuss out of printing.
While older printers were clunky, many with loose sheets of paper hanging out the back, the HP ENVY 6055 is a refined package. It's not a giant machine, and it has a discreet, 100-sheet paper tray that lets it stay primed and ready to print without cluttering up your home.
What is Wi-Fi connectivity?
Unlike old printers that needed a USB connection to your computer or an ethernet cable to your router, the HP ENVY 6055 can simply connect to your Wi-Fi. It even features HP's Self-Healing Wi-Fi technology to help it stay connected. So, you can set it up wherever is convenient in your house. It doesn't have to take up prime real estate on your desk, doesn't need to live in your living room, and can simply hang out in a utility closet if you prefer it. That said, the elegant style of the HP ENVY 6055 makes it more of an accent piece than an eyesore if you do place it out in the open.
The Wi-Fi connectivity of the HP ENVY 6055 also helps simplify its use. It'll work with computers, phones, and tablets alike. This means everyone in the home will have an easy time using it. Your kids can print off homework assignments from their tablet or pictures they took on their phones. You can print off tax documents from your computer. And, no one needs to borrow someone else's device or struggle with transferring files between devices to get a print job done. You can also scan directly to different devices, which can be especially handy if you want to make a digital backup of old photos.
Save time and money
Having a capable all-in-one printer in the home can save you from little inconveniences that can really start to add up. You won't have to run out to a print shop when you just need to make a shipping label. You can easily print off, fill out, sign, and scan completed forms in a matter of minutes. And let's not fail to acknowledge how much easier it is to follow a recipe from a piece of paper than it is from an online blog when ads pop up, the screen turns itself off, and our hands are too deep in the ingredients to scroll back to the next step.
The HP ENVY 6055 can even simplify maintenance, as it supports HP's Instant Ink program. So, even if your kids use up every last drop of ink printing off colorful photos to decorate their room, you can count on more ink coming in the mail as soon as the printer detects the ink is running low.
So, to make the odd print jobs in your life a little bit easier, check out the HP ENVY 6055.
HP ENVY 6055 All-in-One Printer
The HP ENVY 6055 All-in-One offers a tidy solution for all your printing, scanning, and copying needs. You can use all of its features over Wi-Fi, freeing you from cables and letting you set it up where you please.
On sale on HP for $129