Meghan Markle says tabloids should 'carry warning label like cigarettes'
Meghan spoke out against "toxic" tabloids at a New York Times summit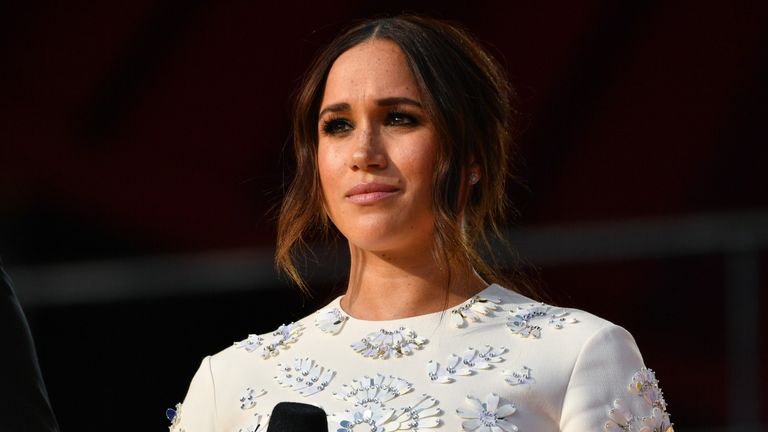 (Image credit: NDZ/Star Max/GC Images/Getty)
Meghan Markle denounced the reading of tabloids during a New York Times summit this week, labelling them "toxic for your mental health" and that they should carry similar warning signs to cigarettes.
Meghan is no stranger to receiving a lot of press (good and bad), so, perhaps unsurprisingly, she doesn't hold tabloid culture in the highest regard.
In fact, she believes that tabloids should "come with a warning label like cigarettes do."
"Firstly I would urge you not to read tabloids because I don't think that's healthy for anyone, hopefully one day they come with a warning label like cigarettes do, like 'This is toxic for your mental health'"- Meghan, Duchess of Sussex pic.twitter.com/lMeUNiS628November 9, 2021
See more
Meghan shared her thoughts on tabloids during an appearance at The New York Times DealBook Online Summit earlier this week (November 9), where she participated in a conversation called: 'Minding the Gap' with Mellody Hobson, co-CEO and president of Ariel Investments, about the ways that women can reach economic and professional equality.
At one point during the conversation, Meghan was asked by host Andrew Ross Sorkin, editor at large and founder of DealBook The New York Times, about what she is like as a boss.
Referring to her role at Archewell, the company she and Prince Harry set up and named after their son, and perhaps her time overseeing staff at Kensington Palace, Andrew remarked, "I've read great things about you as a boss, and if you read the tabloids you can read all sorts of crazy things…"
Meghan replied, "Well firstly, I would urge you not to read tabloids, because I don't think that's healthy for anyone. Hopefully one day they will come with a warning label like cigarettes do like 'this is toxic for your mental health'."
Elaborating on how she handles running a company, she said, "I think that the way that I have now moved, as my husband and I have started to build this together on our own, we're just doing it the same way that we would want if we were employees of it… so to treat people the way you want to be treated."