Meghan Markle accuses Buckingham Palace of 'perpetuating falsehoods' in upcoming Oprah interview
Meghan Markle claims Buckingham Palace has contributed to the media's misinformation about her and Prince Harry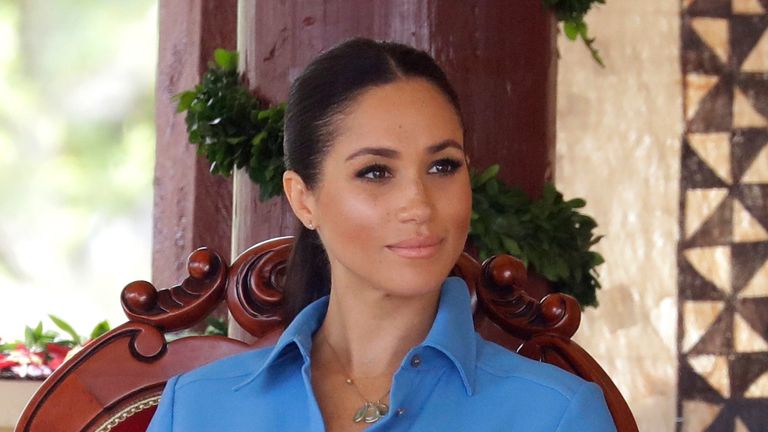 (Image credit: Chris Jackson/Getty Images)
Meghan Markle has accused Buckingham Palace of 'perpetuating falsehoods' just a day after the royal headquarters confirmed an investigation into bullying claims against the duchess. 
Meghan Markle said Buckingham Palace has contributed to 'falsehoods' surrounding her and Harry, in the couple's upcoming interview with Oprah Winfrey. 
Buckingham Palace confirmed their investigation into bullying claims made against Meghan in a statement yesterday. 
Meghan Markle has accused Buckingham Palace of 'perpetuating falsehoods' in the highly anticipated upcoming interview, Oprah With Meghan And Harry. 
In the third teaser clip for the CBS Primetime Special, which will air in the UK on ITV, the Duchess of Sussex speaks candidly about the Palace with host and friend Oprah Winfrey. 
"I don't know how they could expect that after all of this time, we would still just be silent if there is an active role that the firm is playing in perpetuating falsehoods about us," she said. 
Meghan, who is pregnant with the couple's second child, implied that speaking out was worth the consequences of potentially damaging their relationship with the Royal Family. "If that comes with risk of losing things... There's a lot that's been lost already."
The 30-second snippet, which shows Meghan being interviewed solo, was released just hours after Buckingham Palace revealed they will be investigating bullying claims made against the duchess. 
On Wednesday, The Times newspaper published allegations made by former royal staff that Meghan had bullied employees during her residency at Kensington Palace. An official complaint was reportedly filed at the time by the communications secretary to Harry and Meghan, but no further action was taken. 
Buckingham Palace has since released a statement to confirm they intend to investigate the claims. 
"Accordingly our HR team will look into the circumstances outlined in the article. Members of staff involved at the time, including those who have left the Household, will be invited to participate to see if lessons can be learned.
"The Royal Household has had a Dignity at Work policy in place for a number of years and does not and will not tolerate bullying or harassment in the workplace."
Meghan's representative has condemned these allegations as a "calculating smear campaign" and dismissed the claims as "defamatory".
"The Duchess is saddened by this latest attack on her character, particularly as someone who has been the target of bullying herself and is deeply committed to supporting those who have experienced pain and trauma," he said. "She is determined to continue her work building compassion around the world and will keep striving to set an example for doing what is right and doing what is good."