Why did Nick and Danielle break up? The Love is Blind couple called it quits before the reunion special
Danielle filed for divorce from Nick before Love is Blind: After the Altar aired but the two filmed the show while still together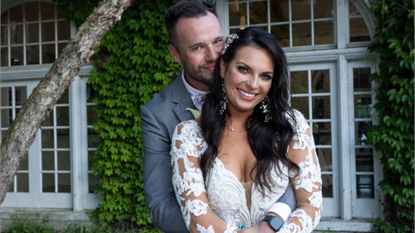 (Image credit: Netflix)
Love is Blind fans are rightfully upset about the fact that no couples from season 2 of the Netflix show are still together. But there is one specific duo that surprised most upon their breakup.
As a refresher, 29-year-old Danielle Ruhl and 36-year-old Nick Thompson met and even got married on the second season of the dating show, where folks get to know each other while in separate pods and get engaged before meeting face-to-face. The two appeared together on the Love is Blind reunion back in March, a fact that led fans to believe that they'd still be with each other a few months later.
This week, Netflix dropped the three special episodes that make up Love is Blind: After the Altar, a "catch-up" meant to let viewers know where the couples stand today.
On August 21, just a few days before the first trailer for After the Altar aired, word got around that Danielle and Nick were actually getting divorced, a fact that saddened legions of fans.
Specifically, Us Weekly (opens in new tab) confirmed that Danielle filed for divorce from Nick shortly after the couple celebrated their first wedding anniversary this past June - which happened after the two filmed the After the Altar episodes.
To be clear, although the new episodes of Love is Blind: After the Altar show Nick and Danielle together, the two actually split a month or so ago, after filming took place.
WHY DID NICK AND DANIELLE BREAK UP?
Neither Nick nor Danielle has publicly commented on the reasons behind their divorce. However, Us Weekly reports that Danielle has "been struggling behind the scenes despite sharing photos of herself having fun with friends."
Fans did pay particular attention to her behavior, though, with many noting the Netflix star seems relatively happy considering the romantic mishap. Danielle addressed the critics in a number of social media posts.
"It's funny when people are like, 'How are you so happy?'," Danielle said in an Instagram Story video. "Would you rather have me post an Instagram Live of me crying for eight hours straight, because I can do that if you want [me] to! That's my reality."
In another Instagram Story post, Danielle said, "If you would rather have me sit here posting Stories, sobbing, I could easily do that. It's what I spend most of my days doing. But I do cry all of the time. I cry easily. I cry when I'm happy, I cry when I'm sad. But who wants to see that? Come on."
Reports regarding the couple's breakup feel even sadder when analyzed alongside recent comments made by Danielle herself.
"I can't wait to have kids to embarrass the heck out of both Nick and them. Like, I can't wait," Danielle said to Us Weekly this past summer. "However, we got married really quickly and so it's not anywhere in the [cards for] next two years. Maybe after that, but we really just wanna take the time to focus on one another.
In July, the Netflix reality TV star even made remarks about a potential wedding re-celebration.
"At either our two — or three-year — anniversary, we really wanna redo a reception to make sure all of our families can be there," she said to Us Weekly. "Like, I've always dreamt of my dream wedding and wedding planning and a bachelorette party. And so we're redoing all of that. It's just like when we have the time."
Alas, audience members will have to rely on a slew of new potential couples to re-ignite their faith in the Love is Blind process when season 3 of the show, comprised of ten episodes in total, premieres on Netflix on October 19.
Anna Rahmanan is a New York-based writer and editor who covers culture, entertainment, food, fashion and travel news. Anna's words have appeared on Time Out New York, the Huffington Post, Fortune, Forbes, Us Weekly, Bon Appetit and Brooklyn Magazine, among other outlets.